FN adds Maryland compliant ARs

FN America, LLC has announced the release of two new state-compliant FN 15® models for Maryland residents. The FN 15 MD Heavy Barrel Carbine and FN 15 MD Heavy Barrel Rifle meet the state of Maryland's requirements for sale with the heavy barrel profile, limited 10-round magazine capacity and other features. Combining rock-solid reliability with pinpoint accuracy and battle-proven durability, the FN 15 MD Heavy Barrel Carbine and Rifle are ready for the firing line. The 10-round carbine features a free-floated, 16-inch cold hammer-forged and chrome-lined heavy-profile barrel with a 12-inch M-LOK rail, low-profile gas block and PWS muzzle break. The rifle, also with 10-round capacity, features a free-floated, 20-inch hammer-forged heavy profile barrel with chrome lining, 15-inch Samson Evolution rail, low profile gas block and threaded muzzle with thread protector. These new FN 15s became available at authorized distributors starting Dec. 1, 2017, and were expected to be available at retail within the month. Manufacturer's suggested retail price is $1,399 for both models.
---
Lansky Sharpeners introduces survival pack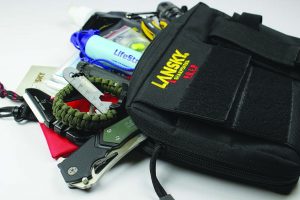 Lansky Sharpeners, a world leader in innovative sharpening technology, adds another landmark to their ever-expanding product line with the release of the new P.R.E.P (Preparedness, Resource, Equipment Pack). The Lansky P.R.E.P was designed as an all-in-one solution for emergency, disaster and survival situations. The tools in the P.R.E.P were selected to improve your chances of prevailing over a variety of scenarios including; evacuation due to natural disaster, unexpected isolation, and escape from dangerous circumstances. Keeping the P.R.E.P on your person or in your car can help you be prepared for almost any emergency. The tools in the P.R.E.P are packed in a black canvas bag with the Lansky logo displayed on the front. The following emergency survival items are inside the bag: Emergency blanket; First aid mini-bag; Lansky mini multi-tool; fishing line; fishing hook; fishing sinker; fishing swivels; flashlight; paracord bracelet; Lansky survival guide; firestarter with compass; collapsible water bottle; LifeStraw water filter; Responder knife, and Blademedic sharpener. MSRP: $129.99. For more information, visit online at: lansky.com, or phone: 800-825-2675 for catalog. 
---
ReadiMask adhesive sealing disposable safety respirator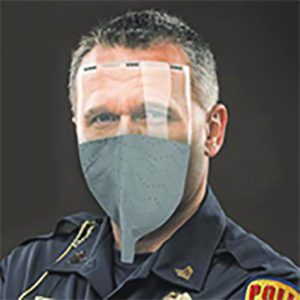 Security Equipment Corporation, manufacturers of the leading pepper spray trusted by police and consumers worldwide, has introduced the ReadiMask™ Adhesive Sealing Particle Respirator for the law enforcement, corrections and first responders.
The ReadiMask is the only adhesive sealing disposable full-face particle respirator mask designed to substantially reduce exposure to current and emerging threats including dry spores similar to Anthrax, bodily fluids, pepper spray, airborne particles, blood borne pathogens, and many more. The mask uses a hypoallergenic medical adhesive to form a complete facial perimeter seal, while a high efficiency filter works to purify the air for breathing. For additional information, visit online at: SABREred.com.