Savage Model 110 Predator Loaded with Features
The new Savage Model 110 Predator bolt-action model is just in time for hunting varmints and predators, and it is chambered in several popular calibers to get the job done. Designed with Savage's AccuFit system, this rifle can be tailored to fit a shooter's length of pull and comb height. The AccuStock, according to Savage literature, "secures the action three-dimensionally along its entire length," and the rifle is also equipped with the popular AccuTrigger. The synthetic stock is finished in Realtree Max-1 camo and the barrel and action are finished in a matte blue. The muzzle is threaded. Savage supplies two-piece Weaver-style bases with each rifle, which has a fluted, button-rifled heavy barrel. The detachable magazine releases easily via a button ahead of the trigger guard. This rifle is chambered for .204 Ruger, .22-250 Rem., .223 Rem., .243 Win., 6.5 Creedmoor and .260 Rem. MSRP is $899.

---
Smith & Wesson launches SW22 Victory® Target model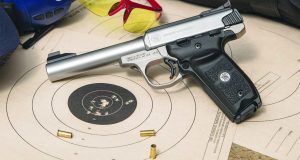 Smith & Wesson Corp. has added a Target Model to its award-winning SW22 Victory line of pistols. Chambered in .22 LR, the new SW22 Victory Target Model pistol incorporates features designed for competitive target shooting, including target sights, custom target thumb rest grip for right- or left-handed shooters, and polished feed ramp. Designed for target shooting competitions, the new SW22 Victory Target Model pistol features include: a 5.5" bull barrel, target trigger with adjustable trigger stop; black blade front sight and adjustable rear target sight and Picatinny-style rail for use with an optic. The SW22 Victory Target Model pistol is available with a 10+1 round capacity, ships with two magazines and is available now with an MSRP of $429. This model is also available for sale in Massachusetts and is listed on the Formal Target Shooting Roster.
---
New Pachmayr Competition Aluminum Speedloaders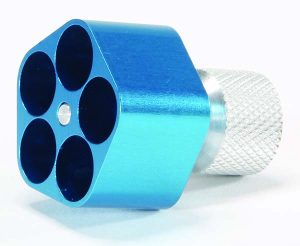 Pachmayr, a leader in handgun grips, recoil reduction, gunsmithing tools and a brand carried by Lyman, has introduced a game-changing Competition Aluminum Speedloader for .38/.357 revolvers. Unlike competitive models made from plastic, Pachmayr's Speedloaders are precision CNC machined from solid aluminum. The Speedloader body is cut in a polygon shape which produces the smallest possible outside dimensions and allows it to easily fit most revolvers, such as Smith & Wesson® "J," "K," and "L" frames, plus the Ruger® LCR and other popular models. The Speedloader is also equipped with a rattle eliminating O-ring, which contacts the cartridge bases and firmly holds the rounds in place. Cartridges are then released with a simple twist of the large, knurled knob. This speedloader offers a convenient way to carry extra rounds and reload quickly. The aluminum body keeps the Speedloader relatively light weight at two ounces minus ammo. The 5-round Competition Speedloader is should be available online this Spring for an MSRP of $19.98, with a 6-shot model close behind. For more information on this, or any of the other Lyman accessory or reloading equipment, visit Lyman online at: lymanproducts.com.