DeSantis revives FN pistols holster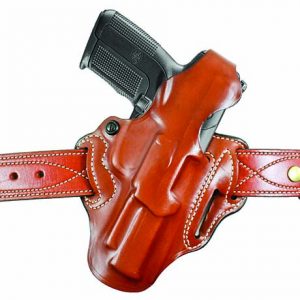 DeSantis Gunhide has resurrected, by popular demand, a holster fit for the FN Herstal FN 5.7 IOM and FN 5.7 USG pistols.
The Model 001 Thumb Break Scabbard features leather construction that is molded to the pistol. It's a high ride scabbard with a suede lining and/or basket weave finish available as options. The holster has a unique tension device to keep the pistol secure.
DeSantis designed this rig with 1¾-inch belt slots.
---
Steiner offers new pistol laser devices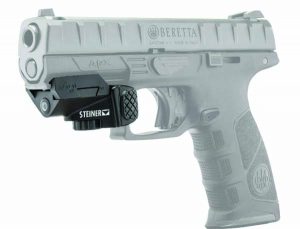 Steiner eOptics now offers two new pistol-aiming lasers– the TOR Micro™ and TOR Mini™. These rail-mounted lasers are specifically designed for pistols and small enough to fit inside the majority of all commercially produced holsters on the market. Both the TOR Mini and TOR Micro feature rugged construction with a Mil-Grade aluminum housing and rail mount, are dustproof and splash-proof to IP54 standards and are available in red (635 nm) and green (520 nm) lasers. Both the green and red lasers are direct diode type allowing them to operate in extreme cold weather. Other features include left and right fire buttons for ambidextrous use, constant power drive that ensures the laser output remains constant throughout the life of the battery, low battery indication, as well as windage and elevation bore sight adjustment screws. The universal rail mount on the TOR Micro and TOR Mini will fit all pistols that have a Picatinny or Weaver style rail forward of the trigger guard.
The TOR Mini features adjustable laser power with multiple settings (low, medium, high and high pulse) which are easily set by the user. The TOR Mini will also remember the chosen setting until it is reset, even if the battery is removed or replaced. The TOR Mini also has an internal accelerometer that senses the position of the pistol and when the optional Auto-On feature is activated, the laser will turn on when the pistol is drawn from a holster and brought up level. The laser will automatically turn itself off when the pistol is holstered or set down. TOR Micro MSRP is $199. The TOR Mini MSRP is $299
---
Warne offers Universal Scope Level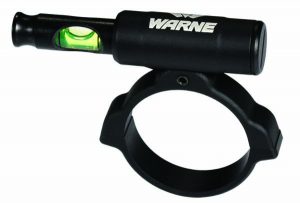 Precision long range shooting has grown in popularity over the last several years. New technology has allowed shooters to successfully engage targets at distances previously thought impossible. A level reticle is vital for success at longer ranges, so the product development team at Warne has designed a Universal Scope Level that attaches to any scope tube. The Warne USL is unique from other levels because of its ability to deploy the level from aluminum housing for use or stowage, keeping the unit safe from being snagged when not in use. Made of 6061 aluminum, the USL is available in 1-inch, 30mm, 34mm and 35mm sizes and is ambidextrous. It weighs only .9 oz. MSRP is $99.99 and is available wherever Warne products are sold.
---
XS Sights expands Express Sight and F8 offerings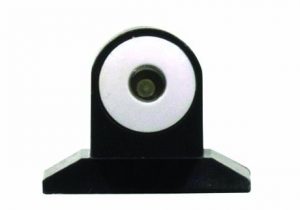 XS® Sights is now offering new models in its popular lines of Express sights and F8 Night Sights. The Defensive Express Tritium (DXT) and Defensive Express White Rear (DXW) sights are now available in Big Dot or Standard Dot versions for the CZ P10C, Kimber® Micro 9 / 380, and Beretta® Pico pistols. The new F8 Night Sight is now available for the CZ P10C. These new models were on display at the company's booth at the 2018 NRA Annual Meetings & Exhibits in Dallas, TX in May, along with the company's many other high-performance sights for pistols, rifles and shotguns. As of January 1, 2018, all XS Sights products are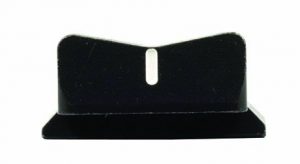 now covered under the company's No Questions Asked Warranty. This new warranty is an effort to provide exceptional customer service and encourage more people to install their own sights. Given the limited lifespan of tritium, any XS sights with tritium will be backed by a 10-year, no questions asked warranty. After 10 years, XS will replace these sights as needed at a steeply discounted price. For more information, visit www.xssights.com.