Magnum Research launches new pistol cartridge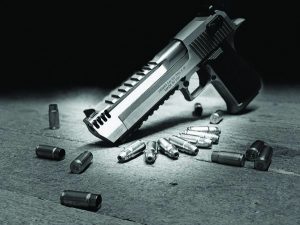 Magnum Research, Inc. manufacturer of the Desert Eagle pistol has launched a new, fast, powerful .44 caliber pistol cartridge: the new 429 DE pistol cartridge. The 429 DE (Desert Eagle) was designed to enhance the famous and powerful Desert Eagle platform. This cartridge has a 25% velocity increase and 45% energy increase over a 44 Mag (240 — 6" barrel). It has a velocity of 1,600 FPS with 240-grain bullets and 1,750 FPS with 210 grain bullets. The 429 DE features 30 degree shoulder headspaces and a neck long enough to properly hold and crimp a 240-grain bullet without set back under recoil. Based on the famous 50 AE cartridge, the 429 DE is made with Starline brass, and loaded by HSM in Montana with Sierra bullets. The 429 DE rounds are available in boxes of twenty and distributed by Magnum Research, Inc. Available options include: 240-grain soft point (DEP429DE240JSP) and 210-grain hollow point (DEP429DE210JHP) both with an MSRP of $42. To accompany the 429 DE cartridge, Magnum Research will soon be releasing a lineup of 429 DE 6-inch barrels in a variety of finishes. The 429 DE barrels will be compatible with any MK19 USA or Israel Desert Eagle Pistol with a wide .830" rail on top of the barrel and uses a 50AE magazine and bolt. More information on these barrels will be announced soon. Note: The 429 DE is similar to, but NOT INTERCHANGABLE with, the obsolete 440 COR BON.
---
Glock expands Gen5 pistol lineup
Glock, Inc. has expanded the 5th Generation of pistol lineup with the addition of two modular optic ready platforms. The Glock 17 Gen5 MOS and GLOCK 19 Gen5 MOS come optic ready right from the factory and enable users to mount their preferred reflex sights to their pistol in order to improve their target acquisition.
"The MOS platform offers a convenient way for users to mount reflex sights without costly alterations to an original Glock slide," said Glock Vice President Josh Dorsey. "The resulting combination of optical sighting and the unparalleled accuracy and reliability of the new generation of Glock pistols set a new standard for this class of pistol." These Gen5 models are precision-machined to provide a mounting system for all popular optic sights. With multiple adapter plates, you can quickly and easily mount electronic sights to the rear of the slide. The Gen5 MOS (Modular Optic System) family of pistols also features front serrations for easier and quicker manipulations.
---
ArachniGRIP® introduces the Slide Spider®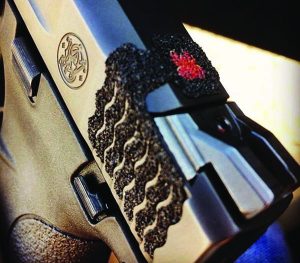 ArachniGRIP®, creator and manufacturer of the innovative Slide Spider® adhesive slide grip, now offers the Slide Spider for select Smith & Wesson M&P Shield handguns. The Slide Spider is a patented one-piece adhesive grip wrap applied to semi-auto pistol slides. The grip is designed to enhance safety and control in the operation of the hand gun. ArachniGRIP is happy to offer product options to fit the Smith & Wesson M&P Shield in 9mm and 40 S&W. It also fits the Shield 2.0. The Slide Spider enables the shooter to gain increased control through a safe and secure hold. The product offers additional tactical advantages under challenging operating conditions, including extreme moisture and temperature. In addition, the product aids shooters with weak or weakened hand strength and those with medical conditions such as arthritis. The Slide Spider recently concluded a one-year testing and evaluation program by an active military unit. The approximately 1" by 3"grip underwent extreme environmental assessments and was deemed to be reliable while withstanding over 20,000 rounds of live fire. MSRP is $19.95.See the full list of available options for Smith & Wesson M&P Shield compatibility at: www.arachnigrip.com. For more information about ArachniGRIP products, visit arachnigrip.com