TriStar Viper .410 named Shotgun of the Year

TriStar Arms, importer of popular quality shotguns and pistols, has been honored with the announcement that the Viper G2 Bronze .410 was named American Rifleman's, "Shotgun of the Year" by the NRA. The award of the Golden Bullseye will be given at the NRA Annual Meetings event April 26, 2019 in Indianapolis, IN.
According to the NRA, criteria for consideration of this award include:
Recently introduced and available to consumers prior to the selection of the Golden Bullseye Awards;
Used/tested by a staff member or regular contributor to the magazine and/or affiliated media;
Reliable in the field, meeting or exceeding the evaluator's expectations;
Innovative in design and function;
Readily perceived as a value to the purchaser; and
Styled in a manner befitting the shooting and hunting industry and, perhaps more importantly, its enthusiasts.
"We are honored to receive this recognition," said Ryan Bader, Vice President of Sales and Marketing of TriStar Arms. "Unlike other .410s out there the Viper G2 is fully built and scaled for the smaller cartridge. The result is a shotgun that is lighter, quicker handling, and simply feels better in the hands while running a wide variety of loads including 2 1/2 shells."
Features of the Viper include a manual E-Z Load magazine cut-off; 3" chamber that also cycles 2½" shells, vent rib w/matted sight plane; fiber optic sight; 5-round magazine with shot plug; chrome-lined chamber and barrel; high grade Turkish walnut stock and 3 Beretta® style choke tubes (IC, M, F); bottom loading tubular magazine. MSRP for the .410 model is $825. For more information, visit tristararms.com.
---
Performance Center® Introduces Model 442 Revolver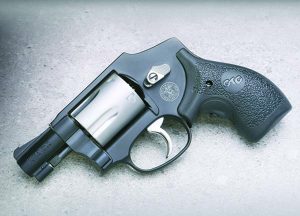 The Smith & Wesson Performance Center has announced that it has added a new, lightweight J-frame revolver to its growing line of unique concealed carry revolvers. The new Performance Center Model 442 revolver features the popular internal hammer design that is ideal for every day carry, providing a snag-free draw and quick holstering. This new revolver includes a number of hallmark Performance Center enhancements, including a sleek two-tone finish, high-polished features, Crimson Trace LG-105 Lasergrips, and a Performance Center tuned action. Tony Miele, general manager of the Performance Center, said, "For over 50 years, the J-frame revolver has provided firearm owners with an excellent personal protection firearm, designed to be lightweight and well suited for concealed carry. The new Performance Center Model 442 builds upon that heritage while delivering Performance Center enhancements designed to enrich the shooting experience. Shipping from the factory with Crimson Trace Lasergrips, the Performance Center Model 442 is a fantastic choice for concealed carry." Designed for concealed carry, the Performance Center Model 442 includes a Crimson Trace LG-105 laser grip with red laser for quick target acquisition in less-than-ideal lighting conditions. Chambered in .38 S&W Special +P, this new revolver is double action only with a five round capacity. Additional features include a stainless steel cylinder with high-polished cylinder flutes; a high-polished thumbpiece, plate screws, and trigger; and a Performance Center tuned action for a smoother, lighter trigger pull. The Performance Center Model 442 revolver has an MSRP of $742. For more information about the Performance Center Model 442, visit smith-wesson.com.
---
 Kahr Arms Spring 2019 Rebate Program
Kahr Firearms Group has announced its spring 2019 consumer rebate program which offers a $45 Consumer Rebate for all new Kahr pistols purchased from February 1 to May 31, 2019. Purchasers can create an online account and submit the online form, along with the serial number and a photo proof of the receipt with the date of purchase, at shopkahrfirearmsgroup.com. Kahr Arms will verify the serial number and receipt and send a $45 coupon code by email to be redeemed at shopkahrfirearmsgroup.com. Only online rebates will be accepted (no fax or mail). The online rebate form will be closed on July 31, 2019. Terms and conditions apply. Customers must be 21 years or older to participate. The terms, conditions and duration of this offer are subject to change without notice. All requests for the $45 Consumer Rebate must be submitted from the Kahr Firearms Group Pro Shop website at shopkahrfirearmsgroup.com. Offer void where prohibited by law, subject to tax, or otherwise restricted. This offer is valid only to U.S. residents in the United States. This offer cannot be combined with any other Kahr Firearms Group offer and applies to individual sales of newly manufactured firearms purchased from authorized dealers. For more information, email promotions@kahr.com or visit shopkahrfirearmsgroup.com.