Full USA Production of Desert Eagle Pistols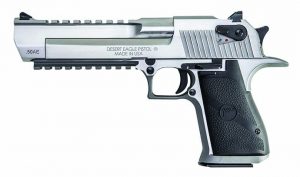 Magnum Research, Inc., a division of Kahr Arms, has announced that, as of 2019, all Desert Eagle pistols are now being produced in the United States. Work began in 2008 to start moving manufacturing back into the United States. The first prototypes were produced in 2009 and started limited production later that year. Production began in earnest in 2010 and hasn't slowed down since. Every year, Magnum Research has increased USA production and reduced imports. Now in 2019, the Magnum Research Desert Eagles are 100% USA made and production is on track to build over 10,000 USA models this year. Magnum Research Inc. was purchased by Kahr Arms in June 2010. Magnum Research's founders, Jim Skildum and John Risdall were involved with the company since 1979, overseeing the design and development of the Desert Eagle Pistol and its ascent from a concept on paper to a pop culture icon. The pistols were originally manufactured by Israel Military Industries (IMI), later shifted to Israeli Weapons Industries (IWI) until 1995, when Magnum Research moved the manufacturing contract to Saco Defense in Saco, Maine. In 1998, Magnum Research moved manufacturing back to IWI until 2009 when they began the process of converting to full US production. Besides offering the basic black finish 6" Desert Eagle Pistol, Magnum Research has developed a lineup of Desert Eagle Pistols in a number of distinctive and appealing finishes. They currently offer classic brushed chrome, Cerakote colors and patterns, "Tiger Stripe" pattern in a Gold titanium nitride-coated finish or black, and case colored pistols. An all stainless steel Desert Eagle Pistol has been recently added as well as a 50-ounce 5-inch-barreled version called the L5. To see the full Desert Eagle Pistol lineup, visit MagnumResearch.com. Fans can also build their dream custom designed Desert Eagle pistol at CustomDesertEagle.com.
---
Franchi Affinity 3.5 named Shotgun of the Year

The National Rifle Association's (NRA) American Hunter magazine has awarded the Franchi Affinity 3.5 with the Golden Bullseye Award for 2018 Shotgun of the Year. Given to new products that display overall excellence, quality and innovation, the Golden Bullseye Award recognizes the Affinity 3.5 for its excellent reliability and function in the field. The 12-gauge Affinity 3.5 handles 2¾. 3 and 3½ shells and is available in three finishes—black synthetic, Realtree Max5™ and Mossy Oak Bottomland™. It comes with either a 26- or 28-inch barrel that sports a stepped, ventilated-rib with a red fiber-optic front sight. Three choke tubes are supplied with the Affinity 3.5, including IC, M, and F (choke wrench included). The Golden Bullseye Awards will be presented during a special breakfast during the 2019 NRA Annual Meetings & Exhibits in Indianapolis, IN, in May. To learn more about the Franchi Affinity 3.5 or other Franchi products, visit online at franchiusa.com.
---
IWB Profile Holster for Glock G43X / G48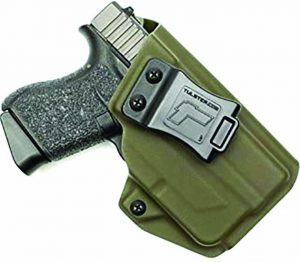 Tulster of Jenks, OK, has designed an IWB holster for the Slimline series Glock 43X and longer slide G48. From the ground up, each Profile Holster is designed to be an ultra-concealable, minimalistic, IWB holster without the drawbacks. Distinct features such as the matte-edge finish and minimal material used facilitate in a comfortable fit providing maximum concealment for concealed carry. Each IWB Profile holster is formed with Tulster proprietary molding tools to the Glock 43x and Glock 48 for a snug fit with low drag. The adjustable retention along with the inherent positive retention "SNAP" ensures the firearm is secure when holstered. Removal of extra material between the muzzle and retention screw adds to a layer of comfort without digging into the body or thigh. The trigger guard is intentionally undercut to promote a higher grip on the Glock and allow for a magazine release while the firearm is fully holstered. The IWB Profile holster can be ordered in many different colors and patterns for either right- or left-handed shooters. Matching Echo mag carriers are also available. For more information about Tulster products, visit tulster.com