Ruger adds new Security-9 Compact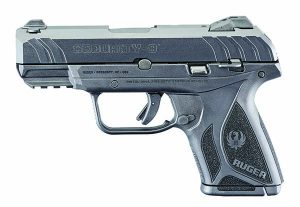 Sturm, Ruger has added a new, compact version of the popular Security-9® pistol. Smaller, lighter and more concealable than its full-size counterpart, the Security-9 Compact is ideal for everyday carry with an overall length of 6.5" and weighing in at just under 22 ounces. It ships with two, 9mm 10-round, flush-fit steel magazines for greater concealability, with a one finger grip extension floorplate for added control. Extended, 15-round magazines are also available. The Security-9 family shares the same Secure Action used in the LCP® II, which is derived from the reliable and proven hammer-fired LCP fire control system. The Secure Action combines the smooth trigger pull of the LCP with the short, crisp feel and positive reset of a single-action. Additional safety features include an integrated trigger safety; external manual safety; neutrally balanced sear with significant engagement and strong spring tension; and hammer catch to help prevent the hammer from contacting the firing pin unless the trigger is pulled. This Compact is constructed around a rigid, precision-machined, hard-coat anodized aluminum chassis with a blued alloy steel slide and barrel.
---
Performance Center® unveils optics-equipped M&P Shield® M2.0™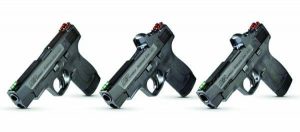 The Smith & Wesson Performance Center has unveiled M&P Shield M2.0 pistols, delivering nine new models that include a longer, 4-inch barrel and slides designed for red dot optics.  For the first time ever, the Performance Center M&P Shield M2.0 is available with a slide cut for optics and ships with a red dot included.  The Shield M2.0 pistols all feature Hi-Viz front and rear fiber optic sights in a choice of 9mm, 40 S&W, and 45 Auto. These new pistols are enhanced with the M2.0 feature set and are available in multiple configurations, starting with the basic model with an MSRP of $532. The Performance Center M&P Shield M2.0 with quick-acquisition 4 MOA red dot sight has an MSRP of $826.  In addition to the features listed above, the Performance Center Ported M&P Shield M2.0 will ship with a Performance Center-branded Tipton® Compact Pistol Cleaning Kit.  All Performance Center Ported M&P Shield M2.0 pistols ship with two magazines, one standard, flush fit  and one extended finger groove magazine.
---
SIG shipping new P320 XCompact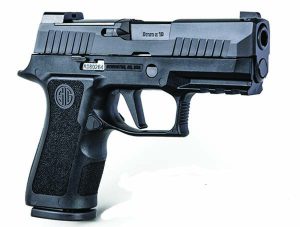 The new Sig Sauer P320 XCOMPACT, a modular, striker-fired, 9mm pistol with a serialized trigger group that combines concealability, with full-size XSERIES features is now shipping and available in retail stores. The redesigned grip module features an improved beavertail, fastback profile, contoured magwell, and a deep trigger guard undercut fitted with a subcompact slide and barrel.  Additional features of the P320 XCOMPACT include X-Ray3 day/night sights, a flat trigger, and night sight rear plate making it optic ready. The intuitive 3-point takedown of the pistol requires no trigger pull for disassembly, and safety features include a striker safety and disconnect safety. The P320 XCOMPACT comes standard with two 15-round magazines.  Total length is 7", barrel length is 3.6" and the weight (incl. magazine) is 25.3 oz. For more information, visit your SIG dealer or visit sigsauer.com.