Ruger adds 3 rifles chambered in the new .350 Legend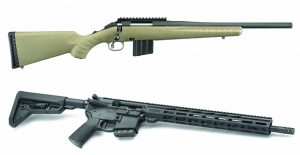 Sturm, Ruger has introduced three rifles chambered in Winchester's all-new .350 Legend cartridge: two Ruger American® Ranch rifles and one AR-556® MPR. These new rifles give hunters and shooters a variety of options to use this exciting new cartridge in both traditional bolt-action and modern sporting rifle configurations. Rifles chambered in .350 Legend are not exclusively destined for the so-called "straight-wall states." The cartridge combines impressive muzzle energy with low recoil, making it a good match for both the lightweight Ruger American Ranch Rifle and feature-rich AR-556 MPR. The cartridge is available in a variety of hunting, subsonic and target loads, inviting plenty of trigger time with Ruger's new .350 Legend rifles. Since its launch in 2012, the Ruger American Rifle has earned a reputation for outstanding accuracy and reliability, and the .350 Legend is a natural fit for the platform. This new chambering is offered in both standard (13.75") and compact (12.50") lengths of pull to fit most shooters, while the ergonomic stock and soft recoil pad ensure comfortable shooting. The AR-556 MPR has proven to be an excellent hunting platform, and the .350 Legend chambering expands that role. The nitrided 16.38" barrel is capped with a 1/2"-28 radial port muzzle brake. The rifle's appeal is enhanced by the combination of a Ruger® Elite 452® AR-Trigger, Magpul® furniture and a 15" free-float handguard. Magpul M-LOK® accessory attachment slots make the addition of a sling or bipod easy.
---
M&P®15 SPORT™ II rifle now available with CTS-103 optic

Smith & Wesson has announced that their M&P15 SPORT II OR rifle is now available with a factory-mounted Crimson Trace CTS-103 red/green dot optic.  Chambered in 5.56mm NATO and available in four optics ready configurations, the M&P15 SPORT II rifle equipped with the CTS-103 optic allows for quick and precise aiming for both recreational target shooting and personal protection. The M&P15 SPORT II rifle is chambered in the popular 5.56mm NATO and ships in an optics ready configuration that features a Picatinny rail gas block. Equipped with the Crimson Trace CTS-103 optic, the M&P15 SPORT II includes a 4 MOA variable intensity dot in both red and green that's adjustable for both windage and elevation. The M&P15 SPORT II with optic is available with either a standard or Magpul® MOE® M-LOK® handguard that allows for the quick and easy attachment of aftermarket accessories. The M&P15 SPORT II OR with CTS-103 optic is available starting at an MSRP of $759.
---
New Wildcat™ from Winchester Repeating Arms

After years of development and testing, Winchester Repeating Arms has released the all new autoloading Wildcat™ 22 LR rimfire rifle. Designed to push the boundaries of performance and value, the Wildcat is loaded with features to enhance every aspect of the shooting experience. The Wildcat is a straight-blowback, striker-fired design that uses a hemispheric firing pin for extra reliability with rimfire ammunition. The extensive use of rugged polymer construction contributes to a weight of approximately four pounds. The lower receiver assembly houses the bolt and fire control group, and is easily removed with the push of a button. Once removed, the bore can be cleaned from the chamber end to help prevent damaging the barrel rifling. Among the many features of the Wildcat is a 10-round rotary-style, polymer magazine that is easy to load, locks the bolt open after the last round is fired and can be ejected using either the side-mounted rails or the release tab in front of the magazine. The Wildcat is also compatible with aftermarket 10/22® magazines. Other notable features include a composite stock that is comfortable for a wide range of shooters to shoulder. The close radius pistol grip enhances finger to trigger reach. A ghost ring rear sight and ramped front sight offer fast target acquisition and an integrated Picatinny optics rail allows for the attachment of a bipod, light or laser. Sling mounts are built into the stock. Suggested retail is $249.99. 
---
Starline Brass adds .350 Legend to Lineup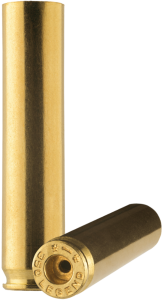 Starline Brass has announced the addition of brass cases for the .350 Legend.
This cartridge has a slightly tapered profile and rebated rim, allowing shooters to utilize the standard .223 bolt face.
The cartridge was introduced by Winchester and approved by SAAMI (Sporting Arms and Ammunition Manufacturers' Institute) in January of this year. According to Winchester's website, the .350 Legend has more energy than the legendary .30-30 Winchester, .300 Blackout or .223 Remington, yet it delivers less recoil than the .350 Bushmaster.
It produces more penetration than the .243 Winchester, but also with less recoil.
This straight-wall hunting cartridge is good for mid-size game, producing 903 ft. lbs. of energy at 200 yards, when fired from a 20-inch barrel.
Starline Brass has earned a reputation for producing superb brass cartridge cases in a wide variety of rifle and pistol calibers. The new .350 Legend brass is no exception, produced with the same quality control. It comes out of the package ready for loading. The new offering joins several other offerings from Starline including the .300 AAC Blackout, 7mm-08, .243 Winchester, .348 Winchester, .375 Winchester, 5.56x45mm, .222 Remington, .223 Remington, 6mm Creedmoor, 6.5 Grendel, 6.5 Creedmoor and .260 Remington.