Cyclops® introduces Orbis LED rechargeable spotlight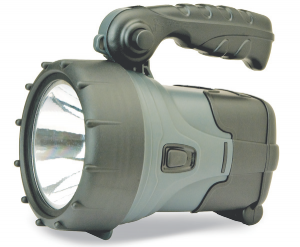 Cyclops, an innovator in personal and field lighting solutions has introduced the new Orbis 3-watt LED rechargeable spotlight. This handheld spotlight uses a 3-Watt LED bulb to create a bright 140 lumen light. Made durable with an ABS plastic housing, the light is equipped with the swivel handle for a comfortable grip. The light is powered by a 4V rechargeable Sealed Lead Acid battery and also includes a home AC charger and car 12V DC charger, so you never have to worry about running out of power. The MSRP for the Orbis is $29.99. Cyclops supplies the world with brilliant developments, designed with the outdoor enthusiast in mind and continues to design, reinvent and rediscover the illumination process in headlamps, flashlights and spotlights to provide safety and optimal performance. Each product goes through extreme, reallife testing before making it available to you. The end result—a high-tech, engineered device that brings you optimal performance.
Cyclops is a division of GSM Outdoors. Learn more about their brands at gsmoutdoors.com. For more information regarding Cyclops lighting solutions or to view their complete line of products visit their website at gsmoutdoors.com/cyclopssolutions.
From the distinctive Reaper Z® coating on the handles to the quality steel in the blades, the first seven tactical knives in the new Undead™ Series from Bear OPS® make a bold statement and back it up with reliable performance. When failure is not an option, Bear OPS has the answer! Three of the leading models in the American-made Undead Series are the Stiletto, the Constant™ II and the Bear Song™ IV. The UD-MC-300 Stiletto has a 3¼-inch blade made of top-quality S30V stainless steel. For smooth opening, the blades ride on bronze phosphorous washers and a precision ball bearing. It's 4-3/8 inches closed and weighs 2 ounces. The T6 aluminum handle has the Reaper Z coating. MSRP is $120. Reaper Z coating was created by combining highly realistic images of zombies and bio-hazard symbols with a shredded surface for its unique pattern. For more about the growing line of American- made tactical knives from Bear OPS, visit their web site bearopsknives.com.
 Wheeler Expands Delta Series line of AR 15 tools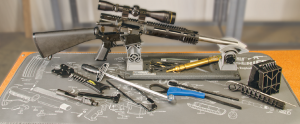 Wheeler Engineering launched its Delta Series line in 2012. From the beginning, the Delta Series mission has been simple; create innovative solutions for the AR enthusiast. For 2013, Wheeler Engineering Delta Series has expanded their line by adding 10 of the most innovative products on the market. Each Delta Series tool is designed with application specific features to perform functions with precision and ease. Constructed of the highest quality materials these tools deliver the best performance at a great value.
Here are the Delta Series tools that are available: AR-15 Maintenance Mat, AR Combo Tool and Torque Wrench, Multi Height Pic Rail Set, AR-15 & AR-10 Bore Guides, AR Armorer's Essential Kit, AR 10 /LR Mag Well Vise Block, AR Armorer's Professional Kit, AR-15 Complete Brush Set, AR Armorer's Vice, and an AR 15 Upper Vise Block Clamp. Wheeler Delta Series offers the most complete line of AR tools available. Whether building, maintaining or simply cleaning, Delta Series has a tool to help you accomplish the Job. For more information on Wheeler Engineering's Delta Series product line, visit battenfeldtechnologies.com/ products/?delta-series or call 573-445-9200.