Starline Announces Brass for .300 HAM'R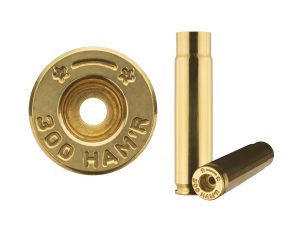 Starline Brass has just announced another addition to its lineup of new brass for handloaders, the .300 HAM'R®.
This cartridge, originally dubbed the .30-30 AR, was developed by Bill Wilson at Wilson Combat, according to a Starline news release. It is designed for use in the AR platform, and is capable of velocities in excess of the .300 Blackout and the 7.63x39mm, essentially delivering .30-30 performance out of a modern sporting rifle.
The cartridge utilizes the standard 5.56 bolt carrier group, and when used with bullets in the 110-115-gran realm, it delivers excellent accuracy, Starline said. Loading data is available at the Wilson Combat website.
According to Starline, the .300 HAM'R has been used in Africa for plains game, and Hodgdon's CFE BLK propellant produces "excellent velocity and low pressures" in the cartridge.
Starline's high-quality case lineup now includes .350 Legend, .348 Winchester, .375 Winchester, 5.56x45mm, .222 Remington, .30-30 Winchester and 7.65 French Long.
---
Bear OPS Unveils Multipurpose Folder
Bear OPS AC-510-B4-B Specifications

Blade Material: Sandvik 14C28N

Handle Material: Black G10

Rockwell: 58-60

Closed Length: 4-1/8"

Open Length: 8"

Edge Length: 3 ¼"

Weight: 4.0 ounces

Extras: Automatic, Seatbelt Cutter, Glass Breaker, Lifetime Warranty

MSRP: $179.99
Bear OPS has introduced a new multipurpose automatic knife model, the AC-510-B4-B.
Bear OPS is the "tactical brand" of Bear & Son Cutlery, specializing in knives for law enforcement and the military.
This new model features a modified drop point blade with a taper-ground 3.25-inch blade edge made with Sandvik 14C28N premium steel, according to Bear & Son. For added corrosion resistance, a black finish is applied. The blade opens by pressing the button and an integrated safety prevents accidental deployment. It has a solid black G10 handle featuring a reversible pocket clip that provides for tip-up carry and quick access. The Bear Ops AC-510-B4-B also has jimping on the top of the blade and handle for a more secure thumb grip.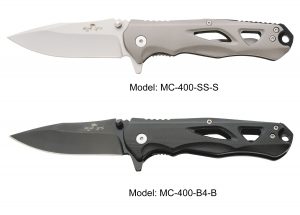 The multipurpose nature of the AC-510-B4-B is evident in the included seatbelt cutter on the side of the handle and the glass breaker on the back of the handle. A lanyard spacer provides secure storage and easy access. The Bear Ops AC-510-B4-B has an overall length of 8 inches, weighs 4.0 ounces, and hand-crafted in USA.