Faxon Firearms launches barrel division 
Faxon Firearms, manufacturer of the ARAK-21 Upper Receiver that fits any milspec  AR 15 lower platform, is proud to announce the addition of barrels to its  product lineup. Faxon Firearms currently manufactures both 4150 / 4150  MIL-B-11595 GBQ (Gun Barrel Quality), and 416 R GBQ Stainless  Steel barrels in several standard profiles and calibers. The first  stock barrels are being produced in 16" lengths for 5.56  NATO M4 Barrel, 5.56 NATO Stainless Fluted Barrel  and a 14.5" NATO Barrel. All standard profile steel  barrels will be treated with a QPQ Nitrite  finish. There will be additional caliber,  profile and length stock barrels  added in the near future.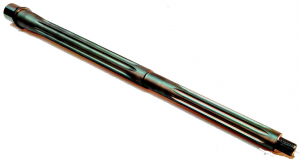 Faxon Firearms has  leveraged Faxon  Machining 35  years of  experience in precision  machining and deep-hole drilling to produce in-house, an extremely  high quality barrel. By doing this, Faxon Firearms can provide its customers  with a high-quality product at a competitive price. Faxon Firearms will be offering  single barrel and low volume customers standard products as well as low to  high volume OEM's either standard or custom barrels. Faxon Machining / Firearms  has a rich history in manufacturing for the defense, aerospace, oil and gas, and  automotive industries. Faxon Firearms' staple product, the ARAK-21® is a truly  innovative gas piston actuated, complete upper receiver assembly designed to  seamlessly interface with the standard AR-15 platform.For more information on  Faxon Firearms visit them online at faxonfirearms.com
HatsanUSA Inc. offers airgun for young shooters 
Finding a youth model airgun with quality craftsmanship and an affordable price  can feel next to impossible today. Many well-known manufacturers of the past  have sacrificed quality by cutting corners, while others have disappeared  completely. In order to fill the void of a proper youth airgun on the market,  HatsanUSA has introduced the Alpha Youth airgun. The Alpha Youth is built to  last and be passed down as the first gun for multiple generations. It features  components that are nearly all made in-house by the Turkish manufacturer,  including a precision rifled barrel made from high quality German steel,  ergonomically designed stock, and a micro-adjustable rear sight with TRUGLO®  fiber optics. The Alpha Youth is an ideal first gun for youth shooters  as it weighs just over 5 pounds, measures  just 37.8" in length, and features an easy-to-use  cocking barrel that has a length of pull of 13" and requires  only 14 pounds of cocking force. The superior craftsmanship also  allows the Alpha Youth to shoot Hatsan's high-density pellets for velocities to  495fps. This not only allows new shooters to hone their skills with incredible  accuracy, but also gives them more energy upon impact when hitting their target.
The Alpha is available in .177cal in both black synthetic (MSRP $99.99) and Muddy  Girl Camouflage® (MSRP $129.99). HatsanUSA Inc. gives U.S. customers the  first opportunity to purchase Hatsan airguns, known and respected throughout  the world for their premium Turkish craftsmanship, quality, and hard-hitting  performance direct from Turkey—visit them online at: hatsanusa.com
CrossBreed adds RAM Mount to carry lineup 
CrossBreed® Holsters has launched a  line of new products that make having  your gun close at hand easy, safe and  secure. The new products combine the  functionality and quality of their  modular holster systems with the  versatility and ruggedness of RAM  Mount solutions. The RAM Mounts are  available with the customers' choice of  the Ohai, Last Ditch, Belly Band and  Purse Defender modular holsters. The  modular holsters are a vast  improvement over floppy, cloth or  nylon holsters and provide positive  retention and absolute stability for  firearms.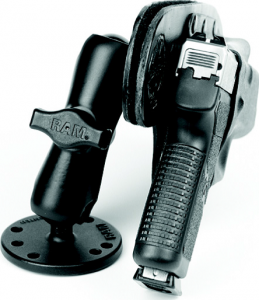 The flat surface mount application  allows CrossBreed modular holsters to  be easily be mounted on any flat  surface where having ready access to  your gun is secure, safe, accessible  and adjustable to fit each users needs.
Popular uses include under desk, vehicles, bedside and other flat surface  areas where personal protection and  self-defense are important. Form follows function and the Round Base 1" ball mount is designed to fit specific areas where the round base makes the  most sense. The Round Base Mount shares the same qualities as the Flat  Surface Mount and is designed to fit  CrossBreed modular holsters.
Carrying a firearm is a personal choice and once you have made that choice  having your firearm with you and  accessible provides you with comfort  and security at all times. CrossBreed Holsters has combined our innovative Modular holsters with the safe, rugged and secure RAM handlebar mounting system, resulting in the ability to  securely mount your firearm on the  handle bar of your motorcycle or ATV.
For more information, visit the company's website at:  crossbreedholsters.com