Federal Premium Adds Vital•Shok TruBall Offerings
Federal Premium® Ammunition announces Vital-Shok™ TruBall® slugs are now available in hard-hitting 3-inch loads for 12 and 20-gauge smoothbores. The Federal Premium Vital-Shok™ Slug TruBall system was created to offer shotgun hunters the most accurate, consistent rifled slug available. The shotshell design features a specially-engineered plastic ball that sits between the wad and the slug's rear cavity.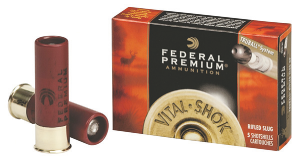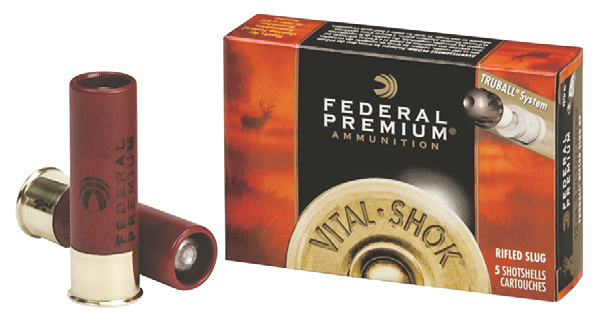 This design centers the rifled projectile as it travels down the barrel, yet provides clean separation of components after muzzle exit. The technology produces groups as tight as 1.4 inches at 50- yards from smooth-barreled shotguns. For 2013, the line will include 3-inch offerings that provide even more knockdown power with the same unprecedented accuracy. The 20 gauge 3-inch TruBall is a ¾ ounce slug while the 12 gauge 3-inch is a 1 ounce TruBall slug.
To view the entire Federal Premium Vital-Shok line as well as other Federal Premium shotgun, rimfire and centerfire products, go to federalpremium.com.
Pork infused radical Islamist ammunition
Jihawg Ammo Company, makers of a new pork infused radical anti- Jihadist Ammunition, announces their new .380 auto round for those who find themselves defending their lives from killers and terrorists with the "smaller" 9mm handgun. However, it is obviously available for non-radical-Jihad use too.
As with their 9mm, .40, .45ACP, .223, .308 ammo, this latest offering (.380) has Jihawg's (pronounced "gee hog") traditional pinkish (we could say porkish) proprietary pork-infused paint tipped bullets. These rounds were created by the wild men and women in Idaho at Jihawg Ammunition out of disgust for what radical Jihadists are doing to their own people and people around the world. "Our goal is to help reverse the growing threat of radical Islam by our program of PEACE THROUGH PORK.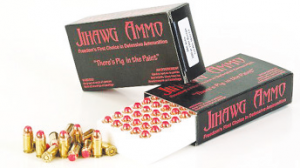 We are just extending the historic narrative started by the likes of Thomas Jefferson and General 'Blackjack' Pershing."— Brendon Hill, President.
The 100-grain .380 caliber pork-infused ammunition is priced at $29.95 a box of 50. Jihawg also produces: 9mm, .40 S&W, .45 ACP, 5.56/.223, and .308 Winchester. The company is also actively seeking direct delivery retailers at sales@jihawg.com and if Jihawg Ammunition is not yet available at a retailer nearby, it can be shipped direct from Jihawg to states and municipalities where it is legal to do so. Contact them at: Jihawg Ammunition, Dalton Gardens, Idaho, Phone: 208-759-0759, or email them at: info@jihawg.com. Their website is jihawg.com.
Champion Adds Additional Reactive Target Options
Champion® Traps and Targets has introduced new reactive targets to their popular interactive lineup.
Shooters of all ages and disciplines will enjoy hours of shooting fun with these durable and challenging targets.
Champion's DuraSeal® is a self-sealing material that absorbs thousands of rounds from handguns and rifles, extending the life of the target.
The DuraSeal Wobble Targets feature a weighted-round bottom that provides an easy-to-see wobbling reaction when hit, as they return to an upright position after every hit, ready for the next shot. The vivid color schemes of these targets allow for easy target acquisition. The new bowling-pin design offers a bright white, four-sided target with a red base, while the round radiation green target features a black base. DuraSeal Crazy Bounce Ball and Star Targets allow shooters to practice hitting moving targets because they bounce and dart across the ground after every hit.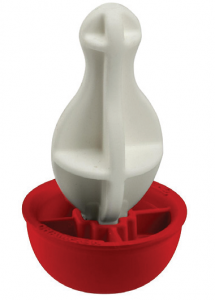 The DuraSeal Swinging Ball Target is a 3-inch reactive ball that promotes precision shooting skills. Secured to either the ground or an elevated wood base, the high-visibility orange Diamond Pop-Up target automatically returns upright after being hit. The radiation green Double Reaction Metal Spinner Target gives shooters twice the options to aim at. The inside spinner consists of smaller, orange targets to enhance precision and the green, diamond and circular shapes are on the outside spinner. Shooters will hear the metal clang and see the targets move with every hit. The DuraSeal Bowling Pin Wobble Target retails for $28.49. Learn more about the new reactive targets, and all of the great shooting accessories from Champion at championtarget.com.