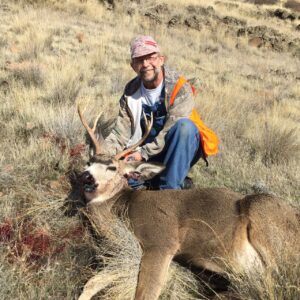 By Dave Workman
Editor-in-Chief
Developed initially as a replacement for the venerable .30-06 as a military round (as the 7.62mm NATO), the .308 Winchester debuted in 1952 as a hunting/sporting round in short-action rifles, and it quickly proved its worth against deer and other big game.
It has proven to be a flat shooting, accurate round with ballistics in the '06 neighborhood, depending upon the bullet and powder charge. Game can't tell the difference and I've never known any buck or bull to get up, shake himself and complain.
Popular bullet weights for this caliber range from 150 to 180 grains, though both lighter and heavier projectiles are available. My personal preference is a boattail weighing 165 grains or 168 grains, loaded to stroke along at 2,500-2,600 fps. In either the single-shot H&R or bolt-action Savage rifles in my gun safe, or the bolt-action Ruger my brother owns, this loading has proven effective enough to put mule deer bucks in the cooler. No other proof is necessary in my book.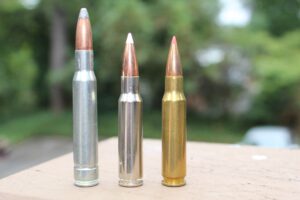 Carefully seat whatever bullet you choose, and crimp those with a crimping cannelure. The maximum overall cartridge length of the .308 Winchester is listed as 2.810 inches in the Speer reloading manual.
I like boattails for their superior ballistic coefficient (in layman's terms, the ability of the bullet to sail through the air while retaining velocity and not dropping dramatically) and downrange performance.
Virtually all bullet makers—Speer, Hornady, Nosler, Barnes, Sierra for example—make .30-caliber bullets well-suited to the .308, and I have yet to witness any erratic behavior with any of them when fired from reliable rifles.
After my range sessions, when I'm beginning the reloading process, I do two things in this order:
Lube and resize each case on a single-stage press
Measure overall length of each re-sized case and trim back to 2.005-inch
After scouring out each primer pocket, I then champfer (deburr) the case neck inside and out, and finally dump my resized cases into a Lyman wet tumbler where the cases get polished up like new thanks the tiny stainless steel pins in which the empty brass tumbles around in a cleaning solution. I will let them tumble for at least two hours before draining and rinsing outside with a garden hose.
To dry my resized brass, I'll grab a plastic cartridge holder found in most commercial ammunition boxes and let the empties drain overnight by placing them neck down over a paper towel. Then, I'll let them dry for a couple of days in a greenhouse where temperatures—especially during the summer months—climb above 100 degrees. That will suck the moisture out pronto.
I can't over-emphasize the importance of clean brass inside and out when reloading fresh ammunition. While some presses have priming tools, I prefer to prime each individual case by hand to make sure the primers are properly seated.
Be sure to carefully examine each empty case before priming as you might spot tiny cracks at the case neck or somewhere along the outer surface that weren't detectable before tumbling. Discard those.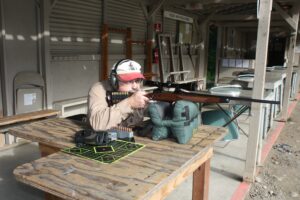 There are many suitable propellants available for reloading the .308 Winchester. Glance through the pages of any good reloading manual and you will find dozens of recipes for various bullet weights and powders. One of my most valuable bench accessories is the Hodgdon Annual Manual, a magazine-style publication covering most popular calibers that offers loads with Hodgdon, Winchester and IMR propellants. You will find suggested loads using such powders as Benchmark, Titegroup, Varget, and assorted IMR and Hodgdon powders. I always encourage people to stay within the data recommendations, and approach listed maximum loads with caution by looking for signs of high pressure, such as flattened primers or split case necks
I've always had very good luck with CCI 200 Large Rifle primers, and despite the occasional assertion they're too hard, I've never experienced a single misfire. Considering the amount of ammunition I've loaded and fired over the years, that's an excellent track record.
I prefer IMR 4895, which has delivered consistent results over the year, whether I was using Speer or Nosler bullets, and I've anchored deer with both while one of my hunting pals has put tags on several deer using Hornady pills in the same weight range. However, I'll confess that I've got a pound each of Benchmark and Titegroup waiting for a bit of leisure time during which I can brew up a few rounds using each of these to see how well they perform over a chronograph and downrange on a bullseye.