The CEO at Remington Arms Company has offered a million square feet of unused manufacturing space at its plant in Ilion, NY for the production of equipment critical to the fight against the Coronavirus.
In a letter to President Donald Trump and New York Gov. Andrew Cuomo, Remington CEO Ken D'Arcy noted, "The Remington plant in Ilion, New York, has been in operation for more than 200 years and prior to the recent executive order by Governor Andrew Cuomo closing non-essential businesses in the state, we were employing approximately 800 men and women, most of whom are members of the United Mine Workers."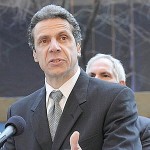 As a result, the Remington plant in Ilion "has approximately one million square feet of unused and available manufacturing space.
"We would be honored to donate our facility to the production of ventilators, surgical masks, hospital beds or any other products mission-critical to the war on coronavirus," D'Arcy wrote. "These products as you know are essential to winning this new kind of war and Remington stands ready to enlist in wartime production."
He also reminded both chief executives that Remington products "have served in every major U.S. Military conflict since 1816."
"We are prepared for duty yet again and would be honored to work with you and Governor Cuomo to fight the war against the coronavirus," D'Arcy said.