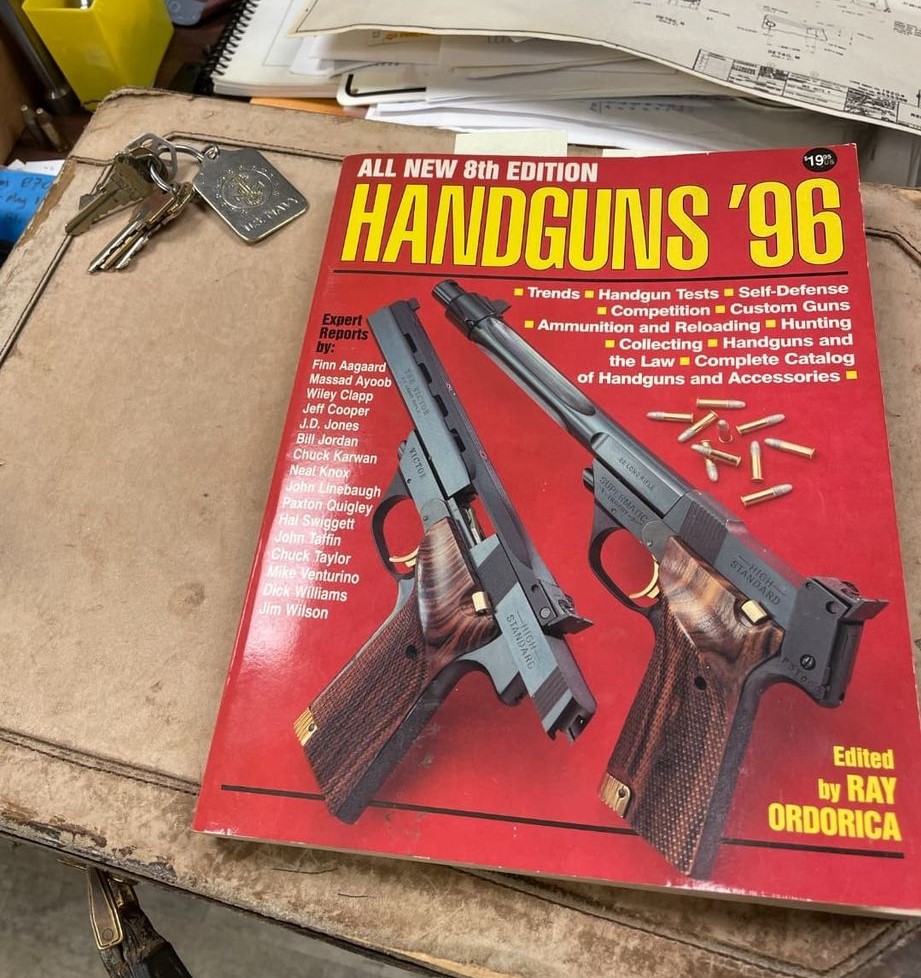 By Jim Dickson | Contributing Writer
(Images Courtesy High Standard Firearms)
Contrary to what some may think, you can still get service, repair, and restoration of all High Standard pistols from 1932 to date.
The Model G .380 is the only one that a supply of parts for is lacking resulting in new parts having to be made from the original drawings on demand at a higher price than those whose parts are in inventory. Today, Alan Aaronstein, an old and respected name in the arms business, is president of High Standard Firearms U.S.A., Interarms, AMT, Firearms International, and United States Cartridge Co. All gun manufacturing and repairs for these companies is done by OFM Corp. and this is the address where you ship them for repair:
OFM Corp.
5151 Mitchelldale Street
Suite B14
Houston, TX,77092
713-476-0888
OFM Corp. consists of the original High Standard gunsmiths and machinists from High Standard Manufacturing. The machinery, tooling, gauges, drawings, intellectual property, and inventory of High Standard in Connecticut was acquired when they went closed and it was moved to Texas.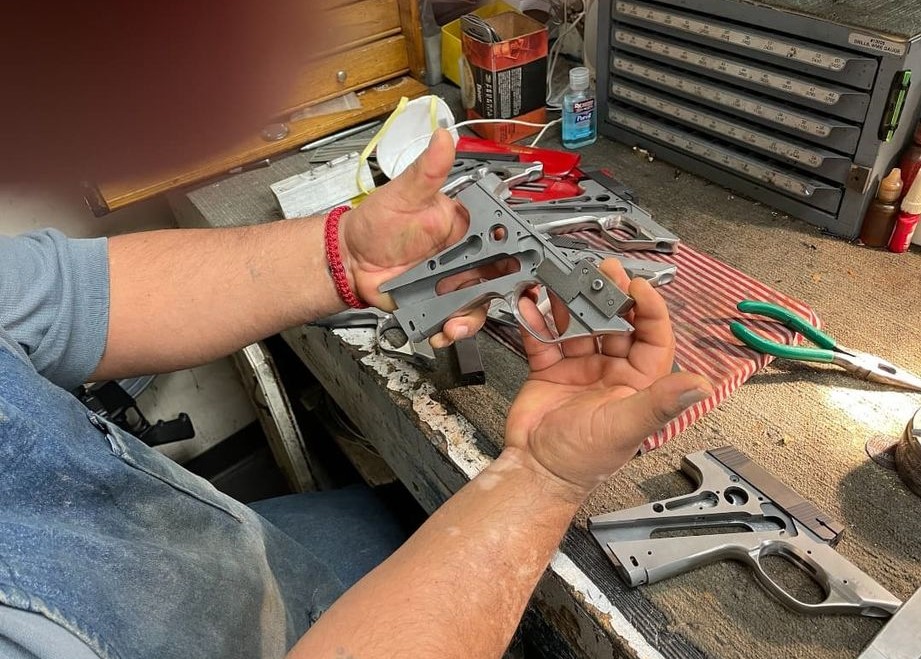 Bob Shea, the legendary master gunsmith at High Standard, continued to work as well. Bob began working for High Standard in 1942 and he was the lead gunsmith on the High Standard 10X Pistol Program back in Connecticut. He trained all the new gunsmiths in Texas in everything related to High Standard. This is one reason why the current High Standard .22 match pistols are as good or better than anything that ever came out of Connecticut.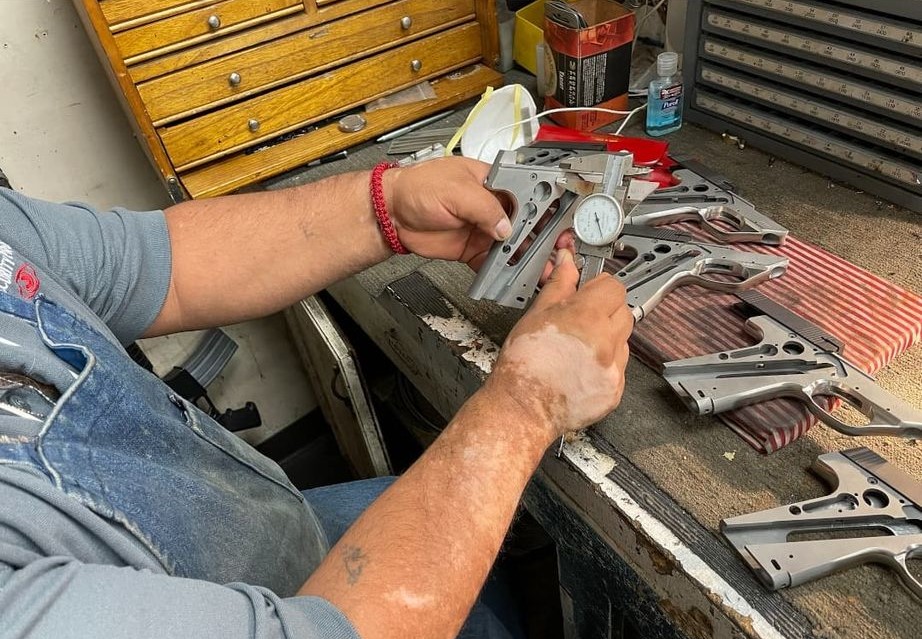 The other reason is the experience and expertise of Alan Aaronstein who currently does all the engineering and quality control as well as supervising the repair shop at OFM Corp. He was the man in charge of all the gunsmith training from 1993 to the present. Alan's expertise in gunsmithing is astonishing as he can solve the most enigmatic problems in gunsmithing faster than any gunsmith I have ever seen. As a result, they also repair and restore other guns as well.
Among those normally worked on are:
AMT pistols
Interarms American Eagle and vintage Lugers
Colt pistols going back as far as you like. Alan has an original 1849 Colt in the shop right now.
U.S. And foreign military rifles and handguns such as M1911, M1 carbine, M1 Garand, Springfield M1903 and M1903A3, Lugers, P38's (They are also the Walther Service Center), Guns made or imported by Interarms, etc.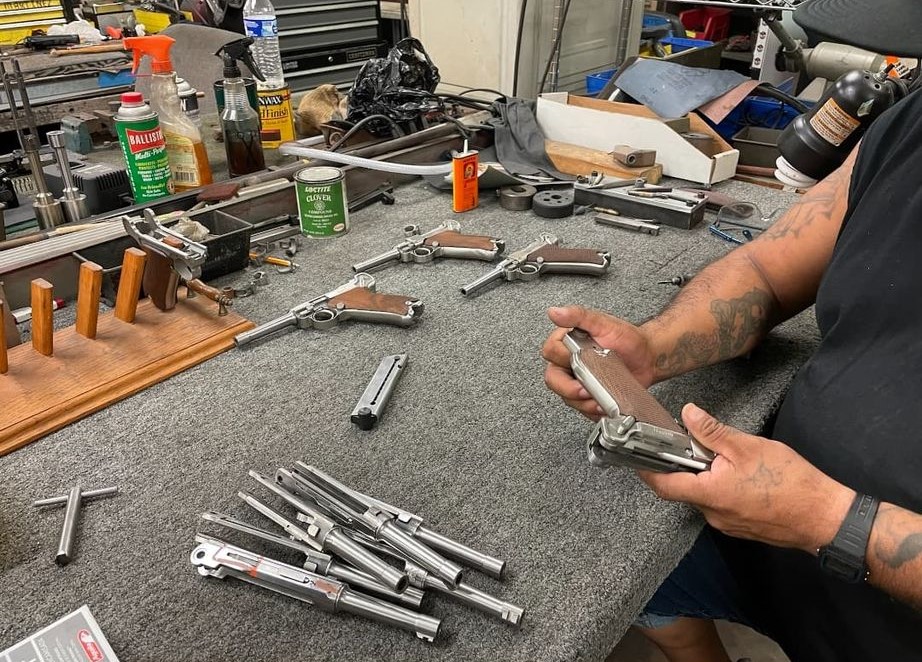 They do bluing, parkerizing, Teflon, nickel, gold, and anodizing finishing as well as full restoration work. One popular item is taking the pistols plated in bumper chrome back in the 1950's and removing the chrome and restoring the original finish.
Full restoration work on severely damaged or abused guns is also available. They can bring the most horrible examples back to new condition. This is no job for your average gunsmith. Needless to say this costs a lot more than a reblueing job at your local gunsmith shop but the end result is a new gun in every respect. This is vital for the preservation of historic guns or family heirlooms as history shows that only the examples in the best condition tend to be cherished and preserved through the generations. Museums and families alike tend to discard the ones in poorer condition as junkers as time goes by.
While the Colt Python is famous for the trigger job done on it by the Colt Custom Gun Shop, Alan can put as good a trigger pull on any Colt double action revolver. For those like me who prefer a .45 New Service to the .357 Python, this is excellent news. He can do any work ever done at the Colt Custom Gun Shop which Colt recently discontinued.
One conversion to the famed Colt Single Action Army revolver that the Colt Custom Gun Shop used to do is shortening the barrel and ejector rod assembly to 3 ½ inches and converting the grip to a bird's head configuration for concealed carry. This is a big improvement for this purpose and the gun remains as easy to shoot as ever, unlike many bobbed pistols. Alan is also able to provide hammers with a more vertical hammer spur like the percussion era Colt's on a custom manufacture basis.
The biggest flaw of the Model 1873 Colt Single Action Army revolver was lowering that hammer spur. Sooner or later it will dig into your side if you carry this gun daily and its lower profile encourages improper cocking by pressing the thumb tip on the hammer like cocking a modern double action instead of holding it crossways like you had to do with the earlier designs. The thumb is more likely to slip when cocking this way and it positions your grip lower on the gun which affects the shooter's ability to aim the handgun. The Single Action Army has to have a high grip to point accurately.
Another option of great importance to Alaskan and other cold weather users of the SAA is the fact that they are also capable of making a custom oversize trigger guard that will accommodate a gloved finger.
One of the Best examples of Alan's expertise is the Interarms American Eagle Luger pistol in stainless steel. Before this, only Krieghoff had succeeded in making Luger pistols without resorting to hand fitting. As long as it has the proper springs and ammunition the Luger is one of the top ten most reliable automatic pistols and it is by far the easiest to hit with and most accurate military pistol ever made.
There are very few places where you can get this level of comprehensive repair, rebuilding, and restoration of firearms and this one is on the largest scale of any that I know of. As such, it is a treasure for the shooting community.