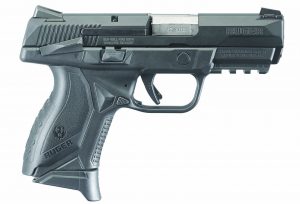 Sturm, Ruger has just introduce a .45 Auto Ruger American Pistol® Compact with an ambidextrous manual safety. Introduced in a duty size in 2015, the Ruger American Pistol is proving to be one of the best duty pistols on the market today. Designed with the latest US military standards in mind, the gun endured testing in the harshest environmental conditions to prove its rugged reliability. Ruger polled law enforcement and military trainers throughout the country to select the form, function and features of this firearm. The resultant pistol combines a recoil-reducing barrel cam (which better spreads recoil over time) with a low-mass slide, low center of gravity and a low-bore axis to provide better balance, less felt recoil and less muzzle flip than comparable pistols.
Thie newer compact model with ambidextrous manual safety, chambered in .45 Auto, is 7.25" long and 4.65" high with a 3.75" barrel and weighs 29 ounces with an empty magazine. It ships with medium and large replaceable grip modules and two nickel-Teflon® plated steel magazines (one 10-round extended magazine and one 7-round compact magazine). The Ruger American Pistol Compact shares all of the features and rugged reliability of the duty size gun in a smaller, lighter, more concealable package.
Every Ruger American Pistol is built in the USA on a rigid, one-piece, precision-machined, black nitrided, stainless steel chassis with integral frame rails and fire control housing. Additional features include genuine Novak® LoMount Carry three-dot sights, a stainless steel slide with non-reflective, black nitride finish, a one-piece, high-performance, glass-filled nylon grip frame and a mil-standard 1913 accessory rail.
MSRP for the Compact Ruger American Pistol is $579. For more information, visit online at: ruger.com.