By Joseph P. Tartaro | Executive Editor
Sturm, Ruger & Company, Inc. has announced that for the first quarter of 2019 the company reported net sales of $114.0 million and diluted earnings of 74¢ per share, compared with net sales of $131.2 million and diluted earnings of 81¢ per share in the first quarter of 2018.
The company also announced today that its Board of Directors declared a dividend of 29¢ per share for the first quarter for stockholders of record as of May 17, 2019, payable on May 31, 2019. This dividend varies every quarter because the company pays a percentage of earnings rather than a fixed amount per share. This dividend is approximately 40% of net income.
Chief Executive Officer Christopher J. Killoy made the following observations related to the company's 2019 first quarter performance:
In the first quarter of 2019, net sales and earnings per share decreased 13% and 9%, respectively, from the first quarter of 2018 due to a decline in overall market demand, as evidenced by the 8% decrease in National Instant Criminal Background Check System (NICS) background checks (as adjusted by the National Shooting Sports Foundation).
Improved price realization in the first quarter of 2019 drove profitability during the quarter.
Sales of new products, including the Pistol Caliber Carbine, the EC9s pistol, the Security-9 pistol, and the Precision Rimfire Rifle, represented $20.9 million or 20% of firearm sales in the first quarter of 2019. New product sales include only major new products that were introduced in the past two years.
Sturm, Ruger & Company, Inc. has announced the appointment of Ronald C. Whitaker as the Chairman of its Board of Directors. Whitaker replaces former Chairman of the Board C. Michael Jacobi, who will remain a board member of the company.
"I am honored and humbled by this appointment," said Chairman Whitaker. "As just the fifth Chairman of this great Company, I am looking forward to maintaining the high standards set by the leaders that came before me and to providing continued financial success for our shareholders""
Whitaker has been a member of Ruger's board of directors since 2006. He has served as chairman of the Nominating & Corporate Governance Committee and the Compensation Committee, and as a member of the Audit Committee.
"Ron and I have served on the Ruger Board since 2006," stated outgoing Chairman Jacobi. "I believe – and I am confident the Board agrees – that his significant executive, board and firearms industry experience make him an excellent Board member and Chairman. I am excited for this next chapter for both of us and for the Company."
Previously, Whitaker served as the president and CEO of Hyco International and as a member of its board until his retirement in 2011. He is a board member of the Walbec Group and Global Brass and Copper Company, Inc. and chairman of the Indiana University Manufacturing Policy Initiative at the School of Public and Environmental Affairs. Previously, Whitaker was president and CEO of Strategic Distribution, Inc., president and CEO of Johnson Outdoors, and CEO, president and chairman of the Board of Colt's Manufacturing Co., Inc. He is a former Board member of Panghorn Corporation, Firearms Training Systems, Group Decco, Michigan Seamless Tube, Precision Navigation, Inc., Weirton Steel Corporation and Code Alarm, and a former trustee of the College of Wooster.
Lyman acquires Mark 7
Lyman Products has announced that, effective immediately, Mark 7 Reloading is now a Lyman brand and a part of the Lyman family, which includes Pachmayr, TacStar, A-Zoom, Trius, and Butch's.
In order to strengthen and expand upon their already well-respected position within the reloading market, Lyman Products saw a growth opportunity within the reloading space by combining its world-class manufacturing with Mark 7's world-class engineering.
Mark 7 has brought change and innovation to the market since their introduction of the popular Autodrive systems in 2015. Since then they have continued to bring new and dynamic advancement to the reloading category with their Evolution, Evolution Pro and Revolution Reloading Systems. Now in its sixth year of operation, Mark 7 has a full line of reloading presses ranging from hand operation to light commercial operation.
Lyman president and CEO, Rick Ranzinger, said, "This was a natural fit for us as the Mark 7 brand and products dovetail nicely with our existing reloading products and initiatives. Lyman Products provides strong manufacturing capabilities and brand recognition that will enable Mark 7 to grow to new heights. We are excited to embark on this new chapter as we continue the Lyman mission to provide innovative products designed by shooters, for shooters, since 1878."
The Mark 7 Company and management team will continue to stay on and assist Lyman in building the Mark 7 brand. Mark 7 will remain at their Fort Myers, FL, location, and their products will continue to be made right in the US and assembled at the Florida facility, with many of their parts being manufactured at Lyman's Connecticut facility.
Weatherby grand opening
Weatherby, Inc. announced a plan to move from Paso Robles, CA, to Sheridan, WY, at the SHOT Show in 2018. Since that announcement Weatherby has been planning, building, and moving towards a Grand Opening of its brand new facility in Sheridan. Weatherby, Inc. moved into the new space in March 2019 but will celebrate an official Grand Opening on June 16th.
The company was founded in California in 1945,
"California represents a rich history and an established legacy that I never want to forget or take for granted. Wyoming, on the other hand, now represents a bright and promising future for Weatherby. People often ask me why we made the move. Honestly, I don't even know where to begin," says Adam Weatherby.
Weatherby invites everyone to the visitor's center to participate in the official ribbon cutting. Events will be taking place from 9:00am – 2:00pm on Thursday June, 13th. Multiple auction items including two Mark V Gold Commemorative rifles with serial numbers WY000307 and WY000003, raffles, conservation group activities, live music, and facility viewing areas will all be part of the celebration. The visitor center will have historical documents, classic taxidermy, and opportunities to learn about Weatherby history.
"I am so grateful for Weatherby's past and the rich heritage that began so many years ago in Southern California with my grandfather. I am also incredibly grateful for the state of Wyoming and the many others that helped get us to our new home," says Adam Weatherby.
Weatherby is now located on the North end of Sheridan at 1550 Yellowtail Dr.
Henry honors veterans, lawmen at NRA function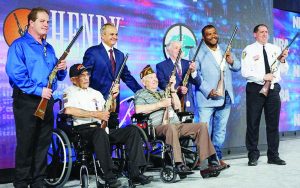 Henry Repeating Arms presented engraved tribute edition rifles to six deserving individuals to recognize their service of country, state, and community during the National Rifle Association Foundation Banquet and Auction in Indianapolis.
The presentation took place in front of a crowd of more than 2,500 people at the Lucas Oil Stadium as the kick-off event for the 2019 NRA Annual Meetings & Exhibits, which opened to the public on April 26.
As the primary sponsor of the event, Anthony Imperato, president and owner of Henry Repeating Arms, invited the honorees to join him on stage where they were introduced to the crowd and presented with a Henry rifle. The honorees included the Sheriff of Baron County, WI, a young veteran who was injured by a 200-pound IED on deployment in Iraq, three World War II veterans, and the father of a young man who was tragically killed in a car accident two weeks after returning from his second combat deployment.
Veterans and law enforcement honored by Henry Repeating Arms President Anthony Imperato, standing third from left included: L o R, Marshall Easley, Wetzel "Sundown" Sanders, Don Burwell, Al Hutchcraft, Omar Avila, and Sheriff Chris Fitzgerald.