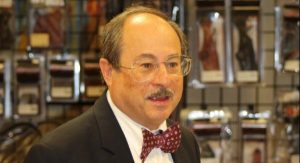 By Dave Workman
Editor-in-Chief
The Second Amendment Foundation has announced it will take its successful information/education campaign warning about Joe Biden's gun control agenda to the radio airwaves, beginning next week.
SAF announced the upcoming radio blitz only a week after its newest television ad began appearing on several cable networks. The timing, according to SAF founder and Executive Vice President Alan Gottlieb, is in anticipation of a new Biden offensive on guns, perhaps to take public attention away from his inability to push any of his other agenda items through Congress.
"With virtually every one of his major campaign promises being defeated," Gottlieb observed, "what remains is an attack on the Second Amendment. Our message will warn radio listeners about what Joe Biden is doing to gun rights."
Biden came into office a year ago with a major gun control scheme. After losing on other major issues relating to the economy and foreign affairs, going after guns may be all he's got left.
Gottlieb said the radio campaign will air on the following national programs: Hugh Hewitt, Sebastian Gorka, Larry Elder, Charlie Kirk, Lars Larson, Ben Shapiro, Brian Kilmeade, Guy Benson, Mark Levin and Dana Loesch. The radio effort will launch on Monday, Jan. 24.
"Our purpose is to educate and organize gun owners to support SAF in its upcoming legal court challenges of Biden's anti-gun agenda," Gottlieb explained in Wednesday's announcement. "The foundation already has one lawsuit challenging his upcoming arm brace regulations, and we're preparing to challenge his upcoming plan to redefine firearms in an effort to stop a long-standing tradition of people building their own firearms."
Like the television advertisement that began airing more than a week ago, the radio spot features snippet of Biden declaring, "Whether it is a 9mm pistol or a rifle, it is ridiculous. I am continuing to push to eliminate the sale of those things."
Gottlieb told Liberty Park Press this is one quote the firearms community will not allow Biden to forget.
Listeners will be asked to text "Protect 2A" to 888-762-0221.
"Using TV, radio and the internet will help us reach millions of first-time gun buyers," Gottlieb said. "Since Biden was elected, an estimated 12 million people have become new gun owners. We are giving them information on how to get involved in the movement to protect their rights."
That may be more important than they might imagine, considering the remarks by a "first-year opinion columnist" at the Daily Emerald, a publication of the University of Oregon's independent student media organization.
Isaac Oronsky, a political science major from the Bay Area, opens his Jan. 12 Op-Ed admitting, "I don't really know that much about guns… No one in my family has ever owned a gun."
Yet here he is, positioning himself as the judge of something about which he admittedly knows very little.
For a political science major, his appreciation for rights might need a little polishing, as he declares, "Gun ownership should be a privilege, not a right. It's time to reconsider the Second Amendment."
Presumably, he is studying to become one of tomorrow's leaders.
Based on his remarks, he is just the sort of person to whom Biden may appeal with his gun control scheme, and it is that mindset Gottlieb and SAF hope to derail with this messaging campaign.