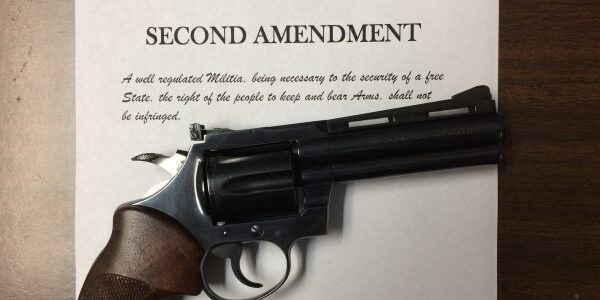 By Dave Workman
Editor-in -Chief
New Mexico Democrat Gov. Michelle Lujan Grisham, already facing two federal lawsuits from different gun rights groups, is now being sued by the Second Amendment Foundation on federal constitutional grounds, over her "public health emergency" order to essentially suspend the Second Amendment within the City of Albuquerque and surrounding Bernalillo County.
Already, the county sheriff, Albuquerque police chief and district attorney have already announced they will not enforce the governor's order because of its questionable constitutionality. Gov. Lujan Grisham and three other state officials—Patrick M. Allen, cabinet secretary for the New Mexico Department of Health; Jason R. Bowie, cabinet secretary for the New Mexico Department of Public Safety, and W. Troy Weisler, chief of the New Mexico State Police—are named as defendants in the SAF complaint. They are all sued individually and in their official capacities.
Joining SAF are the Firearms Policy Coalition and the New Mexico Shooting Sports Association, along with SAF member Zachary Fort, who resides in Bernalillo County. They are represented by attorney Jordon George of Aragon Moss George Jenkins, LLP. IN addition to the complaint, George also filed a motion for a temporary restraining order and preliminary injunction.
"Despite her clams to the contrary," said SAF founder and Executive Vice President Alan M. Gottlieb, "Gov. Grisham does not have the authority to 'suspend' the Second Amendment for an alleged public health emergency or any other reason. Neither do any of the other defendants, nor can they legally enforce such a suspension."
"Evidently," added SAF Executive Director Adam Kraut, "Gov. Lujan Grisham believes she can disregard the constitution to further her own political views. We're taking action to stop this unconstitutional exercise of power in its tracks, because it is a flagrant violation of the right of individual citizens to carry firearms in public for personal defense.
"Our motion for a temporary restraining order and preliminary injunction will prevent the state from further causing injury to the plaintiffs and other citizens under this unlawful order," Kraut added.
Lujan Grisham announced her "suspension' of concealed and open carry in the city and county after three children were gunned down in separate incidents, one in July, another in August and a third earlier this month.
But the action has ignited a negative reaction which includes criticism from members of the governor's own party, who have suggested she went too far and has no authority to suspend the federal constitution. In addition to SAF and FOPC saying so, lawsuits from the Gun Owners of America and Gun Owners Foundation, and the National Association for Gun Rights make the same arguments.
TGM reported the two other pending lawsuits Monday.
Setting the SAF lawsuit apart from the others is the fact that this complaint sues all of the defendants both individually and in their official capacities. There is already talk that Lujan Grisham may have set the stage for her own impeachment. Already, a group called Change.org has posted an online petition calling for the governor's impeachment.