By Dave Workman | Senior Editor
In the wake of two high-profile shootings that took a combined six lives in California in recent days, the head of the Second Amendment Foundation says these incidents and earlier crimes underscore the failure of the gun control agenda, if not the philosophy, that has restricted the rights of law-abiding citizens for several years in the Golden State.
SAF founder and Executive Vice President Alan M. Gottlieb ripped "anti-gun Democrats" who moved swiftly to exploit the school shooting in Santa Clarita to push for "universal background checks" when it wasn't clear about the shooter's identity and other details were still being investigated. Indeed, when the facts of that shooting—which resulted in the deaths of two students and the suicide of the shooter—no background check law would have prevented it.
The killer was also a student at the school. He left no diary or manifesto, and could not legally purchase a handgun, so background checks had nothing to do with the crime. The shooting occurred on the gunman's 16th birthday.
But, as a book co-authored by Gottlieb noted in its title, "Facts Don't Matter to the Gun Control Crowd."
"What (the) tragic school shooting really shows is the callousness of gun control fanatics who quickly dusted off their same old agenda knowing it has nothing to do with the circumstances of the Saugus incident," Gottlieb observed. "And now we've got four new victims in Fresno, and California gun control laws didn't prevent that crime, either."
Four men were gunned down at a backyard football party in Fresno. All four victims were members of the Hmong community, according to published reports. So far, no suspects have been identified. According to CNN, no suspect or vehicle information is available for investigators in Fresno. It does not appear to be gang related, and detectives are being assisted by three federal agencies and the U.S. Attorney's office.
"With each new gun control law," Gottlieb stated, "California citizens were assured that the new restrictions were necessary to stop deadly crimes. But the only people to suffer the consequences are law-abiding gun owners and innocent victims.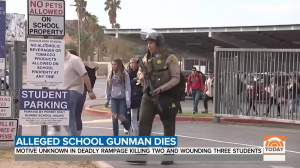 "The Saugus school shooting should convince any rational person that lawmakers in Sacramento have perpetuated a fraud," he added. "They've known all along that their gun control agenda was only going to prevent honest citizens from exercising their Second Amendment rights. Criminals, regardless of their age, have never been prevented from committing deadly crimes by California's extremist gun laws."
Los Angeles County Sheriff's investigators are still trying to determine how the teen shooter got the .45-caliber handgun he reportedly used. The teen's father died about two years ago, but there is no indication that the pistol, or any of the guns seized at the teen's home, had belonged to the late dad.
"It's time for Democrats in Sacramento, including Gov. Gavin Newsom, to admit their gun control crusade has been an abysmal failure," Gottlieb said. "They've closed their eyes and ears to the truth like they closed their minds to the Constitution. They should apologize to gun owners for years of scapegoating their own policy failures."