By Dave Workman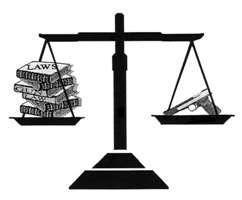 Senior Editor
The Second Amendment Foundation has filed a federal lawsuit against Alameda County, CA and the Board of Supervisors for violating the constitutional rights of three businessmen by wrongfully denying them permits to open a gun shop.
In papers filed with U.S. District Court for the Northern District of California, SAF attorneys Donald Kilmer of San Jose and Jason Davis of Rancho Santa Margarita lay out a complaint that alleges violation of 14th Amendment equal protection and due process provisions.
The case involves three businessmen—John Teixeira, Steve Nobriga and Gary Gamaza—who formed a partnership in Autumn 2010 with hopes of opening a gun store in Alameda County. The trio and SAF are joined by the Calguns Foundation and California Association of Federal Firearms Licensees.
Defendants are Alameda County and the Board of Supervisors.
The lawsuit alleges that the three partners applied to the county for conditional use permits to open the gun shop, and were quickly faced with an unusual zoning requirement that their front door had to be more than 500 feet from the nearest liquor store, school or private residence. They took measurements to the nearest residence and found they were more than the minimum distance with a comfortable buffer.
However, the lawsuit asserts, the county then changed its measurement requirement, even though the West County Board of Zoning Adjustments had voted to approve a conditional use permit and allow the gun store to operate.
SAF founder and Executive Vice President Alan Gottlieb called the case an outrage. Based on the evidence, he said it is clear that the Alameda County Board of Supervisors had "gone out of their way to prevent three businessmen from opening a gun store in their jurisdiction."
Teixeira and Gamaza both reside in Alameda County and Nobriga lives in neighboring San Joaquin County. Teixeira previously owned a gun store in Castro Valley and both he and Nobriga "either already valid Federal Firearms Licenses or would easily qualify to hold such a license," the lawsuit states. All three already hold valid California state licenses that allow them to buy and sell firearms, or they would "easily qualify to hold such a license."
Another allegation in the lawsuit is that the Board of Supervisors improperly allowed a local homeowners association to file an appeal after a deadline for such appeals had passed.
"This is a violation of their rights of equal protection and due process under the Fourteenth Amendment, and cannot be allowed to stand," Gottlieb said, explaining SAF's interest in the case. "Social bigotry is bad enough when practiced by the media and the gun prohibition lobby but when it becomes the official policy of an elected government panel, it then becomes necessary, if not imperative, for the courts to intervene."