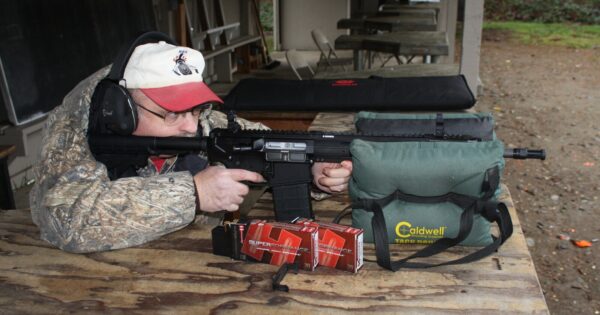 By Dave Workman
Editor-in-Chief
The Second Amendment Foundation has filed a federal lawsuit challenging the ban on so-called "assault weapons" contending the legislation—House Bill 450 signed earlier this year—is unconstitutional.
The legislation was signed this past summer by Democrat Gov. John Carney.
Joining SAF in the lawsuit are the Firearms Policy Coalition, a Nevada-based group; DJJAMS, LLC, a firearms retailer in Delaware's New Castle County, and two private citizens, Gabriel Gray and William Taylor. Named as a defendant is Delaware Attorney General Kathy Jennings. The lawsuit was filed in U.S. District Court for the District of Delaware. Plaintiffs are represented by attorney Bradley P. Lehman at Gellert Scali Busnenkell & Brown LLC in Wilmington. The case is known as Gray, et.al. v. Jennings.
This is the second lawsuit filed against the legislation. Earlier this year, the Delaware State Sportsmen's Association filed a 57-page lawsuit in U.S. District Court.
SAF's complaint spans 27 pages and was also filed in U.S. District Court in Wilmington. The two lawsuits are not connected.
"By adopting this statute after the Supreme Court's Bruen ruling, Delaware is clearly ignoring the court, and the Second Amendment," noted SAF founder and Executive Vice President Alan M. Gottlieb. "This case cuts right to the heart of our mission, which is to defend the rights of gun owners by challenging egregious gun control laws in court. This law is extremism on steroids, and cannot be allowed to stand."
In their complaint, SAF and its partners contend, "The Second Amendment's text covers the conduct the Plaintiffs wish to engage in and the arms they wish to acquire and possess. The arms the Plaintiffs wish to acquire and possess are not dangerous and unusual today. Moreover, there is no analogous history supportive of Delaware's Ban. Thus, under the Supreme Court's precedents, the constitutionally relevant history, and the proper analysis, Plaintiffs must prevail."
"One week after the Supreme Court handed down its landmark Bruen decision in June," said SAF Executive Director Adam Kraut, "Delaware Gov. John Carney signed House Bill 450, which we believe is clearly unconstitutional. Yet this new statute categorically bans the protected conduct of possessing, self-manufacturing, transporting, importing, selling, transferring, purchasing, receiving and lawfully using constitutionally protected arms that are in common use across the nation."
According to a WHYY report in late July at the time of the first lawsuit, Delaware Sportsmen's President Jeff Hague called the statute "misguided."
"It's not used disproportionately in crime, it's the other way around," he said at the time, contending the majority of firearms crimes are committed with handguns.