By Dave Workman
Senior Editor
The Second Amendment Foundation has won a huge victory for the right to bear arms outside the home, with a ruling in the Seventh Circuit Court of Appeals that declares the right to self-defense is "broader than the right to have a gun in one's home."
The case of Moore v. Madigan, with Judge Richards Posner writing for the majority, gives the Illinois legislature 180 days to craft a new gun law that will impose reasonable limitations, consistent with the public safety and the Second Amendment…on the carrying of guns in public."
"We are very happy with Judge Posner's majority opinion," said SAF founder and Executive Vice President Alan M. Gottlieb. "This is a victory for Illinois citizens who have been long denied a right recognized in the other 49 states; to have the means necessary for self-defense outside the home.
"In the broader sense," he added, "this ruling affirms that the right to keep and bear arms, itself, extends beyond the boundary of one's front door. This is a huge victory for the Second Amendment."
SAF attorney Alan Gura was delighted with the ruling.
"The Second Amendment means what it says," he observed. "Americans enjoy the right to defend themselves and their loved ones from violent criminal attack."
Gura said the court's decision "is consistent with the constitutional text, and the historical tradition of armed self-defense by responsible, law abiding Americans."
"We look forward to bringing the other holdout states into compliance with the Constitution," Gura stated.
The case had been consolidated with one filed by the National Rifle Association known as the Shepard case, for its main plaintiff, Mary E. Shepard. But the SAF case was filed first, so it takes precedent.
Judge Ann Claire Williams wrote a dissenting opinion, arguing that the Second Amendment rulings in the Heller and McDonald cases are more limited.
"It is less clear to me, however, that a widely understood right to carry ready-to-use arms in public for potential self-defense existed at the time of the founding," Judge Williams writes.
However, the majority ruling sees history with more clarity.
"The Second Amendment," Judge Posner writes, "states in its entirety that 'a well regulated Militia, being necessary to the security of a free State, the right of the people to keep and bear Arms, shall not be infringed.' The right to 'bear' as distinct from the right to 'keep' arms is unlikely to refer to the home. To speak of 'bearing' arms within one's home would at all times have been an awkward usage. A right to bear arms thus implies a right to carry a loaded gun outside the home.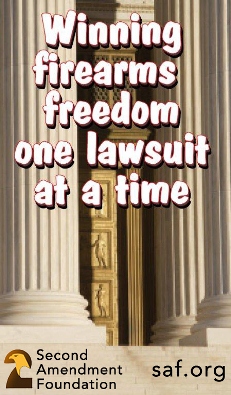 Later, Judge Posner adds, "To confine the right to be armed to the home is to divorce the Second Amendment from the right of self-defense described in Heller and McDonald."
"That the court will give Illinois lawmakers six months to craft a law allowing carry outside the home recognizes that the right to bear arms means what it says," Gottlieb concluded. "The ball is now in the Legislature's court, and we eagerly wait to see how well they can live up to their responsibility."
Richard Pearson, executive director of the Illinois State Rifle Assocition, which was a party to the Shepard case, told TGM that, "We've been waiting for this ruling for a long time. We will immediately start working with the Illinois State Legislature."
—-
*SAF court win also featured with the Associated Press and Fox News.