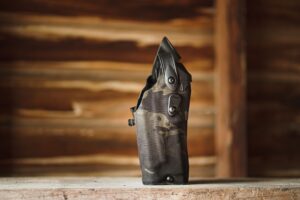 The Safariland Group® has brought back Black Multicam holster options., the company announced.
Due to high demand and continued requests, Safariland has relaunched Black Multicam for the 6304RDS and 6354RDS holsters in the Cordura® wrap print options. These holsters are a top choice among law enforcement and individual users—thanks in large part to the patented Automatic Locking System (ALS®) that provides retention and security other brands lack and end-users demand.
"We continue to set our company to meet the latest demands from the market," said Safariland VP of Marketing & Commercial Sales Tim Drnec. "This is a great example. We launched this option last year as a limited-time one-off. The response was overwhelming and the demand for Black Multicam only continues to grow. The team is excited to bring these back."
The 6304RDS and 6354RDS are versatile in fit and function. With the QLS 19 Locking Fork, these holsters can be used with any mounting platform (leg shroud, belt loop, etc.) that has the QLS 22 Receiver Plate installed. These two products also allow users to securely and discreetly carry their firearms with or without optics. The Black Multicam options fit top handgun brands such as Glock, Smith & Wesson, Staccato, and Sig Sauer—plus others.
The Black Multicam camouflage pattern is in high demand, blends well in most environments, and contributes to the lower-profile holsters demanded today. Adding to the benefits is Safariland's approach using a Cordura wrap finish that reduces the Infrared (IR) profile.
Products are available now for consumers and retailers alike. More information is available at https://safariland.com/.