By Dave Workman | Senior Editor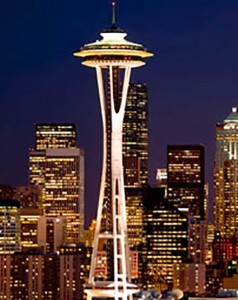 The fatal shooting of a hatchet-wielding man in the unincorporated Boulevard Park area of King County, WA, made headlines all the way to the United Kingdom because an armed private citizen took action and saved lives, and the only people who weren't talking were those in the gun prohibition lobby.
Boulevard Park is a residential area adjacent to White Center and Burien, south of Seattle. At 5:45 a.m. on a Sunday morning in March, a man identified as Steven Lee Blacktongue came through the door of a 7-11 convenience store wearing a mask. He said nothing but immediately began attacking people inside with a hatchet.
Unfortunately for Blacktongue, a regular customer sitting next to the counter was armed with a handgun. He drew and fired, fatally wounding the masked man.
TGM was able to interview the armed Samaritan, who turned out to be a member of the Washington Arms Collectors. He asked that his name not be used.
That man said he was seated in a chair having coffee with the clerk when Blacktongue rushed into the convenience store. He immediately swung the hatchet at the armed citizen, who was able to dodge being hit by jerking his head backward. The hatchet blade barely missed his head, and he told TGM that he drew his sidearm, a Smith & Wesson Model 340 five-shot revolver, chambered for .357 Magnums. The first shot slammed into the attacker, going through his cheeks. Instead of running, however, the man turned his attack to the clerk.
The armed citizen fired twice more when he had a clear shot. That ended the struggle.
The unidentified armed citizen was hailed as a hero for having acted quickly and probably saving the life of the store clerk, identified as Kuldeep Singh, who was slightly wounded in the abdomen.
Deputies were on the scene in about three minutes, and once they were able to walk through the incident and view the store's security video footage, they told the armed Samaritan he was free to go. The entire incident only lasted about 15 seconds.
TGM spoke to the cousin of Blacktongue's wife, who said that while the way he died was shocking, it didn't come as a surprise, either. The dead man was a convicted felon, having been imprisoned on an assault charge. He apparently had a history of drug problems.
Susan Svensk, whose cousin was married to Blacktongue, did not criticize the armed citizen.
"These people (at the convenience store) would have been dead if that guy hadn't been there," she said in a telephone interview.
Blacktongue, who was known as "Poncho," died at the scene.
After noting via email that her cousin "has children who are deeply affected by the loss of their father," Svensk told TGM that "Poncho's" death seemed to be the culmination of a downhill slide. What happened to Blacktongue, she suggested, is a story that is all-too-familiar.
"These people have a story. Like it or not there's something behind what they do. When you hit the bottom without treatment, this (what happened to Blacktongue) is the bottom."
For a while, the story was a lead news item in the Daily Mail, a London-based publication with offices in this country and what might be called a fascination for stories having to do with Americans and guns. But the story has also made it to the New Orleans Times Picayune and other newspapers, and Fox News was even talking about it.
But there was silence from anti-gunners. Stories about armed citizens defending themselves or saving lives are anathema to their narrative, according to Alan Gottlieb, chairman of the Bellevue-based Citizens Committee for the Right to Keep and Bear Arms.
"It's interesting that the gun prohibition lobby always loses its collective voice after armed citizen stops a violent crime," Gottlieb said. "They talk about restrictive gun laws being okay if it saves just one life. That's a theory. Well, Sunday morning a citizen had a gun and saved maybe two lives, and that's a fact."
King County Sheriff John Urquhart told TGM that he used to work the Boulevard Park area in his days on patrol, and he noted, "I've been in there (the store) a hundred times." The area is blue collar and a quiet neighborhood, he added.
The 60-year-old "good Samaritan" told TGM that he has carried a gun for many years. In fact, that morning he was carrying two revolvers, only one of which he used to defend himself and the clerk. That gun was taken into evidence, but he was allowed to keep the other gun because it hadn't been fired.
About having to shoot Blacktongue, the Samaritan simply commented, "He saddled that bronc."