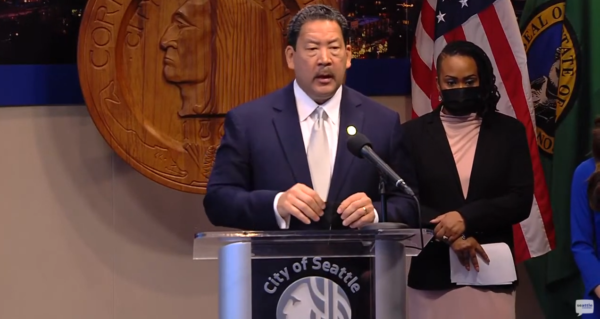 Seattle Mayor Bruce Harrell has named interim Chief Adrian Diaz as the next permanent Chief of the Seattle Police Department, confirming in his official announcement that Diaz "is a member of the Alliance for Gun Responsibility Committee."
The Alliance is a billionaire-backed gun control organization based in Seattle. It has pushed through two gun control initiatives with multi-million-dollar campaigns that have added restrictions on law-abiding gun owners while statistically failing to reduce violent crime in Washington State.
Diaz had served as interim chief since 2020 following the departure of former Chief Carmen Best during the tumultuous summer which saw the city repeatedly erupt in often violent protests.
According to the news release from Harrell's office, "As the newly named Interim Chief during the summer of 2020, Diaz also reworked SPD's crowd management policies and procedures to include a public order engagement team, reducing the need for the use of crowd control tools. The Chief oversaw a reduction in the use of force by 48% in 2021 compared to 2015, led the creation of a Risk Mitigation Assessment Matrix for development of diversified responses to policing, and oversaw critical incident responses to gun violence with local non-profit organizations to reduce retaliatory gun violence.
Chief Diaz serves on the Board of Directors for the International Association of Chiefs of Police (IACP). He is Vice Chair for the IACP's Human and Civil Rights Committee, is a member of the National Commission on COVID-19 and Criminal Justice (and) serves on the Law Enforcement Immigration Task Force (LEITF).
"I am confident that Chief Adrian Diaz will provide the leadership necessary to advance these critical priorities and make Seattle safe for all residents," said Mayor Harrell in a prepared statement.