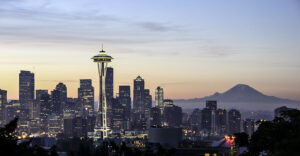 By Dave Workman
Editor-in-Chief
Following a deadly weekend in Seattle during which five people were murdered from Friday evening through Sunday, city officials have reacted with proposals for "violence intervention" efforts and some talk about guns, but little more than a mention about holding criminals responsible.
"Tackling gun violence has no easy solutions," she told reporters. "This level of gun violence in Seattle and our country cannot become our new normal, which is why we are moving forward with a multi-prong strategy in our region to take guns off the street, invest in community led solutions, create a comprehensive support system for young people at risk of gun violence, and appropriately hold individuals accountable for acts of violence. I also want to thank the officers and first responders who quickly responded to secure the separate scenes and provide aid – nearly every officer in our city responded to these incidents while continuing urgent 911 calls."
Interim Police Chief Adrian Diaz said in a video, "We've got to figure out a way to get the guns off the streets."
But as KVI-AM morning host John Carlson, whose father was a police officer, suggested Monday morning, the discussion should really be about getting criminals off the streets. He followed that up Tuesday by chastising the mayor and candidates to succeed her for talking in platitudes.
This brings the number of slayings in Seattle to 28 for the year so far. Last year, Seattle recorded 52 murders, and there are still five months remaining in the year.
However, murders in Seattle are lagging behind those of Portland, Oregon, where more than 50 slayings have been logged so far in 2021. The situation in Portland has deteriorated to the point that some consider the Rose City to be in chaos.
Liberty Park Press reached out to the Seattle mayor's office and the King County Prosecutor's Office for details about the suspects in any of these incidents. Questions including whether the individuals were licensed to carry concealed handguns, their race, age and whether they were legally armed have yet to be answered.
All of the Seattle killings happened on Sunday, beginning with a homicide at about 2 a.m. and unfolded over the next 22 hours. None of the shootings was apparently related, according to KING-5 News, the Seattle NBC affiliate.