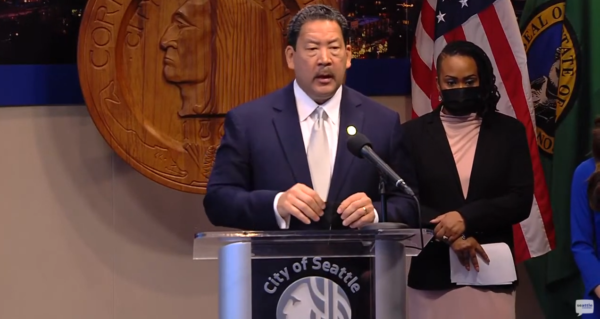 By Dave Workman
Editor-in-Chief
Municipal government and school officials in Seattle, Washington are talking gun control and a renewed effort to repeal the state's 37-year-old preemption statute, according to a report in the Seattle Times, in response to a fatal school shooting earlier in the week.
According to the newspaper, Seattle Mayor Bruce Harrell "called for the state to lift a law prohibiting cities from implementing their own gun policies."
The state preemption statute, first adopted in 1983 and strengthened in 1985, was one of the first in the nation and has served as a model for similar statutes in other states. Contrary to popular myth, Florida did not pioneer preemption. Their statute was adopted in 1987, and in 2011, according to Florida Carry, Inc., the law was strengthened.
Here's the statute Harrell has opposed for years:
"The state of Washington hereby fully occupies and preempts the entire field of firearms regulation within the boundaries of the state, including the registration, licensing, possession, purchase, sale, acquisition, transfer, discharge, and transportation of firearms, or any other element relating to firearms or parts thereof, including ammunition and reloader components. Cities, towns, and counties or other municipalities may enact only those laws and ordinances relating to firearms that are specifically authorized by state law, as in RCW 9.41.300, and are consistent with this chapter. Such local ordinances shall have the same penalty as provided for by state law. Local laws and ordinances that are inconsistent with, more restrictive than, or exceed the requirements of state law shall not be enacted and are preempted and repealed, regardless of the nature of the code, charter, or home rule status of such city, town, county, or municipality."
In his zeal to capitalize on the tragedy at Ingraham High School that left one student dead and two teens, ages 14 and 15, in jail, Harrell acknowledged he didn't really have any solutions, instead falling back on boilerplate rhetoric.
"It's too early to know which exact gun safety measures might have prevented this tragedy," he said in a statement to the Times. "The simple fact is that there are too many guns in our communities and those guns are too easy to access."
Among the things he would like to see done, the newspaper said, is extend waiting periods for gun purchases and ban so-called "assault weapons." The suspects are both juveniles, which would preclude them legally purchasing a handgun, so the waiting period suggestion is irrelevant.
Neither was a semi-auto rifle used in the killing, so banning such firearms may seem misdirected.
It has not yet been revealed where the suspects got the gun, its make, model or caliber.
The Times story also quoted Harrell stating, "I'll continue to push our state Legislature to adopt stronger gun laws, and lift restrictions that prevent local governments the freedom to enact their own gun safety policies — lives are on the line."
Yet the school resource officer program in Seattle schools was "halted indefinitely" in 2020, as reported at the time by the newspaper.
But now, according to KING News, the NBC affiliate in Seattle, the public schools are looking at a "new safety initiative" since the slaying that may bring them back.
"Seattle Public Schools Superintendent Dr. Brent Jones said the district will conduct a safety and security audit to diagnose opportunities and threats. They will create a community action team who will make an immediate determination of what SPS can do right now and will work closely with Mayor Bruce Harrell and Seattle Police Chief Diaz," the story said.
RELATED:
Seattle Student Killed; Mayor, Officials Lament 'Gun Problem'