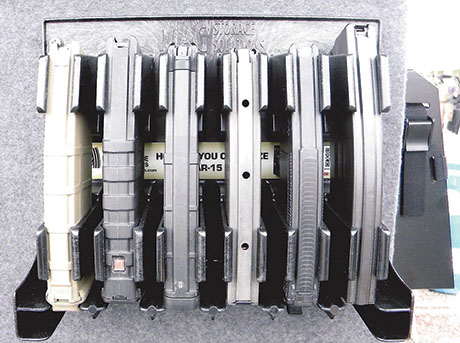 Ten days after the Oregon Firearms Federation challenged Measure 114 in federal court, the Second Amendment Foundation filed its own federal lawsuit, asking for a temporary restraining order and a preliminary injunction.
The new law is supposed to take effect Thursday, Dec. 8, but that could be derailed if the courts act quickly on the OFF and SAF lawsuits.
SAF is joined by the Firearms Policy Coalition, G4 Archery, Grayguns, Inc., and a private citizen, Mark Fitz. They are represented by attorney James L. Buchal, Murphy & Buchal LLP in Portland.
Named as defendants are Oregon Attorney General Ellen Rosenblum and State Police Supt. Terri Davie, in their official capacities. In a separate emergency motion, SAF and its partners are asking for theTRO and preliminary injunction.
Also on the horizon is a possible lawsuit by the National Shooting Sports Foundation.
The SAF complaint cuts right to the proverbial chase.
"As we immediately explain in our lawsuit, the State of Oregon has criminalized one of the most common and important means by which its citizens can exercise their fundamental right of self-defense," noted SAF Executive Director Adam Kraut. "By banning the manufacture, importation, possession, use, purchase, sale, or transfer of standard-capacity magazines that can hold more than 10 rounds the State has barred law-abiding, peaceable residents from legally acquiring or possessing common ammunition magazines and deprived them of an effective means of self-defense."
The number of legal actions against Measure 114 does not bode well for the package of gun restrictions.
SAF's lawsuit focuses on magazine limitations. Noted in the complaint, "Magazines capable of holding more than 10 rounds of ammunition are a normal feature of firearms in the United States and are more accurately described as 'standard capacity magazines.'" They are typically original equipment because firearms such as the AR-15 and its clones, and modern semi-auto pistols with "double-stack" magazines all come with full capacity capability; that is, they will hold 14, 15, 17 or more cartridges.
There is a strong possibility the magazine limitation will not hold up under court scrutiny, yet proponents of the ban do not seem to care. They have scored a "moral victory" by passing the measure.
"Maybe the most frustrating thing about the Oregon measure is that officials there are willing to enforce the law's provisions despite any real prospect this law is going to reduce violent crime," noted SAF founder and Executive Vice President Alan Gottlieb. "The only people actually impacted are law-abiding citizens who don't commit crimes, and who will be left more vulnerable to attack because of this new law."
Measure 114 also mandates firearms training, which includes live fire exercises, and it requires anyone hoping to purchase a firearm to first obtain a purchase permit from a local law enforcement agency. This latter requirement may also not pass constitutional muster, since the exercise of a constitutional right should not be subject to getting permission from a government agency.