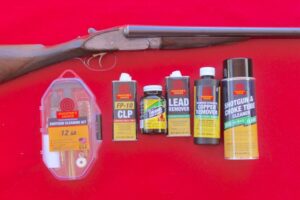 By Jim Dickson | Contributing editor
The late Joe Tartaro, executive editor of Gun Week and TheGunMag.com, introduced me to his friend Joe Ventimiglio some years ago.
Joe and his brother, Frank had started Shooters Choice, a line of gun cleaning products. I tried them out and was impressed at how well they worked. I have been using them ever since.
In 2018 the company was sold to Otis Technology and they have continued the Shooters Choice line while maintaining its quality.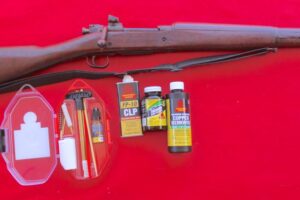 Shooters Choice lead remover is indispensable for someone who shoots as many .45-caliber rounds as I do. I'm happiest when I am shooting at least 200 rounds a day. It really works well. Used with a brass bore brush it gives new meaning to the term "Get the lead out!" It's a potent formula as can be seen by the short life of the brass bore brushes used with it but it really works great. No more fooling with the dangerous bottle of mercury for tough leading jobs. I use this product every time I clean a gun that has been shooting lead bullets and it sure makes life easier for me.
Copper fouling build up is less of a problem but sometimes it needs to be dealt with also. Their copper remover is fast and efficient at taking out all traces of copper fouling from jacketed bullets. Too bad they didn't have this at Camp Perry in the early days of shooting jacketed bullets when this sort of fouling was a major problem with some of the early bullet jacket materials.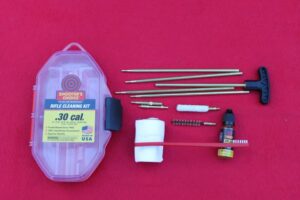 They have a bore cleaner of very light consistency that must be kept shut tight to prevent the solvent evaporating. It cuts through smokeless powder fouling quickly though and the dissolved powder fouling can then be cleaned out of the bore and anywhere else it has formed.
Shotgun shells have plastic shot protectors and wads that leave a plastic residue in shotgun bores that has to be removed. Shooters Choice Shotgun and Choke Tube Cleaner quickly melts plastic wad fouling. No more scrubbing it out with steel wool on a cleaning rod. Now there is a quick and easy way to remove it. With the price for a new set of barrels for a handmade Best Quality double from the British Isles starting at $10,000 it makes sense to take good care of your barrels. Remember that plastic, lead, and powder fouling can hold moisture and cause rust under them. You have to clean your shotgun barrels thoroughly or eventually you end up with rust and pits in your barrels.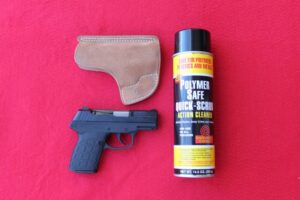 Sometimes a gun just gets really filthy after a lot of firing and Shooters Choice Aerosol Quick Scrub will blast the fouling off the action parts of your gun. Wipe it dry and oil and you are done. There are times when time is everything and this product is priceless then.
Polymer frame pistols are quite popular right now and everyone in the gun trade seems to know a story about someone melting their plastic frame pistol with their cleaning solvent so having a solvent that won't dissolve their plastic pistol parts is important. Shooters Choice Polymer Safe Quick-Scrub Action Cleaner does the job without destroying your gun.
Their FP-10 gun oil is a first class lubricant that I have often used. You always have to follow up any cleaning with solvents by drying and oiling the parts you just cleaned and this is a good one for that. I have used it for years and have found no fault with it.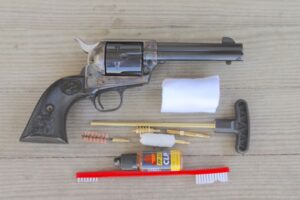 Anyone who has ever used an M1 Garand rifle knows that it requires grease on the operating rod to work reliably. Shooters Choice All Weather High-Tech Grease is a big improvement over the G.I. grease that came in the tiny jars that went in the butt trap of the Garand. Shooters Choice will work from -65 degrees to +350 degrees. That's real important for Alaskan users. It works equally well on all the other parts of a firearm and is also popularly used on fishing tackle, marine equipment, automobiles, tools, and bicycles. This product will prove of the greatest value to users of the DCM M1 Garands that are coming out now.
Their products don't stop with chemicals. They have a complete line of cleaning rods, brass bore brushes, bore mops, and cleaning patches. Everything to keep your gun clean and rust free. Joe Tartaro was right. They have a fine line of products for the shooter as I can attest to having used them for many years now.