by Scott Smith
Contributing Editor
Well the fun of tax season is here and as that fun-filled final day of the "tax year" approaches so does another busy season: graduation. What does graduation have to do with shooting one might ask? If the graduate is a shooter, hunter, or both, it is a time to give them a gift that recognizes the achievement of being a graduate and can be used while they participate in their favorite pastime.
Graduation party season is also a time to thank our dads and grandpas for all they did to get us to graduation or simply because they are dad and pap. Father's Day is a chance to let dad know he is cared for and all his effort is appreciated to get us through high school, college, graduate school, etc. To this day, I thank my dad for teaching me to hunt, shoot, and to respect the great outdoors. He died twenty-seven years ago and I wish he was around every day so we could go shoot my new cool toys, tell some hunting tales or have him along at the SHOT Show. With that thought, what might a new graduate or dear ole dad be able to use?
It maybe cliché, but you might consider new clothing as a gift. Today there is clothing that is functional for a shooter and looks good. Companies are making clothing that is fashionable and designed for use on the range or cut to conceal your handgun for duty or personal protection.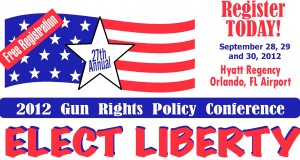 5.11 Tactical (4300 Spyres Way, Dept TGM, Modesto, CA 95356; phone: 209-527-4511; online: 511tactical.com) is a name that is known to many of our readers and is most likely used by a large number of them. This year 5.11 introduced the Covert Shirt series. We obtained a sample of the Performance model for this article.
The Performance is a "Hawaiian Tourist" cut shirt; however, it is not quite as bold. This shirt is box cut, to not print your sidearm, has center RAPIDraw snaps, it is 71% nylon/29% polyester so it wears well and dries quickly. Most importantly, the patterns/colors are those that you would find for shirts sold in any chain store.
The Covert Performance is comfortable, wears/washes well, and most important makes me look good (no comments from the peanut gallery). Folks know my M&P or P226 is always on my hip and they were impressed at how well the Covert shirt conceals and does not drape over the pistol's butt. At $59.99, the Covert Performance is not inexpensive, but it is worth the money to keep your sidearm properly concealed.
5.11 has also introduced the Arc Leather Belt. It is 1.5 inches wide, built from matte leather, finished in black or brown, and looks good for dress or casual. I have been using it most of the time, and find it is as comfortable as my "riggers" style belts. This is a true gun belt. There is no fear your holster will flop over. It's priced at $54.99
I found the Arc does a good job securing my Vertx (4545 Malsbary Rd, Dept TGM, Cincinnati, OH 45242; phone: 513-793-5400; online: wearvertx.com) pants and shorts to my hips. Vertx is a relatively new company to the public; many in law enforcement know the parent company, Fechheimer Brothers. Fechheimer has been manufacturing police uniforms for decades and they are one of the most widely respected manufacturers in the business. Vertx brings those years of experience and quality to the shooting, outdoor, and tactical market.
Vertx has not coined catchy names for their pants and shorts but they have something more important: proper fit. It seems a lot of the tacti-cool clothing has taken on more of a designer fit, which is great for hanging out at the mall or dinner but does not work on the range or trails. Vertx cuts their pants to fit men and women so they do not restrict movements while they look good. This fit starts with a gusseted seat and hidden expandable waist. Vertx has a novel concept for shooters, functional stylish clothing.
Both the pants and shorts have cargo style pockets, but they are not like the traditional BDU style. Vertx's pockets are gusseted so they lay flat when the pockets are not full, which gives them the look of khakis. Inside each of these is a "Haul" pocket to secure an AR magazine, cell phone, etc., and keep it secure.
The front slash pockets are also unique. There is a zipper ID pocket on the right pocket, and both front pockets are lined so you will not print when carrying a pocket pistol. The rear of each of the pockets is squared to make carrying a clip-it knife more comfortable and secure, since it will lay down the seam of the pants not into the pocket. You will shell out $64.95 for the pants and $55.95 for the shorts. From what I have seen, they are worth it and your shooter will appreciate them.
If dressing dad or the graduate is not your idea of a good gift, how about dressing up their AR style rifle? There are many items available to make this rifle more user-friendly for competition, duty or self-defense. I thought three innovative items from Viking Tactics (VTAC) and LaRue Tactical would be items that you might consider.
LaRue Tactical (850 CR 177, Dept TGM, Leander, TX 78641; phone: 512-259-1585; online: laruetactical.com) is most likely best known for their innovation mounts and excellent weapons systems. It has been my experience they have many innovative accessories, which are often overlooked. One of these items, the Index Clip and Handstop set, is an example.
The Handstop and Index Clip set are an excellent addition to your rails because they are versatile and adapt to your needs. The Handstops fit onto your rails and are secured by an Index Clip on either end. The Index Clips cover and protect your rail system and do it in a very low profile manner, adding virtually no size to the diameter of your forearm. In the clip set are clips, which will allow you to route and secure cables for lights, lasers, etc. I have installed them on my DDM4 to test them out and plan to keep them on. They are comfortable and the Handstops aid in giving a repeatable consistent hand placement on the forearm. This $42.95 set is good to go.
Next up is Viking Tactics' (phone: 910-987-5983; online: vikingtactics.com) Wide Padded Sling and VTAC Light Mount. I have been using the Wide Padded Sling on various ARs and shotguns during the last couple of cat's meow. It distributes the weight across your shoulder, is easily adjusted to go from strong to weak side shooting and it will adapt to a wide range of weapons. The first two-point VTAC WPS I used on an M4 worked so well I transitioned all of my long guns from the three-point slings. That's how impressed with the VTAC WPS I was. Many of my training and shooting partners have followed suit. This $40.95 sling is available in a number of colors and Multicam.
Another of VTAC's must-have items for your AR is the Light Mount. This polymer mount will fit most one-inch tactical lights and, with the adapter, many of the smaller lights on the market. The lightweight polymer body is what sets this mount apart from others. Some may question how tough this mount is; with no moving parts, it is virtually indestructible. Try as I could, once the two screws are set I could not make the light move. Using this mount, you can mount your light on any Picatinny rail. With a MSRP of $24.95, VTAC's Light Mount is one of the best-priced mounts I have seen.
Once you have the VTAC Light Mount, you need to add a quality light. I suggest Brownells (200 South Front St, Dept TGM, Montezuma, IA 50171; phone: 641-623-5401; online: brownells.com) Versatile Light 160 or 280; the number is the lumen output. This one inch LED light comes as a kit with filters, grip rings and batteries. The BVLs will set you back $59.99 and $89.99, making them more than competitive. These lights offer you momentary on, high/low and strobe output, and the light will power down as the batteries drain ensuring you have light. Brownells once again brings shooters an affordable quality piece of gear that will light the way for your dad or graduate.
The last two items I thought would work well as gifts for this time of year are dual long gun range bags from Safariland (13386 International Pkwy., Dept TGM, Jacksonville, FL 32218; phone: 800-347-2383; online: safariland.com) and Tactical Tailor (phone: 253-984-7854; online: tacticaltailor.com). Both of the bags have packed my tactical/duty shotguns or M4s all over to train and shoot. None of my long guns has come out of these bags looking any worse for wear, and they have traveled all over in these bags.
Safariland's 3-Gun Competition Case is designed to allow the 3G competitor to pick up one bag and have all their gear in one container. I found it worked better as purely a long gun case. The interior allows you to carry two firearms while protecting them, thanks to the padded nylon divider. There is plenty of room to carry gear in the two exterior pockets, which are MOLLE covered so you can mount additional pouches. The 3G Competition Case comes with backpack and shoulder straps giving you options on how you pack your gear at the range. You might think the $159 sticker is expensive, but it is not when you consider most competitors are carrying upwards of three thousand dollars worth of long guns. This is inexpensive range protection for your gear.
If you prefer a lower profile case, Tactical Tailor builds single and double Discreet Cases. Like the 3G Comp, there is a padded divider to segregate and protect your weapons. If your weapons cases are tossed around, this case allows you to strap down your long gun on each side. To carry your accessories there is a large exterior main pocket with smaller pockets on either end of it. If you need to secure travel papers or other items, there are zipper pockets on the interior. This case can be had in several color combinations, all running $197.50.
Tactical Tailor's Discreet Case is built for M4 and 18-inch barreled shotguns, while Safariland's 3 G Competition case will handle standard 20-inch AR15s and 20-inch shotguns. If you shoot an M1A, the 3G will carry it. I carry only one M1A in this case because it is on a McMillan A4 stock with optics. Either Tactical Tailor or Safariland is a good option to carry your long guns to the field, for duty, training or competition, and do so for many years.
I hope that this article will give you a few ideas to outfit your dad or graduate. Remember to congratulate the new graduates and thank your dads and granddads; they help make us the people we are today. Wherever you are Dad, I hope you are able to run your A5 in search of birds and enjoy that fine single-malt with a fine cigar. I miss you, thanks for instilling the love of shooting in me.