Paperback covers British rifles from 19th century to present day
Review by Larry S. Sterett | Contributing Editor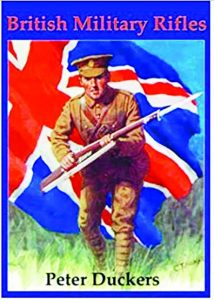 BRITISH MILITARY RIFLES, by Peter Duckers. Published by Shire Publications, Cromwell House, Dept. TGM, Church Street, Princes Risborough, Buckinghamshire HP27 9AA, UK. (http://www.shirebooks.co.uk) Price: $10.00. Available at some bookstores, or Amazon.
This slim 48-page softbound volume is one of the few available on the subject. It is not highly technical, nor detailed, but it is well illustrated. (The cover photo of a WWI British soldier with an Enfield and bayonet is from a postcard of that era.)
In eight chapters, from 'The earliest guns' through 'carbines' it provides a capsule view of the rifles used by the Brits up to the present. It mentions the Rifle No. 3, or what we know as the Model 1913 Enfield in .303 British caliber, or the Model 1914 as we used it in .30-06 chambering, but doesn't have an illustration of such a rifle. It lists it as being, originally in .286 caliber, but this reviewer had the impression it was a .276 caliber, and not the .276 Pedersen which our Garand M1 was originally designed to use, prior to the MacArthur veto.
In the chapter on Automatic Rifles it mentions briefly the 'bullpup' EMII in .280 caliber, the L1A1 in 7.62mm based on the FN FAL, and the current SA80 or L85A1 in 5.56mm. It would have been nice if more information was provided on all the arms discussed.
In the chapter Carbines mention is made that carbines were not used after the Boer War (1899-1902), but Rifle No. 5 (the shortened and modified No. 4) from around 1943 was often called the 'jungle carbine.' (The No. 5 measured approximately a meter in overall length at 39½ inches.)
The last portion of this small booklet has a section titled: Places to visit and further reading, followed by a one-page index. The places to visit are of course in the United Kingdom.
---
Old hunting stories collection offers entertaining short reading
Review by Larry S. Sterett | Contributing Editor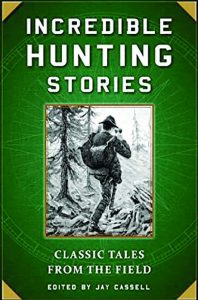 INCREDBLE HUNTING STORIES, edited by Jay Cassell. ©2017. Published by Skyhorse Publishing, Inc., 307 West 36th Street, Dept. TGM, 11th Floor, New York, NY 10018. Price: $17.99, plus postage. Available at most storefront and online bookstores.
This 320-page softbound volume features twenty-two classic tales from the hunting fields of the world, and it is illustrated. (The illustrations are not black-and-white period photographs, but modern color photos.)
Following a brief introduction by the editor, this book is divided into six topic sections, from Classic Tales through Reflections on Our Sport. Each story or tale is relatively short with only a few exceeding a dozen pages in length. Depending on the readers specific hunting interest, he or she, can read a classic tale in the first section and then skip to section IV and read one on deer hunting, or section V and read a tale from the African continent, or…
The names of the authors are, or should be, well known to any reader who currently hunts, has in the past, or intents to in the near future. Among the best known names are those of Theodore Roosevelt, Townsend Whelen, Nash Buckingham, Aldo Leopold (This conservationist was born about a dozen miles from where this reviewer resides and hunted waterfowl at the Crystal Lake Club back in the World War I era.), Lamar Underwood, William Tapply, Archibald Rutledge, W.D.M. Bell, Jim Corbett, and Gene Hill. Even the editor—Jay Cassell—has a short tale—The Rack—in the Deer Hunting section. (This reviewer has always enjoyed Bell and Corbett's tales, so it was good to read Karamojo and The Thak Man-Eating Tiger again.)
This is an excellent volume to have handy for reading when a few extra minutes are available. The tales are brief and interesting, and the topics varied. Even without the color photos it would be great to have handy for reading on longer flights or while sitting at the airport waiting.
---
Teddy Roosevelt anthology covers ranching, safari years
Review by Larry S. Sterett | Contributing Editor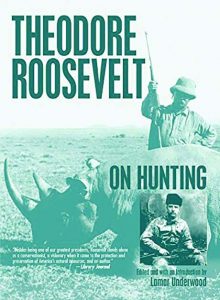 THEODORE ROOSEVELT ON HUNTING, edited by Lamar Underwood. Published by The Lyons Press, Dept. TGM, Guilford, CT 06437. (LyonsPress.com) Price: $16.95. Available at most bookstores, or Amazon, etc.
TR died 100 years ago (January 6, 1919) this year and all of the stories featured in this 432-page softbound tome have appeared in his earlier books. Yet reading them again is almost as good as reading them the first time.
Following a couple of quotes each by Walt Whitman and TR, and a short introduction by the editor, this tome is divided into two parts—The Western Years and Safari. The Western Years features a dozen selections from Hunting Trips of a Ranchman and The Wilderness Hunter, while Part Two: Safari, features eight stories from TR's African Game Trails volumes. (The last portion of this enjoyable volume is a two-page plus selection named, by the Editor, Of Ants and Elephants. Brief, but interesting!)
This volume is not illustrated, except for the cover photos. The larger cover photo is of Teddy Roosevelt in Africa wearing a pith helmet with his "medicine gun" and a deceased rhino, and a smaller inset photo from his earlier ranching days wearing fringed buckskins and a bearskin cap.
This is a book to keep handy for reading for enjoyment. One story or chapter per day in the evening, etc. will finish it in less than three weeks. Plus, TR is much better than most of what the one-eyed monster on the wall or table has available.
---
Reminiscences of the Old West
Review by Larry S. Sterett | Contributing Editor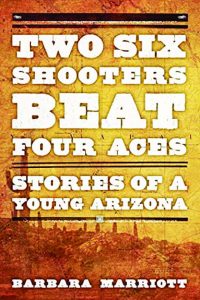 TWO SIX SHOOTERS BEAT FOUR ACES—STORIES OF A YOUNG ARIZONA by Barbara Marriott. Published by Two Dot Division of Rowman & Littlefield (rowman.com), Guilford, CT, and distributed by the National Book Network. Price: $16.95, plus shipping. Available at most bookstores and online booksellers.
This 200-page softbound volume is based on interviews taken during the WPA project of the 1930s era. The result is 50-plus short stories of the early days in the Arizona Territory. A few black-and-white period photographs, mainly of individuals, plus one of Whiskey Row in Prescott in what was probably the1880s, and one of Tucson, not in 1800, but probably around 1880, serve as illustrations.
Following the acknowledgments, an author's preface, and a lengthy seven-part illustrated introduction, this interesting tome features four chapters, a six-page index of names, a bibliography, and a note about the author, who has nearly a dozen published fiction and non-fiction books on the Old West to her credit.
The introduction and each of the four chapters are sub-divided into from seven to fourteen separate topics. These separate topics are of course related to the chapter title, which include Outlaws and Lawmen, Miners and Prospectors, Cowboys and Shepherds, and The Opportunists. Remembering these are tales based on people interviewed in the 1930s and that facts and memories are not always in agreement; these tales may or not be accurate. No mention is made of Virgil Earp, the shoot-out near the OK corral, Ike Clanton, Doc Holiday, or that Wyatt Earp may have shot John Ringo, the Arizona Rangers, or many other known incidents. Just as two people viewing an event, accident, etc., do not always see the same things, memories of events which happened decades prior may not always be identical. Still it makes interesting reading as long as it's recognized for what it is: as someone remembered it happening.
If you enjoy reading about the early days in the Old West, this is a fun book to read. Gospel, probably not; close sometimes, maybe, and someone told it the way they remembered it.