Review by Larry S. Sterett | Contributing Editor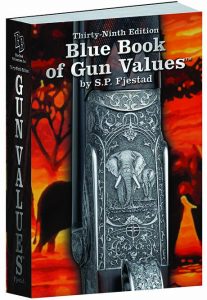 BLUE BOOK OF GUN VALUES, 39th Edition, by S. P. Fjestad. ©2018. Published by Blue Book Publications, Inc., Dept. TGM, 8009 34th Avenue S., Suite 250, Minneapolis, MN 55425. Price: $54.95, plus postage. There is also an online subscription with over 8,000 color photographs. Available at storefront and online book sellers.
This 2,510-page softbound volume weighs in at 3½ pounds and measures 2½ inches thick.
The first 20 pages are devoted to general information such as the anatomy of firearms, how to use the book, table of contents, acknowledgments, etc. Then the meat is served, beginning with 2 Vets Arms Co., LLC and ending 2,300 pages later with Zombie Defense. Each of the different sections in alphabetical order is page-edge tabbed in black, making it easy to locate a specific company or manufacturer.
Values are listed for the majority of the many models on the PPGS (Photo Percentage Grading System) or NRA Condition (Modern and/or Antique) system. As many as seven values, from New/Perfect down to Poor, are generally listed, followed by a Last MSR (Manufacturers Suggested Retail), if known. In addition, comments ranging from a few lines to a number of paragraphs of information are provided on many of the arms. (For some of the firms this information is the only such readily available.)
There are few illustrations in this tome, but starting on page 961 are 80 pages of excellent color photographs for use with the PPGS values. Each arm is accompanied with a paragraph of text, in addition to as many as three color photos—side view, close-up of a unique feature, etc., and sometimes a dial-type grading scale. (The first small arm shown is the 9mm SIG Model 210-6 pistol, NIB (New in Box), and the final one is a 16-gauge French side/side shotgun listed as NRA Antique Poor. (The text accompanying the final photo explains the rating, but from the photo the shotgun appears good; it isn't a bucket of rust with broken stock and shortened barrels, or really poor—a wall hanger on a dark wall.) Beauty may be in the eye of the beholder, but the PPGS/NRA system of judging condition is an excellent/fair way to determine approximate value.
Not every firearm—handgun, rifle, or shotgun—ever manufactured by any firm is listed, but not many firms, etc., are missing. BSA (Birmingham Small Arms) has been turning out arms, and more, for over 150 years, and while the name changes slightly the product quality has remained good. At one time, some three-score-plus years ago, the firm produced what this shooter considers the premier rimfire autoloading rifle. Great design and excellent quality, but apparently too expensive to produce at that period of time, as it soon disappeared from the market! It is not listed in this latest Blue Book.
Following the Value section in this tome are more than a hundred pages of useful information, starting with a Trademark Index. Other material featured includes a Glossary, a listing of abbreviations, shooting/conservation organizations, Reference Sources, periodicals, a lengthy Store Brand Cross-Over List, serial numbers for many firms (NOT All Firms), Proof Marks—Austrian, Belgian, British, French, German, Italian, and Spanish—an ATF Guide, Gun Shows for 2018-2019, and the all-important Index.
No book of this type is ever complete, but this 39th Edition is about as close as it gets. It's an excellent volume every gun collector, dealer, arms historian, arms museum curator, or anyone interested in firearms should have on her or his reference shelf. (With the proliferation of new arms manufacturers in recent years the 40th Edition should be even bigger, whenever it is published.)
---
Review by Larry S. Sterett | Contributing Editor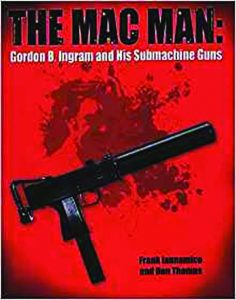 THE MAC MAN: Gordon B. Ingram and His Submachine Guns, by Frank Iannamico and Frank Thomas. Published by Chipotle Publishing LLC, 611 N. Stephanie St. #372, Dept. TGM, Henderson, NV 89014. Price: $39.95, plus shipping. Available at storefront and online book stores.
This heavy 538-page volume is "the Bible" on what has become one of the four best known sub-machine guns in history, and definitely the most compact of the four. The other three: The British Sten, the Thompson M1928 and variations, and the German MP38/40. The Ingram guns might not win beauty contests, but the perfected designs worked; even Hollywood got into the act and several of the Ingram guns were featured in assorted action movies.
Following the usual Foreword, etc., this tome features sixteen lavishly illustrated chapters, plus a selected bibliography and an index. Each chapter is sub-divided into one or more topic sections. As an example, Chapter 1 has three topic sections: The Early Years, First Firearms, and US Army Service, while Chapters 15 and 16 each feature a single topic, Interview, Fernande Ingram (15) and Mac Technical (16). Chapter 6 contains the most topics, 35, from The Military Armament Corporation to MAC Distributors and Sales Representatives.
Each section is thoroughly illustrated with photographs or drawings, with the photos either full color or black-and-whites. The quality of the photos is excellent, especially the close-ups of individual firearms. Some of the historical black-and-white photos are not as sharp in detail, but still add to the overall quality of this book.
This shooter/writer never had the opportunity to meet and visit with Gordon Ingram, but definitely agrees with some of his early choices in firearms. The Savage Model 6 (87, etc.) auto-loading rimfire rifle was, and still is an excellent design, although no longer manufactured in its original form. The bolt action Krag rifle in .30-40 caliber had one of the slickest actions of any rifle of its day, even if it did have a single locking lug. The Winchester Model 100 auto-loading rifle might have served as the basis for decent military rifle. Unfortunately, likes and ideas, and G. Ingram appeared to have both in abundance, do not bear fruit without adequate finances.
This is an excellent volume on a man and his firearms. Many of the designs could, and possibly should, be developed and manufactured today. Among these possibilities are the Westarm Rifle, the Westarm//SAM-1 and C.O.M. Rifles, the Ranchero 22 rimfire rifle, the Durango Carbine, the bullpup 44 Magnum Ranchero rifle, and the Mini-Defender revolver. There was even a possible line of Amazon single barrel shotguns and rifles, plus a Stevens-style over/under. Gauges were 12 and 20, and rifle calibers ranged from rimfire 22 Long Rifle to 50 Action Express, and included the 7.62x39mm and .375 Winchester as possible cartridges,
This is a volume every MAC fan should have on their reference shelf. It is the best this reviewer has seen on a specific designer/manufacturer and his products. For a designer it can provide ideas, for an arm museum curator or dealer, information. As mentioned, this volume is lavishly illustrated—even the heading of each page features a line drawing of a stocked and suppressed MAC.
---
Review by Larry S. Sterett | Contributing Editor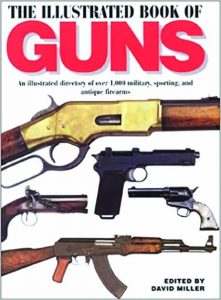 THE ILLUSTRATED BOOK OF GUNS, edited by Dave Miller. Published by Salamander Books Ltd., The Chrysalis Building, London, W10 65P UK. Copyrighted and reprinted a number of times, this tome should be available at Amazon and a number of other bookstores. Price: $46, plus shipping.
This oversize 306-page volume has the sub-title "An illustrated directory of over 1,000 military, sporting, and antique firearms," and is true to its title. With one or two possible exceptions all the illustrations are in full color, even the end-papers, title page and the Introduction. The basic material is covered in five sections, beginning with Pistols & Revolvers and finishing with Heavy Machine Guns. The final pages are devoted to a Glossary of more than 160 terms beginning with ACP round and ending with Yoke, and an Index. Readers may not agree with some of the author's definitions in the Glossary. As an example, LC: Long Colt, a type of ammunition. Incorrect! There was never a Short Colt, just a 45 Colt, used by the US mainly in the M1873 Colt single Action Army Revolver, made famous in the western movies as the "Cowboy Gun. (Gene Autry, the Lone Ranger, and Hopalong ride again.)
Following the Introduction, this tome is divided into five topic sections, beginning with Pistols & Revolvers and finishing with Heavy Machine Guns. Each section has a two-page introductory spread illustrating partially sectioned examples of representative arms; the first being a Beretta pistol and a Webley revolver. (The Rifles & Shotguns section begins with an 1860 Spencer rifle and a Ruger Red Label over/under shotgun, while the Submachine Guns portion illustrates a silenced Sterling and an UZI.)
Each of the guns covered or illustrated is presented in a side or slightly angled view, followed by a paragraph or more of explanatory text, and the specifications—caliber, weight, length, barrel length, rifling—if such exists, cyclic rate for the autos, muzzle velocity, and other pertinent information. Again, readers may not agree with the author in his selection of what constitutes a certain type of arm. The Light Machine Guns section opens with a sectioned view of the Browning M1919A4, which at 31 pounds, without its 14-pound tripod, is not exactly light. The Heavy Machine Gun section is introduced with a sectioned view of the 25+ pound German MG42 on its bipod, which is how it was frequently used. (Definitely lighter than the Browning M1919A4, unless you used it on a 42+ pound tripod.) The earlier MG34 weighed, without tripod, just under 27 pounds; still lighter than the Browning M1919A4.
The various small arms are presented three or four models per page, usually, with some exceptions. In the Pistols & Revolvers section, where there are many variations of the same type of handgun, for example, there are over 150 handguns presented in a dozen pages. A similar presentation is followed in the Rifles & Shotguns section where there are usually three long arms per page. The exception consists of 30 pages where from seven to a dozen long arms are presented per double page spread.
This tome definitely is worthy of space on any arms collectors/gun fans bookshelf. The illustrations are crystal clear, the text, including specifications, excellent, and it is as up-to-date as any book of this type.