Herb London chronicles Obama's many foreign policy disasters
Review by Herbert W. Stupp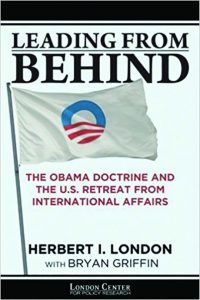 LEADING FROM BEHIND: The Obama Doctrine and the US Retreat From International Affairs, by Herbert I. London, with Bryan Griffin (editor). Published by Liberty Island Press, Paperback, 344 pages, $14.95. Available at storefront and online book sellers.
Although he's run for governor and state comptroller in New York, appeared frequently on radio and television, and authored or edited more than 30 acclaimed books, Herb London remains a somewhat underappreciated renaissance man. At 19, London recorded a song that became a Top-40 rock 'n' roll hit, and in his mid-teens, he led the Jamaica High School basketball team to the New York City championship.
After graduating from Columbia University, London took his PhD. from New York University and became a popular professor there (as so attested by NYU alums I know). He then created the iconic Gallatin Division at the university, permitting independent study that had not been contemplated to that point. He served as dean at Gallatin for over 20 years.
London has an impressive knowledge of economic, urban, regulatory, domestic, and foreign affairs issues, along with the intellectual underpinnings that have bolstered or undermined the arguments advanced by conservatives, liberals, radicals, and others in these policy arenas.
In Leading From Behind, London offers an overwhelming intellectual indictment of the Obama administration and its sad litany of foreign policy failures and debacles around the world. The book is an anthology of scores of Herb London columns, op-eds and analyses on foreign policy and President Obama's attempts to address such issues, or retreat from them. The writings cover the 2009 to 2017 period, and are culled from publications and websites, ranging from the Washington Times to Newsmax, The American Spectator, Pundicity, the Gatestone Institute, Townhall and Accuracy in Media, among other venues. It would be impossible even for devoted followers of Dr. London to have practical access to most of these publications and writings. Having his various writings on our foreign policy challenges in one book should please London's many fans.
London's central case is that President Obama and his administration represented a harmful and significant break with American traditions that had, in most instances, held to a bipartisan foreign policy consensus embraced by Democrat and Republican lawmakers alike since World War II. That consensus built NATO and helped to engineer the end of the Cold War.
The former president believes in international institutions and an incoherent "multilateralism" that often compromised American interests. Obama's self-proclaimed philosophy of "leading from behind" was too often perceived as an American withdrawal from world leadership, and a lack of interest in sustaining our allies' needs and concerns.
The London writings provide example after example of our overseas failures, from Russia to ISIS, Europe, China and the Far East, on to Israel and its hostile neighbors.
London offers a specific and prescient critique of the Obama "nuclear agreement" with Iran (which is back in the news), detailing how much the US gave and how little we got. "In most respects," he writes, "the agreement is a capitulation to Iranian dictates. It is a paean to utopia and ignores reality. The framework leaves Iran with extensive nuclear capability. It can continue to enrich uranium. It can continue to deploy 6,500 centrifuges. It was not obliged to shut down one nuclear facility, particularly its underground center at Fordow. It will not face the threat of sanctions."
London also provides us with the important insight into how Iran and our nation view the agreement differently, from rhetorical and contractual perspectives. Iranian Supreme Commander Ali Khamenei often uses the word "might" to describe his country's obligations, while President Obama employs the verb "will" regarding Iran's promises.
President Obama's hostility to Israel and specifically to Prime Minister Netanyahu are soberly documented here as well.
Some of Dr. London's early Obama-era concerns and predictions have proven to be well-founded. In 2009, he wrote that "should the Obama administration abandon its plan for anti-missile systems in Poland and the Czech Republic… [t]his decision would send reverberations through Ukraine to the Baltic States and beyond."
Obama did indeed withdraw US plans to install those anti-missile systems. Clearly, we have witnessed the harsh "reverberations" for Ukraine, and the "beyond" mentioned by London is surely the Russian grab and occupation of Crimea.
There is a cottage industry in presidential biographies, with new insights being offered even for presidents who have been gone for 100 and 200 years. For those future historians and biographers seeking insights into well-founded critiques of President Obama and his administration, let's hope that Leading From Behind gets the appropriate credit and usage that it richly deserves. A biographer seeking to invoke that "hope and change" cliché will have to answer to Herb London first.
---
Over 1,000 pages of recipes in Hornady cartridge handbook
Review by Larry S. Sterett | Contributing Editor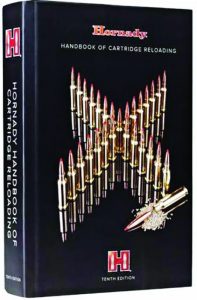 HORNADY HANDBOOK OF CARTRIDGE RELOADING, Tenth Edition, by Hornady Manufacturing Co., Dept. TGM, Grand Island, NE 68802. ©2016. Price: $42.07, over 1,000 pages, hardcover. Available at many gun shops, bookstores and dealers selling Hornady products.
This 1,012-page hardbound volume is devoted to the reloading or handloading of metallic cartridges—no shot shells—even the endpapers feature full-color views of metallic cartridges, cases and projectiles. The loading data section provides loads for over 160 rifle cartridges, from the 17 Hornet to the 50 BMG, with the Handgun section listing 60 from the 22 Hornet to the 500 Smith & Wesson Magnum; some data can be found at Hornady.com/data, for a few cartridges of both types.
Preceding the load data section are some ten dozen plus pages of information on the Basics of Reloading, Tips and Techniques, and an illustrated guide to all the Hornady bullets in color. The loading equipment is the Hornady brand, and the Reloading Step-by-Step section illustrates its use. It's thorough and it is good.
The data section for rifle cartridges features some good cartridges for which loading data is not always readily available. A few such include the 17 Mach 4 (IV), 5.6x50mm Magnum, 225 Winchester, 5.6x57mm RWS, 6.5x52mm Carcano, 7x65mm R, 8mm-06 (The 'poor man's Magnum), 9.3x74R, 375 Winchester, 376 Steyr, 50 Beowulf, and the 505 Gibbs. Naturally there are others missing for which this shooter would like to see some data, such as the 7.62m Czech, 8mm Kurz, and some of the more popular 'wildcats', of yesteryear. The same comment applies to the handgun cartridges, although possibly to a lesser degree, as some JDJ cartridges are featured, plus the two Herrett rounds, and the 7 mm IHMSA (Except for the 445 Super Magnum, other IHMSA rounds were not noted, nor were the 22 Remington Jet and 357 Automag cartridges.)
For each cartridge for which loading data is provided the introductory information includes a dimensioned cartridge case, the test rifle used with barrel length and rifling twist, case brand, primer brand and size, bullet diameter, maximum overall loaded cartridge length, maximum case length, and trimmed case length. This is followed by a few paragraphs of background on the cartridge. (The comments on the 45 Colt clarify it's just that; there is no Long Colt as there is no Short Colt cartridge.)
The actual data includes color profiles of the Hornady bullets used with weight, diameter, item number, ballistic coefficient, type (SST, BTHP Match, and XTP), sectional density, and overall loaded cartridge length. Powder charges are then listed for several different powders under velocity headings, with maximum charges shaded in red boxes. (As an example, loading the 300 Ruger Compact Magnum cartridge with 67.3 grains of Superformance powder ahead of a Federal 210 primer should achieve 3,000 feet/second out of a Ruger Hawkeye rifle with 20-inch barrel. Increasing the powder charge by one grain puts the load in the dangerous region with a gain of only 50 feet/second.)
This is one of the best handbooks for metallic cartridge reloading available on the market today. It's worth space on any hand loaders bookshelf, and the price is reasonable. True, it features only Hornady components and equipment, but it's Hornady's Handbook.
---
A guidebook to key players across anti-gun gangland
Review by Larry S. Sterett | Contributing Editor
DANCING IN BLOOD by Alan Gottlieb and Dave Workman. ©2014. Published by Merrill Press, Dept. TGM, PO Box 1682, Bellevue, WA 98009. Price: $15.00, plus postage. Available from storefront and online book sellers.
Considering the basis of the majority of the liberal media, Hollywood and similar mentality, this 192-page softbound volume is a must read. With an explanatory lead—Exposing the Gun Ban Lobby's Playbook to Destroy Your Rights, is similar to going to a major-r league ball game and hearing the hawkers crying "Get your program here. You can't tell the players without a program." This book is your program to many of the anti-gun players.
Divided into a baker's dozen chapters, from There Really is a Gun Control Playbook! to Finish the Job: Tools for Fools, plus an Epilogue, Dirty Dancing to Each New Tragedy. It takes the reader through a number of scenarios, such as : Americans Have Privacy Rights, Unless They Are Gun Owners, Meet the Biggest Liars of Them All, and Being Stupid in Public Lets Everyone Know, Each chapter is from eleven to eighteen pages in length, and the entire volume can be read in any evening.
Few people today remember Richard Speck, who killed some 13 nurses in the Chicago area some decades back in their dorm—if this reviewers' memory is somewhat correct. Not with a handgun or rifle, but with a butcher knife, and not all at once, but over a period of hours as he waited for them to return. Does Chicago now have a law banning butcher knives? Hardly! The butcher knife did NOT murder the nurses. Richard Speck did, and he was prosecuted for it, not the knife. Why do biased liberals believe guns are different? The gun is a mechanical device and the trigger has to be pulled by someone, just as the knife has to be yielded by someone.
This book may not have all the answers, but it definitely has a good number. Gun owners should be aware of who they trust to protect their rights. It is worth the sawbuck and a fin it costs, just to be better informed.