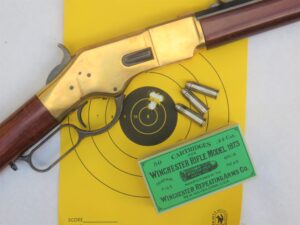 By Mike Nesbitt | Contributing Editor
The Model 1866 lever-action rifle was simply an improvement over the Henry repeating rifle, at least that's one way to look at it.
In fact, production of the Henry rifle did not stop when the '66 was introduced and those two rifles shared serial numbers, overlapping in the 12,000 area, until production of the Henry was stopped later in 1866. But "King's Improvements" (Nelson King was the shop superintendent, replacing B. Tyler Henry) were certainly noteworthy with the loading gate on the side of the receiver and the addition of the forearm. The Model 1866 was the first rifle identified as a "Winchester," after the company's name was changed to the Winchester Repeating Arms Co., firing the .44 Henry rim fire cartridges, and it "broke the trail" for so many Winchesters to follow.
Success and popularity of the Winchester Model 1866 can't be overlooked. By 1873, when the famous '73 was introduced in .44/40 caliber, over 100,000 of the '66s had been produced. And production of the '66 did not stop there. It remained cataloged and in production for the next 25 years, finally ending in 1898 with a total production of about 170,000 guns. Yes, the '73 did overshadow the '66 but it took the newer gun at least a few years to do so.
   In these days if anyone wants a Model 1866 for shooting, one of the well-made replicas, either by Uberti (Italy) or from Winchester by Miroku (Japan but not currently offered) must be used.  That is unless a shooter is lucky enough to have one of the very few originals that were made in .44 Henry center-fire.  (Those were all shipped to another country for military and police duty.)  The modern-made or replicas of the first Winchester are available in several calibers, from .38 Special up to the .45 Colt so the shooter has a wide range to select from.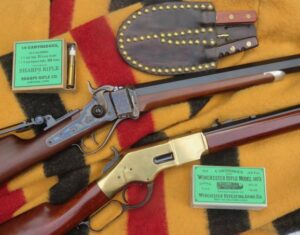 My own tastes, tempered by my favoring authenticity, led me to the .44/40 cartridge. Getting an Uberti Model 1866 in .44 Special was considered, mainly because it could be used with modern .44 Colt brass (by Starline) and loaded with a very similar powder charge and bullet weight as the old .44 Henry. The Henry rim-fire used 28 grains of black powder under the 200-grain bullet. That was only a consideration, however, and when I found a '66 with some of the other features I wanted, it was in .44/40 caliber which was quickly accepted.
What I have is a '66 Short Rifle with a 20-inch octagon barrel. Another feature that I "needed" was the sporting rifle rear sight which this gun has. Another version of the rear sight for the '66 rifles is like a carbine sight with a "ladder" that can be raised for shooting at extended ranges. That sight didn't interest me and the sporting rifle "buckhorn" sight did. While I was shopping for my rifle, my main interest was in the rifles with 24-inch barrels but this Short Rifle won my heart and I have no regrets for getting it.
Original Model 1866 Short Rifles are rather few, according to George Madis, the Winchester historian, only 850 of the Short Rifles were made. More than likely the modern copies of those Short Rifles outnumber the originals… At least the Short Rifles are authentic and I do have a good copy of a rather rare rifle.
One part about authenticity that can't be overlooked but must be accepted is that the receivers on the newly made replicas are longer than the originals. That is a must simply because the old receivers could not be adapted to the longer ammunition which the replicas are made for and the receivers plus the elevators had to be lengthened.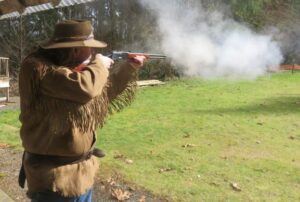 Shooting one of these replicas with black powder requires black powder loads. (Hey, I'll bet you never thought of that…!) This is mentioned because a good black powder load requires more than just a charge of black powder. There are also black powder lubricants for the bullets and without a good black powder lube, the rifle's barrel will be hopelessly fouled after perhaps only three shots. After that, accuracy will be just a memory.
Several good black powder lubes are available such as SPG (www.blackpowderspg.com), or BPC from C. Sharps Arms (www.csharpsarms.com), and others. What I generally use is BPC ("Black Powder Cartridge"). That lube should be used on bullets that were designed for use with black powder, having wide and deep enough lube grooves to hold the lube needed for good black powder shooting.
The bullet I prefer in my .44/40s is Accurate Molds' #43-205C which had a single huge lube groove. Accurate has other bullets with the same large lube groove of heavier weights but I do favor the 205-grain weight. Another mold that I have is Lyman 427098 which is the old style for the .44/40. The Lyman is a very good mold with twin lube grooves. I've used the Lyman bullet for several years but more recently my favor has gone to the Accurate bullet for consistent shooting.
That 205-grain bullet gets loaded over 34 ½ grains of Olde Eynsford 2F powder which is a rather full load in the modern (Starline) solid head cases. With this amount of powder, the powder is compressed as the bullets are seated but the bullets are not deformed.
My first shots with this 1866 replica were taken on our black powder trail-walk, shooting at hanging silhouettes. I could see the rear sight better than I had expected (but this rifle might still be fitted with a peep sight). The shooting was so enjoyable that I had to stop myself before I shot up all of my loaded ammo. There was other shooting to be done, such as getting to a bench and actually sighting the rifle in.
A couple of paper targets needed to be shot just to see, for sure, where this gun was sending its bullets and to see if it would group well. For a target, I selected one of our club's small bullseye targets that we commonly use at just 25 yards. The 'black' on this little target is only 2 ¼" across and shooting at 25 yards would tell me all I wanted to know about how well this .44/40 was shooting with the black powder loads.
Two targets were posted at 25 yards on our black powder range. Shooting was done from a benchrest. Five shots were taken at the first target and those grouped well but were slightly high and to the left. The gun's rear sight was already all the way down and I was holding at 6 o'clock on the target. An easy way to get this gun to hit right-on for elevation would be to pick a target with a larger bullseye. Windage was a different matter. For that, the rear sight was moved just slightly to the right, using a Wyoming Sight Drifter.
Five more shots were then fired at the second target and that one held a group that I liked. More shooting was done, on a different day, and another target was used. On this target I simply quit after taking just three shots. Doing more shooting wouldn't make that target any better.
   Then our club had a muzzleloading match on the following Saturday morning and, for something different, we had an 'after-match' with our black powder lever actions. The line-up of cartridges used in this match included .44/40s and .45 Colts plus one .32/20. We would shoot one target at 25 yards with 5 shots, then another 5 shots were taken at a similar target posted at 50 yards, all shooting being done from the offhand position. While shooting at those targets, we all loaded our rifles one shot at a time, as if they were single shots.

The ending part of this lever action match, which was the most fun, had the shooters, one at a time, step forward of the firing line, loading the magazine with five cartridges, and then shooting at five gongs from 50 to 100 yards while being timed. One of the fun-factors about this was that the shooter would probably have to aim through a cloud of black powder smoke after the first shot. But that really was fun and out of the eight shooters participating, I came in 4th. We'll shoot the lever-gun match again.
Keeping the gun clean after shooting black powder is not a problem. Just be sure to use a black powder solvent such as Three Rivers Black Powder Solvent (from The Gun Works, www.thegunworks.com). After the rifle is broken-in, like my '73 is, the barrel will come clean with just two patches. Following the cleaning, the bore was wiped with a high-quality gun oil and I'm using Old West Snake Oil (www.oldwestsnakeoil.com) for that job. Keeping 'em clean is just one of the 'secrets' of good black powder shooting.
   Shooting this 1866 replica in .44/40 with black powder loads pleases me in every way that I can describe and I'll keep using it. So, I certainly expect that you might be hearing more about it.  One area where this Short Rifle can be used is at our annual Buffalo Camp where it might be called upon to "get some game" on the animal shaped silhouettes at the Meat Hunt which is shot with our "camp guns" and not the heavier buffalo rifles. That's where the 1866 rifle would fit right in and I'm already looking forward to it.