by Dave Workman | Senior Editor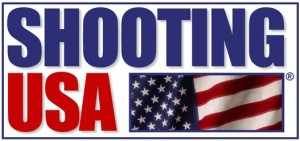 The Second Amendment Foundation has announced that Shooting USA, the popular program broadcast by the Outdoor Channel, will be a Platinum Level sponsor of SAF in the foundation's efforts to protect and restore firearms rights.
The announcement came during the annual Shooting, Hunting and Outdoor Trade (SHOT) Show, held at the Sands Convention Center in Las Vegas.
Shooting USA host Jim Scoutten brought a camera crew to the SAF booth, to chat with SAF founder and Executive Vice President Alan Gottlieb. Gottlieb presented Scoutten with a plaque recognizing the show's significant sponsorship, which is a major accomplishment for the Bellevue-based organization. Shooting USA has legions of viewers across the country, and Gottlieb told TGM that the increased SAF visibility will be a tremendous help for the gun rights organization.
SAF concentrates on education and legal affairs, and is currently involved in about 30 lawsuits around the country that deal with Second Amendment issues.
"Scoutten and ShootingUSA will be key to our efforts in the coming year to make significant advances in restoring and preserving Second Amendment rights through our programs of education and legal action," Gottlieb said in a statement. "We are deeply grateful for the generous support of ShootingUSA and welcome their partnership in our efforts."
Scoutten filmed an interview with Gottlieb to be used as a segment in an upcoming installment of the program.