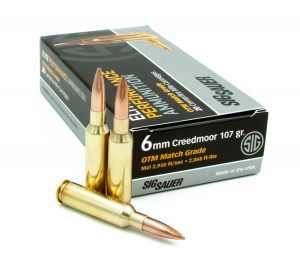 SIG SAUER, Inc. has expanded  its line of Elite Match premium competition ammunition with the addition of a 6mm Creedmoor load.
Featuring a 107-grain Sierra MatchKing® bullet, the new 6mm Creedmoor Elite Match OTM load has a muzzle velocity of 2,950 fps and muzzle energy of 2,068 ft-lbs.
"6mm Creedmoor is a popular long-range round that performs well in wind thanks to its high ballistic coefficient and flat trajectory," said Brad Criner, senior director of Brand Management and Business Development at SIG SAUER Ammunition. "We are pleased to offer this highly accurate round for competition shooters along with 6.5 Creedmoor and numerous other match grade loads."
SIG Elite Match ammunition is currently available in the following calibers: .223 Rem, .300 BLK, .308 Win, .30-06 Springfield, .300 Win Mag, 6mm Creedmoor and 6.5 Creedmoor.
SIG SAUER Elite Match ammunition features a temperature-stable propellant that delivers consistent muzzle velocity in all weather conditions.  Premium-quality primers ensure minimum velocity variations, and the shell case metallurgy is optimized in the SIG Elite Match OTM cartridge to yield consistent bullet retention round to round. All SIG SAUER rifle ammunition is precision loaded on state-of-the-art equipment that is 100% electromechanically monitored to ensure geometric conformity and charge weight consistency