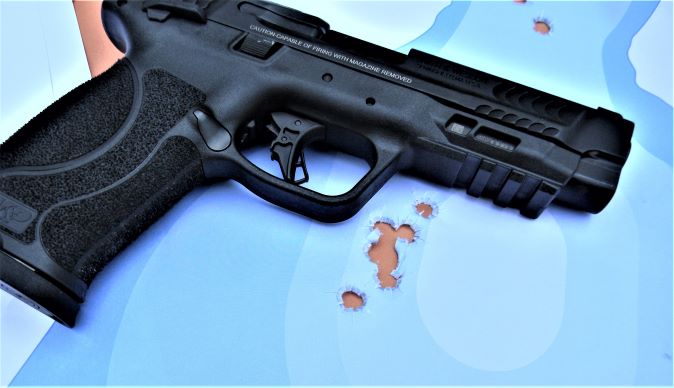 By R.K. Campbell | Contributing Editor
Smith & Wesson's polymer frame striker fired guns have evolved considerably over the years and today offer a service grade pistol with proven reliability and performance.
The 2.0 version is offered in both standard 9mm frame size and the heavy duty .45 and 10mm size. With the resurgence of the 10mm cartridge, Smith & Wesson has offered a robust large frame handgun chambered for the powerful metric cartridge. The company offers two versions, one with a 4.6-inch barrel and the other with a 4.0-inch barrel. I have both on hand.
   These are not loaners but personal guns I consider part of my defensive battery- after some testing and acclimation.
The pistol features suppressor height sights and a flat faced trigger, along with an optics ready slide. The 4-incher was fitted with a Holosun optic for evaluation.
Each of my pistols feature an ambidextrous safety.
Smith & Wesson offers a total of four models, the short and longer barrel versions with or without the manual safety. I like the manual safety as I am used to the 1911. The safety falls under the thumb easily and is positive in operation. If you don't like the safety you may ignore it or order the pistol without a safety. For my preference I like not only on safe carry but loading the pistol with the safety on.
The 2.0 improvements include aggressive grip texture, and the trigger action is considerably improved. Trigger compression is smooth and sharp with a rapid reset.
   Smith & Wesson delivers this pistol with four grip inserts to accommodate different hand sizes. With a pistol this size the difference in hand fit is important and it is worth trying the different grip inserts to see which fits and feels best. Each handgun features a stainless steel slide with black Armomite nitride finish. The barrel is also stainless steel. Pistols are shipped in a cardboard box with two 15 round magazines, a manual, gun lock and grip inserts.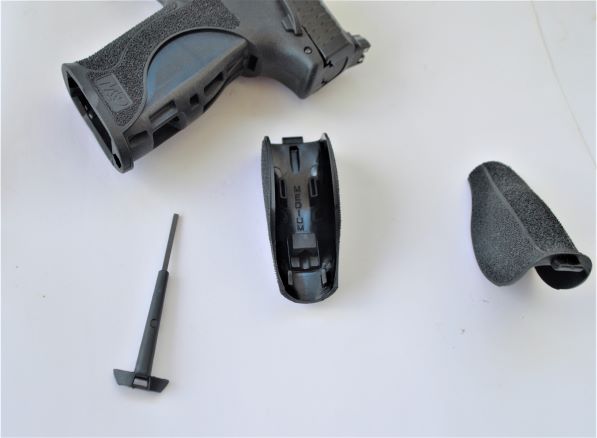 The 15-round magazine offers a formidable supply of ammunition before a reload is necessary. This is offered in a pistol that weighs just under 30 ounces unloaded. Compared to a 40-ounce 1911, I expected recoil to be significant, but I was pleasantly surprised, thanks to S&W's superior recoil springs. Sure the pistol kicks but no more than a lightweight frame Commander in .45 ACP. The pistol has less felt recoil than a 10mm 1911. Combined with modest recoil and a price of less than $700, the S&W Military & Police 2.0 10mm has a lot going for it.
This seems to be the pistol to beat in the polymer frame 10mm world. The grip frame certainly fits my hand much better than the Glock handgun, for example.
The handle front strap and rear strap are nicely checkered. Near the base of the grip are half crescent cut outs, designed to aid in removing a stuck magazine. A tool for changing backstraps is part of the grip base.
   Rotate the tool and the grip strap insert is easily removed. I used the small grip insert, discovering that grip abrasion doesn't hurt the hand when firing but if you do not wear a T shirt under your covering garment when using inside the waistband carry abrasion may feel rough against the skin.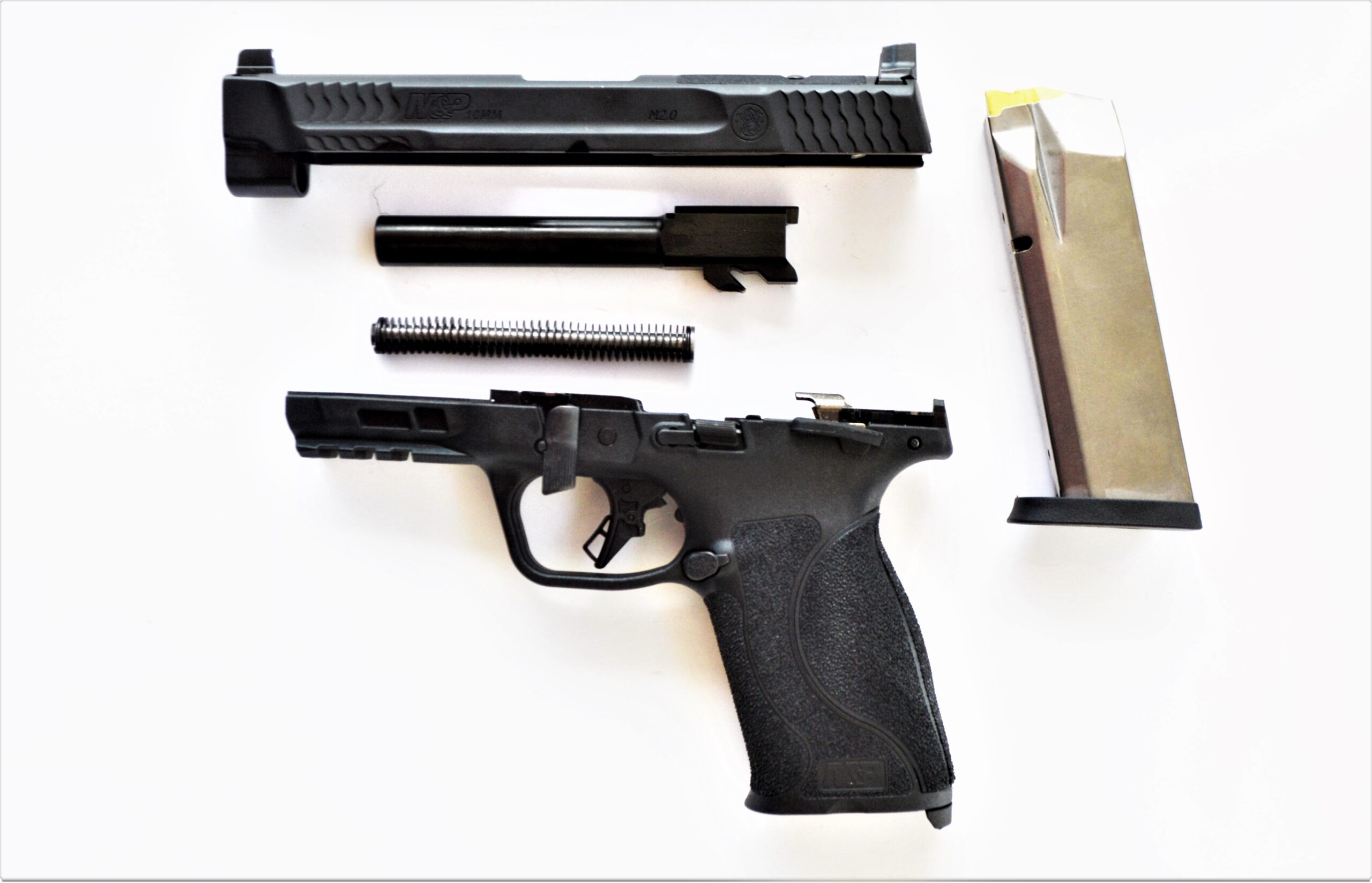 A T-shirt under a sport shirt and the pistol carried in an N8 Tactical Kydex inside the waistband holster is ideal. The M&P 2.0 features a cut out near the juncture of the trigger guard and grip helps to lower the pistols bore center line. There's an ambidextrous safety lever which indents smartly. Moving the safety to the "on" position during a tactical movement is simple enough. The slide lock is easily operated but since it is protected by the frame you will not actuate the slide lock during firing.
   Sights are excellent, combining high visibility with a sharp sight picture. The M&P 2.0 10mm also features a light rail for mounting an accessory light. There are scalloped front and rear cocking serrations. The pistol disassembles easily with a take down lever type operation. Trigger compression in either pistol averaged 5.0 to 5.4 pounds.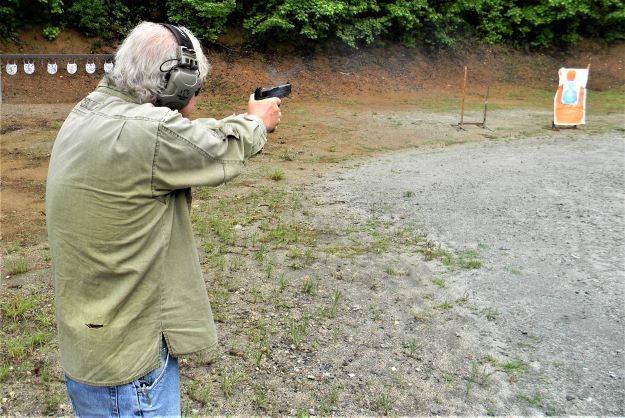 The CORE mounting system is supplied with seven polymer mounts. This allows mounting a good choice of modern red dot sights. I chose the Holosun based on availability, affordability and reputation. I have fired the pistol extensively with a wide range of affordable full metal jacketed loads including Seller and Bellot, MagTech, Fiocchi and Ammo Incorporated. The pistols have never failed to feed, chamber, fire or eject.
   The 4.6  inch barrel gun exhibits slightly higher velocity as may be expected on the order of 36 fps extra over the 4.0 inch barrel gun. Absolute benchrest accuracy isn't much different with either pistol exhibiting a five shot 25 yard groups of 2.0 to 3.0 inches with quality ammunition. In combat shooting, the pistols are stable and offer high hit probability. The pistol wearing the red dot sight in a side by side comparison with the other gun is a bit faster when scoring a hit – just place the red dot on the target and press the trigger. The red dot option is worth your time to explore. Each pistol would make a formidable go anywhere do anything pistol.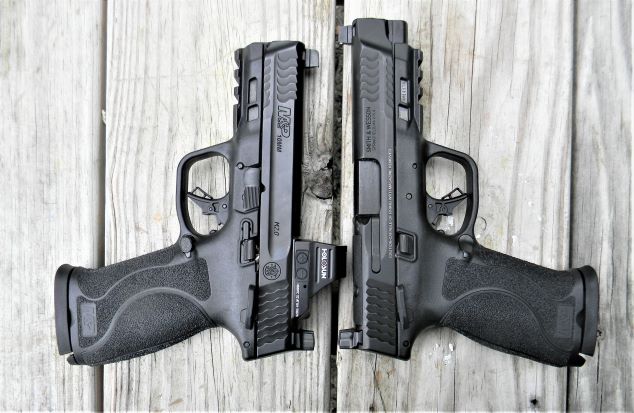 The 10mm is well suited to protection against feral dogs, small bears and the big cats if you can shoot straight. I like the Smith & Wesson Military and Police 2.0 10mm. It is reliable and accurate while filling an important role in the scheme of things.
On the Firing Line:
Load Velocity Group size
Magtech 180-grain FMJ                    1154 fps                     3.0 in.
4.0-inch barrel gun                             1120 fps                     2.7 in.
Fiocchi 180-grain JHP                       1202 fps                      2.5 in.
4.0-inch barrel gun                             1160 fps                      2.8 in.
Federal 200-grain SWIFT                 1070 fps                      2.0 in.
4.0-inch barrel gun                             1039 fps                     2.65 in.
Buffalo Bore 155-grain JHP 1155 fps 2.0 in.
4.0-inch barrel gun                            1119 fps                      2.8 in.
Federal 200-grain HST 1070 fps 2.8 in.
4.0-inch barrel gun                            1020 fps                      3.0 in.
Ballistic testing:
Penetration Expansion
Federal SWIFT 32 in. .56
Federal 200 gr. HST 24 in. .74
Fiocchi 180-gr. JHP 20 in. Fragmented
Buffalo Bore 155-gr. 22 in. .68
Specifications
Smith & Wesson M&P 2.0
Caliber: 10mm
Barrel: 4.6 in.
Frame: Polymer
Action:             Striker fired
Height: 5.6 in.
OAL:               7.9 in.
Weight: 29.6 oz.
Width: 1.3 in.