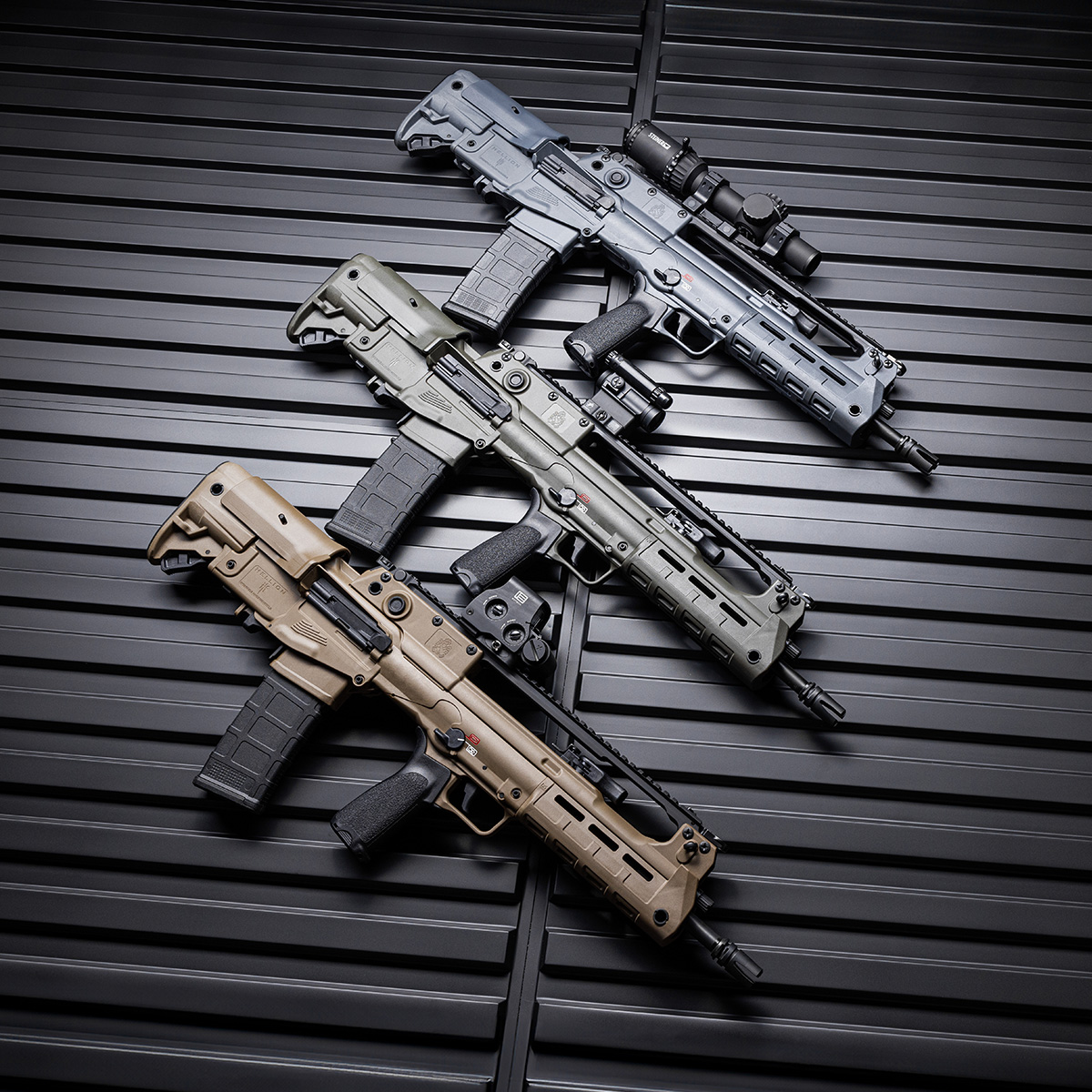 Springfield Armory® has announced the release of three new color options — Desert FDE, OD Green and Gray — for the popular 16-inch-barreled Hellion™ 5.56mm bullpup platform.
Originally released in early 2022, the Hellion answered the call for superior ballistic performance in a short, modular and fully ambidextrous 5.56mm bullpup platform. Unlike a traditional long gun, the bullpup system locates the action and the magazine behind the trigger and into the buttstock area. By doing this, it reduces the overall length drastically, while still allowing you to have a barrel long enough to retain effective downrange performance.
Based on a proven Croatian design, the Springfield Armory semi-automatic Hellion offers shooters a capable bullpup design with numerous modifications and enhancements for the American market. These includes an ability to feed from AR-pattern magazines, the use of replaceable AR-pattern pistol grips, M-Lok® slots in the handguard and six QD mounts.
The Hellion features a reversible ejection system that requires no additional parts or tools. Complementing this is a set of fully ambidextrous controls, including the safety, charging handle, magazine and bolt release. The Hellion's adaptability is further enhanced through the use of a five-position collapsible buttstock as well as a two-position adjustable gas system.
"The Hellion was an immediate hit due to its combination of proven performance and compact handling characteristics," says Steve Kramer, Springfield Armory's Vice President of Marketing. "With these new colors available for the 16"-barreled gun, bullpup enthusiasts have even more options from which to choose."
The MSRP for each of the variants is $1,999. Also available in low-capacity versions with 10-round magazines for restrictive locales.
·Desert FDE Hellion 5.56mm | HL916556F | 706397969486
·Lo-Cap Desert FDE Hellion 5.56mm | HL916556FLC | 706397976422
·OD Green Hellion 5.56mm | HL916556G | 706397973193
·Lo-Cap OD Green Hellion 5.56mm | HL916556GLC| 706397976439
·Gray Hellion 5.56mm | HL916556Y | 706397973209
·Lo-Cap Gray Hellion 5.56mm | HL916556YLC| 706397976712
To learn more about the Hellion, visit https://spr-ar.com/r/5763.