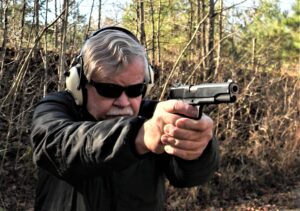 By R.K. Campbell | Contributing Editor
Many years ago Colonel Jeff Cooper and other learned shooters and professionals promoted the 1911 .45 automatic as the best personal defense pistol available.
   In this logic they arrived at a consensus of what was needed to make the 1911 most viable as a defensive handgun. Good sights, a speed safety and a good trigger were at the top of the list. The new Springfield Garrison is a high point among the consensus guns and a far better pistol than anything available in those early days of competition. The pistol doesn't have night sights, a light rail, an ambidextrous safety, and other features some may not need.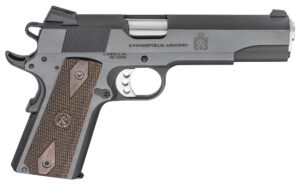 This isn't a bargain basement pistol. Many 1911 handguns these days are too cheaply made for service use. With cast frames and MIM internal parts they are recreational handguns and little else. My life is worth a bit more than a few hundred dollars and so is yours.
The Springfield isn't cheap but at $800 it is affordable. There is no reason to deploy an inferior pistol when the Garrison is available. Specifications and tolerances of a quality handgun demand some hand fitting. Hand fit and precise machine work are exhibited by the Springfield Garrison.
The pistol features a hot salt blue finish. While perhaps not as durable as some modern finishes it is a rich deep impressive finish. For a few dollars more a stainless steel version is available. While I like the look of my blued pistol the stainless pistol probably makes more sense in a service grade handgun.
   The forged steel frame and slide are well finished. I like the hard fit of the barrel, and the barrel bushing is snug but not too tight for easy disassembly. The pistol's locking lugs are also snug in the slide.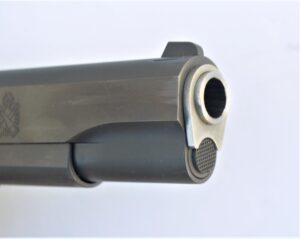 The slide lock safety is tight with a positive indent; no mushiness to be found, and the slide lock and magazine release are positive in operation. Springfield's pistol features slim line grips, and if you replace them you will need standard length screws and bushings as well. I like the slim line grips, though they take a little getting used to. Those with larger hands may need standard grips.
The Garrison features Novak style three dot sights, which is the standard by which all other pistol sights are judged. Trigger compression is a smooth 6.5 pounds and tight with modest take-up, no creep, and no backlash. Reset is rapid. A sharp reset is as important in combat shooting as a smooth compression. Thankfully the pistol's scroll markings are not billboard types but tastefully done. Disassembly revealed no internal tool marks and good fit. Lateral play in the slide was almost nonexistent. Overall this is a nice package. The proof is in the firing.
   I carefully lubricated the pistol on the long bearing surfaces and barrel hood as well as the barrel where it meets the barrel bushing and the cocking block. The pistol was supplied with a single seven round magazine. I have a box of over forty 1911 magazines I have proofed, some have been in use for years. I used these during the test. At present the premier 1911 magazine is made by Wilson Combat.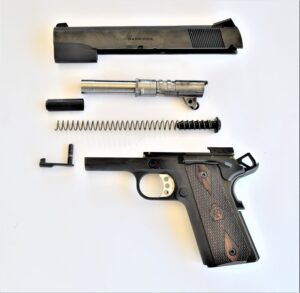 I have a good supply of button nose 185 grain .45 ACP handloads as well as 200 grain SWC handloads. They are dwindling away and no primers are on the shelf, so they will not be replenished in the near future. I am enjoying them while I can!
I fired the pistol with a good mix of these handloads. The 185-grain loads ran 1005 fps, the 200-grain SWC over Titegroup powder at 890 fps. Results are excellent with fast hits from the holster coming easy at 7 and 10 yards. The test of a combat pistol is fast hits and good control at typical engagement ranges. Draw, fire, get a hit, then control the pistol in recoil as the trigger resets, align the sights, and get a hit. Continue. The cadence of fire is controlled not by how quickly you may pull the trigger but how quickly you are able to realign the sights after firing. In this respect, the Garrison is an effective personal defense handgun. While heavier 1911 type pistols may be easier to fire well a 38-ounce Government Model is a controllable and useful firearm. The Garrison is lighter than most rail guns and tactical type 1911 handguns and easy enough to concealed and carry.
Absolute accuracy
   A test of the pistol's fitting and workmanship is firing 25-yard groups. I settled into the best possible firing position at a solid benchrest with the MTM K Zone shooting rest. I used two loads, the Remington 230-grain FMJ and the Remington 185-grain Golden Saber. The FMJ loading delivered a five shot group that went into just under three inches while the Golden Saber load went into just over two inches. That is plenty accurate for any chore.
Packing a full size Government Model handgun demands a sturdy leather belt and careful holster selection. For most uses the Wright Leather Works Outsider works well when a covering garment is worn. (Wrightleatherworks.com) It is also an excellent range holster. With good fit and finish and a well-designed holstering welt the Outsider is a first class leather holster. A G Code paddle is part of the package. I like the good fit sharp draw and comfort of the Outsider.
The Garrison is a good pistol for those looking for a quality 1911 at a fair price. It doesn't have every bell and whistle but then why pay for more than you need?
Specifications:
Caliber: .45 ACP
Frame: Steel
Slide: Steel
OAL: 8.6 in.
Height: 5.5 in.
Bbl. Length: 5 in.
Capacity: 7 rounds (8 optional)
MSRP: $800
Springfield-Armory.com