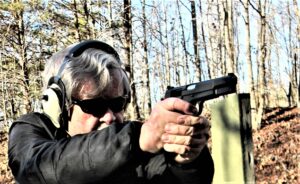 By R.K. Campbell | Contributing Editor
I have a certain affinity for classic handgun designs. The 1911, the Python, CZ 75 and High Power are among these.
I know the difference between recreational handguns and the ones I would bet my life on. It is easy enough to cheapen a design and sell it at a certain price. We have many cheap 1911 pistols doing just that.
One of the iconic pistols of all time recently went out of production. This is the FN Browning High Power. Production costs were soaring and sales were few. Interestingly enough folks would not pay over one thousand dollars for a new in the box FN High Power, one of the finest renditions of the old beast. Now that it is out of production well worn examples are bringing more than the most recent MSRP! Go figure.
Springfield Armory has a long history of providing shooters affordable and sometimes improved clone guns of classic pistols. Their 1911s are well respected. They once offered a good quality CZ clone. Their M1A rifle has become an American Classic. Now they have their own High Power, the SA 35.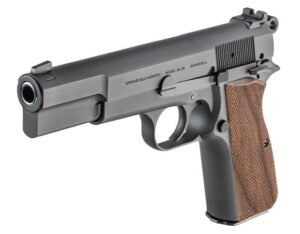 Springfield's pistol looks like a High Power, handles and feels like a High Power, and performs well. There have been other clones of the High Power in the past. The FEG was a direct clone. The Kareen and Arcus differed on some point or the other. FN even produced a double action version of the High Power. The Springfield seems true to the High Power but with certain improvements.
The Springfield SA 35 has all the advantages of modern manufacture. The company has tightened tolerances. I think this is a valid statement. The same standard High Power extractors, firing pins, recoil springs, trigger parts and magazines should fit the SA 35. Grips and holsters designed for the High Power fit the SA 35.
   I can measure performance as far as trigger pull weight, reliable feed, and accuracy. I cannot measure improved heat treating. The High Power, it has been said, sometimes will crack at the slide with a steady diet of NATO SPEC ammunition. I am unaware of any pistol that does not sometimes crack slides. I have seen cracked 1911 slides and frames but then this is my area of interest. I have seen a Beretta fail, several Glocks, and a Walther P38. Conversely, no High Power 9mm pistols with a cracked slide are in my experience.
I carried an Action Works Custom High Power for some time. I fired at least 200 rounds of Federal 115 grain +P+ load in that handgun without a problem. At 20,000 rounds most of the finish was gone but the trigger work was still good and the pistol remained reliable. A bit of the edge was gone from accuracy.
This took many years of then-cheap ammunition to prove out. (Without crying foul I know what a pistol looks like with 10 to 20,000 rounds on it and some of the photos I see on the fan boy sites just don't seem to mesh with the claimed round count!) With Springfield's improved heat treating the pistol should last at least as long a quality 1911 type 9mm. Nothing lasts forever but a properly toleranced and manufactured pistol should have a long service life.
   The pistol's matte blue finish is attractive, similar to the Springfield Mil Spec. Checkered wooden grips make for a balance of abrasion and adhesion. The trigger pull is good at 5.0 pounds even. This is a 'good' pull but 'very good' for a High Power type. The trigger action must clear the high capacity magazine and the result is more movement than the straight to the rear 1911 handgun trigger. Getting it right isn't easy.  The trigger requires some take-up and then you reach compression. Reset is clean and sharp.
The pistol features a speed safety and it is head and shoulders above the original- but it isn't ambidextrous. The combat sights are superb; the front sight is a post and the rear sight a wedge type with a U notch. This makes for a fast combination. If you don't like these sights it will be several hundred dollars to replace them- it isn't easy like the Glock.
Thankfully Springfield left off the original magazine safety. The magazine safety prevented the pistol's firing with the magazine removed. This device has little advantage in administrative handling. Training is a better answer than a magazine safety. Springfield's 15-round magazines are not difficult to load to capacity. The pistol was also fired with a mix of original Browning and modern MecGar magazines.
In firing drills, I used a variety of ammunition to assess the pistol's function. These included a mix of ball ammunition, some quality and some not so good. The High Power is noted for handling a wide range of ammunition well.
When the original High Power was introduced, 9mm Luger ammunition was anything but consistent. The heavy hammer spring that makes cocking the hammer difficult for some of us was necessary to ensure the cartridge was rammed into the chamber and primer ignited. The pistol never failed to feed, chamber, fire and eject.
The lightest load fired during testing was the factory Sierra 124-grain JHP, underloaded at 999 fps, to the Hornady American Gunner 124-grain XTP +P at 1,190 fps. I am nearing 500 rounds without a single failure to feed, chamber, fire, or eject. I fired a good number of 115-grain loads, some 124-grain loads, and a lesser number of 147-grain loads. All performed well. Combat accuracy and speed on target is what a pistol like this is about. There is nothing faster to an accurate first shot than a properly carried cocked and locked High Power 9mm. The 1911 is just as fast- hard to call this one!
   Drawing quickly and aiming at man sized targets from 7 to 15 yard I fired, allowed the trigger to reset in recoil, and fired again. Results were excellent. A combination of good sights and a pleasant trigger in a pistol heavy enough to generate modest recoil make a winning combination. The pistol is easy to use well and compliments a trained shooter. I also settled into a solid benchrest firing position to gauge the pistols accuracy. I used a Birchwood Casey target with a large red center and the MTM K Zone pistol rest. This gave me every advantage in pursuing accuracy potential. My favored defense/service load in the 9mm is a 124-grain XTP.  It may be loaded by Black Hills, Fiocchi, or Hornady.  I used the Hornady 124-grain XTP in conducting this accuracy test. I also added the 135-grain Critical Duty. Hornady won the FBI contract with this load. That is a huge deal reflecting a tremendous effort and design excellence. I have enough 124 grain loads put up to serve for some time but if I were issuing a load at an agency this would be it. I took my time and fired five rounds of each load at 25 yards, then another group of each load to confirm. The 124-grain XTP averaged 2.4 inches the 135-grain Critical Duty, 1.9 inches, the single best effort of the test program so far.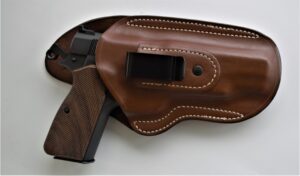 For concealed carry I have adopted an inside the waistband holster from Bullard Leather. This holster (Bullardleather.com) is comfortable but keeps the pistol concealed by riding inside the trousers. A strong belt clip takes a hardy bite of the belt. The holster is well finished and double stitched. The Springfield is long but thin and easily conceals with the proper leather. I like the Springfield SA 35. Just as I carry a modern 1911 and do not go chasing about the gun shows for a vintage 1911 I would look no further than the SA 35 for a modern High Power type pistol. Performance is better overall than all but the best custom High Power pistols I have owned. Workmanship and material are good. I will be firing this pistol a lot and carrying it often.
   Springfield has introduced a pistol that will appeal to High Power fans and new shooters alike.
SA-35 Specifications
Manufacturer: Springfield Armory
Type: Semi-auto locked breech single action
Caliber: 9mm
Barrel: 4.7 inches
OAL: 7.7 inches
Weight: 32 oz. (Unloaded)
Capacity: 15 rounds (With Springfield magazine)