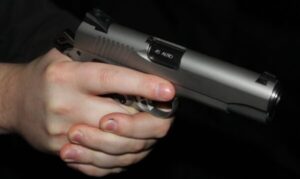 Strict gun control laws in Massachusetts have had "no immediate impact on violent crimes," according to the abstract of a new study from American University, published in the Justice Quarterly.
The Boston Herald reported the study "used modeling and FBI data from 2006 to 2016 to examine the impact" of a gun control law adopted in the Bay State in 2015. While the newspaper said the law "had little effect on the violent crime rate in the state, raising questions about enforcement of these laws," it might make better sense to question the effectiveness of the law altogether, because gun control laws usually only impact law-abiding gun owners, not criminals.
Likewise, when reported at Phys.org, that publication asserted, "The study found no immediate impact, suggesting that state lawmakers may want to ensure their legislation is being implemented as intended."
Nowhere in the reporting does there appear to be any acknowledgement that criminals do not obey gun control laws. Instead, the story noted, Janice Iwama, assistant professor of justice at the university who did the study, "did find that a one-percent increase in denied firearm licenses and denied firearm licenses following statutory disqualifications increased robberies 7.3 and 8.9 percent, respectively."
Yet there was "no consistent effect of the new legislation on reducing four types of violent crime (murder or nonnegligent manslaughter, aggravated assault, robbery, rape).
Iwama, according to the Boston Herald, "recommended that policymakers revisit the legislation to ensure it's being properly applied and enforced."
Last year, according to FBI data—which is admittedly not complete—the Bay State reported 153 "homicide incidents" and "160 offenses." In 2015, also according to FBI data in that year's crime report, Massachusetts reported 126 total murders, including 81 involving firearms.
But over the course of several years, the data bounces up and down, perhaps reinforcing the notion that gun control laws haven't changed the pattern of violent crime in Massachusetts.
The law was adopted in reaction to the Sandy Hook tragedy in December 2012, in neighboring Connecticut, a state with equally restrictive gun control laws that were made even tougher in the aftermath. But since killer Adam Lanza murdered his mother and took her legally-purchased and documented firearms to commit that infamous crime, it remains unclear how gun control proponents believe changing the law in a neighboring state might have prevented the school shooting.