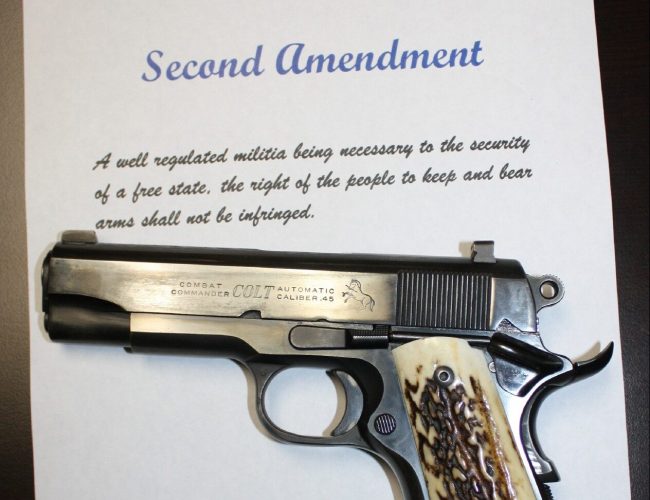 By Dave Workman
Editor-in-Chief
Following Monday evening's bombshell report by Politico about the draft Supreme Court opinion apparently overturning Roe v. Wade, there appears to be concern among liberals this may signal an unwanted pro-Second Amendment ruling in a New York gun rights case.
A piece by CNN Supreme Court reporter Ariane de Vogue headlined "Roe leak may impact how Supreme Court decides gun rights, climate and immigration cases this spring," notes, "The court hasn't issued an opinion in a major Second Amendment case in more than a decade, but it has an opportunity before it now."
That case, for which a decision is expected late next month, could declare unconstitutional a New York gun law "that places restrictions on carrying a concealed gun outside the home." The Court traditionally holds its most controversial rulings until the final days of the session.
Gun control proponents are extremely alarmed by this possibility; more accurately a "likelihood" if one listens to some in the gun community.
"As the justices debate the issue in secret," de Vogue observes, "they will decide whether to issue a broad decision holding that the right to keep and bear arms extends to the right to carry a handgun outside the home, or whether to focus more narrowly on a handful of laws that give licensing officials a large degree of discretion in deciding who gets a permit."
The alarm is best illustrated by an editorial in the New York Post headlined, "Pray the Supreme Court doesn't leave NY defenseless to control flood of weapons on streets."
The case is New York State Rifle & Pistol Association v. Bruen, and Second Amendment activists are hopeful the high court majority slaps down the "good cause" requirement imposed by New York politicians more than 100 years ago to prevent private citizens from exercising their constitutionally enumerated right to bear arms.
"The last thing New York needs," the New York Post editorial laments, "is for every Tom, Dick and Harriet on the street to be carrying."
As it currently stands, there are a lot of people carrying guns on New York streets—illegally, under existing law—and the Post overlooks the obvious: Many, if not most of them are part of the criminal element, while the rest have decided to chance an arrest simply because they've decided to be responsible for their own safety, regardless the restriction.
Reaction to Politico's earth-shaking report from the media has bordered on hysteria in some cases, and in others, it might be considered hysterical, in a humorous way.
As reported by Fox News, MSNBC political analyst Juanita Toliver declared, "I can't shake the fact that Justice Sotomayor let us know that this was the direction the court was headed when they ruled to allow SBA to go into effect. When she said the justices were essentially digging their heads in the sand, they were ignoring decades and decade of precedent…And honestly, at this point, I think we're all right to question the legitimacy of the court for doing that, for ignoring decades of precedent."
Would there be the same concern regarding the Dred Scott ruling?
If the Court does come down hard on New York, similar laws in seven other states would be almost certainly nullified, advancing the cause of full Second Amendment restoration in the process.
Chief Justice John Roberts may have put the debate over gun rights into its proper perspective when, during questioning (recalled in the Post editorial), he wondered, "You don't have to say, when you're looking for a permit to speak on a street corner or whatever, that, you know, your speech is particularly important. So why do you have to show — in this case, convince somebody — that you're entitled to exercise your Second Amendment right?"
Rights are rights, not government-regulated privileges, say Second Amendment advocates. Rights spelled out specifically in the Bill of Rights, and protected (not invented) by the Constitution, are special. All rights are equal; one is no less important than the other. They should not be subject to popularity contests or political machinations.
The country will see how far the Roberts Court chooses to take that philosophy in about eight weeks.