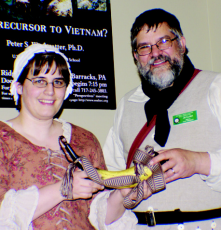 By TheGunMagStaff - May 30 2014 06:49 PM -
Comments Off

on may is a busy month for muzzleloading shooters
-
Shooting Sports
by James C. Fulmer Past President, NMLRA The Pennsylvania Federation of Black Powder Shooters, Inc. (PFBPS) held their Annual Banquet and Trade Fair Saturday, March 22 in Milroy, PA. State muzzleloading associations ...

By TheGunMag - May 22 2013 03:09 PM -
Comments Off on NMLRA Speaks Out at UN
-
Shooting Sports
by James C. Fulmer | Past President, NMLRA Becky Waterman, NMLRA president,speaking at the UN. The National Muzzle Loading Rifle Association is celebrating its 80th anniversary this year. Founded in 1933 ...