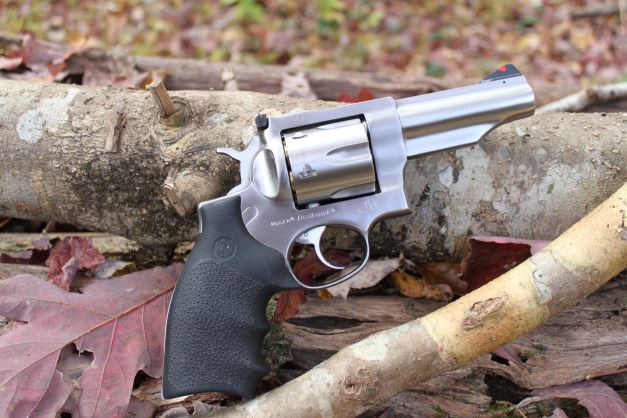 By Jim Dickson | Contributing Writer
The stainless steel Ruger Redhawk in .45 Colt with a 4-inch barrel represents the current pinnacle in double action revolvers. It is simply the best in its field.
When Ruger set out to make a large frame double action revolver that could handle the .44 Magnum, .45 Colt, and .454 Casull, they did not make a rehash of old designs.
Designers Harry Sefried and Roy Melecher set out to make all the improvements possible resulting in an entirely new design.
When the .44 Magnum cartridge first came out it was loaded to about 1,500 fps muzzle velocity and that proved too stiff for the first double action revolvers chambered for the cartridge, and it resulted in battering the lockwork of the pistols. These guns were designed at the turn of the century and had a lot of small parts. The ammunition companies quickly lowered the velocity and recoil of the factory cartridges.
The new Ruger would be a much more massive handgun with an all new lockwork design made with big robust parts with large bearing surfaces that would be immune to this problem. This was vital for a gun to be handling the .454 Casull. What's more, the revolver would be a modular design capable of being taken apart for field stripping by the user, a first for big revolvers which previously had needed an experienced skilled gunsmith to take apart and reassemble.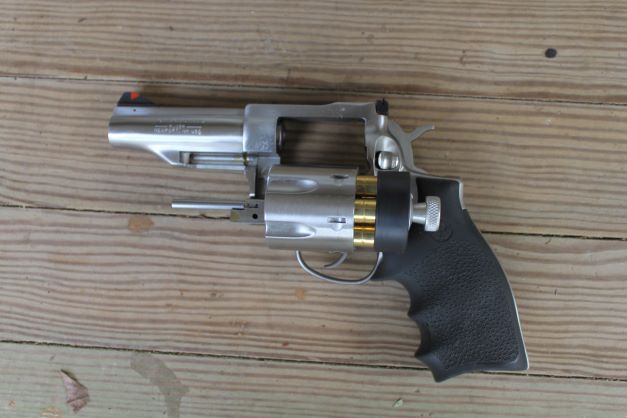 The rest of the gun was also massive. Even the top strap is extra heavy. The cylinder wall thickness is a whopping .110-inch thick, making other cylinders chambered for .45-caliber cartridges look paper thin by comparison. The cylinder walls are carefully machined to close tolerances for use with maximum loads. The cylinder itself is made from Carpenter Steel's Custom 465 stainless steel while the barrel is made from Carpenter Steel's Project 7000 15Cr-5Ni stainless steel. The cylinder is securely locked fore and aft with massive parts impervious to recoil.
The cylinder is released by pushing inward on a latch to pivot and unlock the cylinder, eliminating the problems of older designs where the latch sometimes hurt the thumb of the shooter, or the thumb unlocked the cylinder when recoil backed it up against said thumb.
Thanks to the modular construction, the pistol is able to do without a sideplate further strengthening the frame.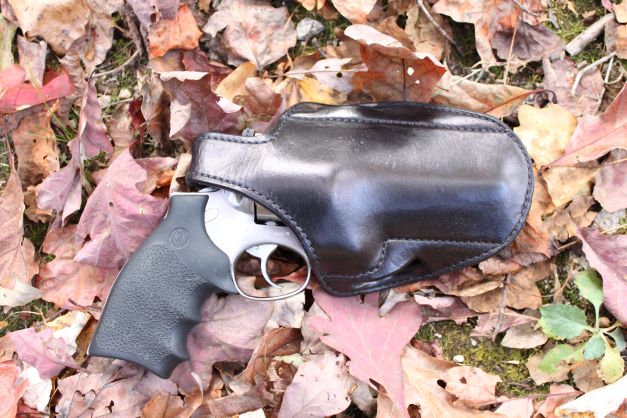 All these massive parts bring the weight to 46 ounces and that's a good thing as weight is your friend in both handling recoil and making a gun steady for aiming. If you have ever tried to do precise shooting with a little .25 ACP pistol, you will see just how hard it is to keep a light gun steady and on target. The little vest pocket guns are actually as accurate as most other guns but try to hit anything with them and you will start missing your heavier pistols fast.
Between the weight and the soft Hogue Monogrips, the Ruger Redhawk kicks far less than a .38 Special and even the heaviest loads are not unpleasant to shoot. Using standard .45 Colt loads is like shooting a .22 pistol.
There were no screws to back out and tie up the gun in the new design. This had always been a problem with revolvers. When you shoot as much as I do you end up with fitted screwdrivers for all your revolver screws and you end up using them all.
The mainspring operates two linkages, one to push the hammer forward and one to return the trigger. Pressing the trigger compresses the hammer spring. These innovations result in a positive ignition with a lighter trigger pull than that which older designs required. The trigger pull on the gun shown in the photos is 11 pounds double action and 5 ½ pounds single action as measured by my Lyman trigger pull gauge from Brownell's Gunsmithing Supplies. I could not ask for a smoother feeling trigger.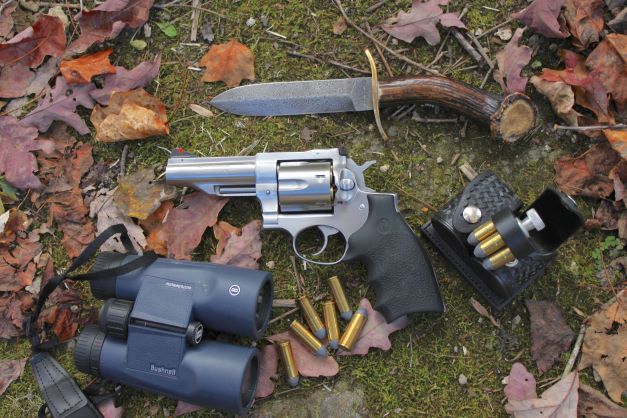 The only criticism I can make of the design is that it has the common modern backswept grip angle which means it does not point as well as the Colt New Service revolver with its forward sloping front grip angle. That said, it still points well and is easy to hit with. You can shoot 2- and 3-inch groups at 25 yards with one hand firing either double action or single action all day long.
This is one gun that you can easily hit just as good firing double action as you can when firing single action and that's vitally important in a double action revolver. If you can't fire a double action revolver double action as good as you can fire it single action, then you are better off getting a Colt Single Action Army .45 which will shoot more efficiently than any double action revolver because that's what it was exclusively designed for.
It is important to remember the pistol is designed for use with a single hand and should always be practiced that way. If you practice with one hand you can still use two hands effectively but if you practice just with a two hand hold you will not be able to transfer that skill over to using a one hand hold.
With a pistol, the other hand should be free to fend off man or beast until you can bring the gun to bear and fire, hold cartridges for reloads, wield a knife or throw grenades, depending upon the situation. The supposed advantage of a two-hand hold for rapid fire disappears the moment you start using one shot per adversary moving from one to the other. You can do that with a .45 and that is one of the reasons to use it.
The reason for choosing the 4-inch barrel version is simple. Have you ever tried to sit in a chair or a car seat with a long barreled pistol? Handguns were meant to be carried but long barrels complicate things. They are also slower to clear leather in an emergency. With a 4-inch barrel this gun is 9 ½ inches long.
I have fired many thousands of rounds through the Redhawk, which has performed perfectly throughout all of it. I am quite happy with the standard full charge .45 Colt ammunition. This round has proven effective on every big game animal in North America and is also a proven manstopper. It has all the power you need without excess to slow down a second shot.
The decibel level is at normal limits and not the excessive levels found in the magnums that can quickly lead to permanent hearing loss. It does not need an expanding bullet as it already makes a big enough hole. For big game this is very important for penetration. There are a couple of other loads that deserve mention.
The first is the Hornady LeverEvolution 2250-grain FTX at 950 fps. Its plastic tip improves the aerodynamic shape of the bullet so much that it only loses 90 fps at 100 yards. If you want to do long range shooting, this is the round you should choose.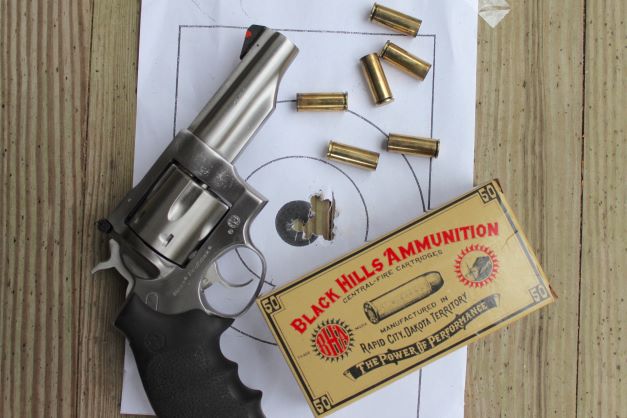 Next is the CorBon Hunter 335-grain HC loaded to 1,050 fps. Any faster and the sonic boom of a supersonic cartridge will raise the decibels to dangerous levels. This load is only for use in the Ruger Redhawk and other guns that can safely fire the .454 Casull. It does recoil enough to prevent a fast second shot.
For holsters, I have found the one sold by the Ruger company to be a fine open carry rig that is extremely fast. For concealed carry, I like the El Paso Saddlery Tortilla Pancake holster. This rig hugs the body and enables even this big gun to effectively hide under a coat. It works just as well as an open carry holster. Either of these will answer to all you carry needs.
Spare ammunition is best carried in HKS Speedloaders in a double pouch.
The double action revolver will always be the choice of a lot of men but it should be noted that there are two places where it works better than an automatic or a single action pistol.
The first is police work where the long double action trigger pull is a necessary safety feature on a gun that is covering a prisoner. You don't want an accidental discharge here and that is less likely to happen with a double action revolver than with a semi-auto or a single action.
The second is the house pistol that most families have for protection against burglars or home invaders. For those who are not expert with firearms, simpler is better and you don't get any simpler than point and pull the trigger. No safety to release and no need to cock the hammer. Just point and pull. This gun has all the power to do the job with one shot and it does it virtually without felt recoil.
At 46 ounces my 5 foot two 105-pound wife had no trouble accurately firing it with one hand. Anyone who finds it heavy can use a two hand hold. It's stainless steel construction is ideal for guns that reside in a bureau drawer for years without further maintenance. As I said at the beginning, it is simply the best.