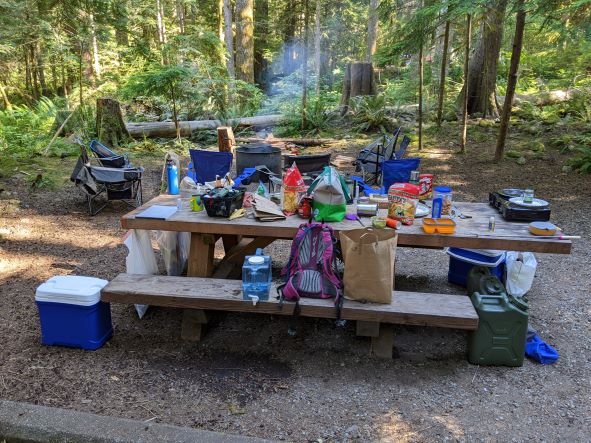 By Dave Workman
Editor-in-Chief
UPDATED 8/19: One of western Washington's most popular and highly-utilized camping and recreation areas has been closed for camping for the remainder of the summer by the U.S. Forest Service's North Bend District Ranger "Due to ongoing conflicts with black bears in the area."
News of the closure was swiftly posted on the popular Facebook page "Washington Hikers and Climbers." Word spread fast.
In an exchange of email with District Ranger Martie Schramm, TGM learned the problem stems from bears having become "quite habituated to the food people are leaving out on picnic tables." The closure is along the Snoqualmie River's Middle Fork, located in eastern King County, about 40 miles east of Seattle, the state's largest city. In recent years, the human population has exploded with the growth of Microsoft and the tech industry, with hundreds of thousands of new residents coming from across the U.S. Many have discovered the outdoors, taking up hiking, camping and other outdoor activities, but what they apparently haven't grasped is that the forest is home to hungry bears, and this year along the Middle Fork, there are lots of them.
————————————-
KCPQ News—the local Fox News affiliate—also reported on the situation, alerted by this TGM story. It may be read here, with video.
————————————-
The problem is deeper than just bears grabbing picnic baskets a'la the Yogi Bear cartoons of the 1960s. Virtually anywhere in the western U.S. the potential for human-bear interaction has been growing over the years as bear populations expand and human traffic in the outdoors increases. Pick a western state, whether it be Idaho, Montana, Colorado, Wyoming, Oregon, Utah or Alaska, and there is the possibility you might encounter a bear in the woods.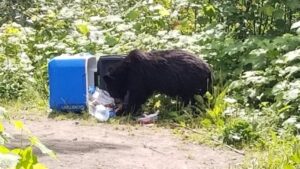 In 1996, Washington voters passed an initiative banning the hunting of bears and mountain lions with hounds. Reduced hunting pressure had the inevitable result of an expanded black bear population.
Bears are not as wary of humans as they might have been 25 years ago, and since the bruin population is growing in the east King County region, conflicts have arisen, not just in the forest. Earlier this year, as detailed in a mournful report in the online Living Snoqualmie, one family of bears became a serious problem and they were killed by state fish and wildlife agents.
Another contributing factor was the prohibition on recreational shooting along the Middle Fork valley several years ago, due to trash and careless shooting by some individuals. Disdained as "slob shooters" by more responsible gun owners, they habitually left all kinds of garbage including shot-up computers, televisions and other electronics, along with the more common beverage cans, perforated spray cans, broken glass bottles, spent cartridge cases, blown up melons and other vegetable matter, the latter which simply becomes food for bears and other animals.
The sound of shooting in years past may have deterred bears from getting too close when they knew humans were around, and with increased usage by recreationists from Seattle, nearby Bellevue and other population centers, conflicts were bound to arise.
—————————————
UPDATE: By remarkable coincidence, this video featuring Tom McHale, editor of American Handgunner; Brent Wheat, editor of GUNS magazine, and Roy Hunting, retired AH editor, was posted Friday as this story was continuing to unfold.
—————————————
According to Schramm, one man was recently charged—or "bluff charged" as bears sometimes do—at a place known as Pratt Bar, near the confluence of the Pratt and Snoqualmie rivers. That individual, she said, had made noise and actually threw rocks at the bruin to no avail. He left, and when he returned the following day, "the tent was destroyed."
Schramm confirmed the closure includes the Middle Fork Campground, which has attracted hundreds of campers over the years. Because of its proximity to Seattle, the entire area gets lots of traffic. Hiking and normal daytime activities including fishing and even bicycling are still allowed.
While this closure may disappoint the hiking crowd, it may prove to be a boon for bear hunters. Washington's annual summer/fall black bear hunting season opened Aug. 1, and already some hunters are looking to take advantage of the bear troubles in an effort to notch a tag. The season continues through Nov. 15. Details can be found in the Department of Fish and Wildlife hunting regulations.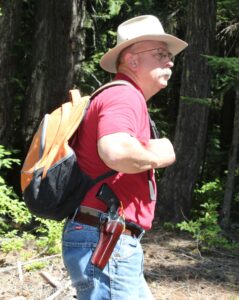 Meanwhile, Schramm said the ranger district is working on some solutions.
"We were able to purchase food storage lockers for our campgrounds with money from the Great America Outdoors Act and those lockers will be placed in the campgrounds before next summer," she said via email. "We are also working on a Food Storage Order for the entire (Mt. Baker-Snoqualmie National) Forest, which will require people camping or picnicking (or off on a hike) to properly store their food. Non-compliance will result in a citation. Hopefully the order will be in place by next summer."
What about defensive measures? Bear spray is popular among hikers, and there is another Facebook page devoted to hikers who pack firearms along with their other essentials, appropriately called "Washington Hikers and Climbers with Guns."
People who opt to carry firearms may find a good revolver more practical than a semi-auto pistol, simply because the revolver doesn't require a magazine, only spare ammunition. Popular calibers among outdoorsmen and women include the .357 Magnum, .41 Magnum and .44 Magnum, along with the .44 Special and .45 Colt, and all are proven bear-stoppers, should circumstances come to firing in self-defense.
If people are going to carry firearms, it might be prudent to have a hunting license and bear tag. One must successfully complete a hunter education course in order to purchase a license and tag.