Cardinal defends his guns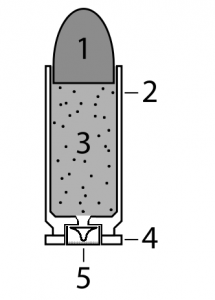 A top Vatican cardinal whom the Italian media have dubbed "Cardinal Rambo" is defending his extensive collection of guns, reports Mark Berman on OpposingViews.com.
The news agency Agence France Press (AFP) reports that the media have been having a field day with Cardinal Domenico Calcagno and his passion for guns, which is contrary to the Catholic Church's stance of non-violence. A website called Savona news, based in the town of Savona where Calcagno used to be the bishop, claims he owns at least 13 guns, including a .357 Magnum.
The 68-year-old Calcagno said he doesn't know what all the fuss is about.
"It's innocent," Calcagno, head of the Administration of Vatican Patrimony, told Il Fatto Quotidiano. "This passion for weapons is long-standing. I used to go to shooting ranges.
Unfortunately since I've been at the Vatican I had to stop.
What I like above all is repairing weapons." Calcagno is also reported to be a very good hunter, using one of several shotguns he is said to own.
Britain's greatest ever foe
The British have a long memory. George Washington has been named as the greatest foe ever faced by the British, according to a report from The Telegraph of London.
The first US president was voted the winner in a contest run by the National Army Museum to identify the Britain's most outstanding military opponent.
Washington was one of a shortlist of five leaders who topped a public poll and on April 14 was selected as the ultimate winner by an audience of around 70 guests at a special event at the London museum.
In second place was Michael Collins, the Irish leader, ahead of Napoleon Bonaparte, German Gen. Erwin Rommel and Mustafa Kemal Atatürk. The shortlist was selected from an initial list of 20 candidates, drawn up by the museum's curators. To qualify, each commander had to come from the 17th century onwards—the period covered by the museum's collection—and had to have led an army in the field against the British, thus excluding political enemies, like Adolf Hitler.
At the event, each contender had their case made by a historian giving a 40 minute presentation. The audience, who had paid to attend the day, then voted in a secret ballot after all five presentations had been made.
Washington got 45% of the vote in the final round. He was cited as guiding "the American rebels to victory over the British in the War of Independence. Often out-maneuvered by British generals with larger armies, his leadership enabled him to hold together an army of secessionists from 13 different states and keep it in the field—and ultimately prevail—during the protracted struggle." According to The Telegraph, Stephen Brumwell, author and specialist on 18th century North America, said: "Washington scores highly as an enemy of Britain on three key grounds: the immense scale of damage he inflicts upon Britain's Army and Empire—the most jarring defeat that either endured; his ability to not only provide inspirational battlefield leadership but to work with civilians who were crucial to sustain the war-effort; and the kind of man he was.
As British officers conceded, he was a worthy opponent."
Careful what you ask for
From the "Dumb demand of a lifetime fi le" comes this Associated Press story from New York State about a man who shot a friend in the leg at his request.
State Police reported that a northern New York man had his friend shoot him in the leg with a rifle because he wanted to know what it feels like to be shot.
Troopers in St. Lawrence County said the shooting occurred on a mid-May Sunday afternoon in the rural town of Stockholm when 25-year-old Shawn Mossow of neighboring Norfolk relented to his friend's repeated requests and shot him once in the right leg with a .22-caliber rifl e.
The 24-year-old petitioner, who was not identified, was expected to make a full recovery.
Mossow was charged with reckless endangerment and was held in the county jail on $10,000 bail.
Cop in picnic gun mishap
From the "Only Cops Should Have Guns" file comes the story out of Harrisburg, PA, involving an off-duty police officer who accidentally shot his wife in the rump during what was described as a weekend cook-out.
According to the Associated Press, Officer William Owens was showing off his duty sidearm to family and friends at this gathering when the pistol discharged. The bullet sent his wife to the hospital and sent Owens onto the District Attorney's radar screen. He was suspended without pay while an investigation was conducted.
Victim shoots burglar
Chances are Yobenrico Well probably won't be breaking into any more homes after his nasty experienced at the residence of Alex Hernandez in Stockton, CA.
According to KTXL in Sacramento, Well, 23 admitted to the cops that he was trying to break into the house for a second time when he encountered Hernandez. The earlier visit had been a few hours earlier while the Hernandez family was gone.
Proof positive that someone should not return to the scene of the crime came when Well, whose sister lives across the street from the Hernandez household, tried to get in through the same window. Hernandez reportedly heard a noise, grabbed a gun and waited outside the bedroom where his 2-year-old daughter was sleeping. As Well tried to come in, Hernandez shot him in the face.
Adding a new dimension to "All's Well that Ends Well," the would-be burglar survived the bullet wound.
What is odd about the case is that on his first illegal entry, according to the KTXL report, Well ate the Hernandez family's food, played video games and even downed some of their liquor. He even changed the screen saver on a computer to show an image of cheerleaders.
Hernandez had borrowed the gun after discovering the break-in, so he was ready a few hours later when well tried for an instant replay.
M-1-toting teen gets support
Gun toting advocates are standing in support of a Troy, MI, high school student facing three misdemeanor charges—brandishing a weapon, resisting and obstructing police, and disturbing the peace—who was arrested after strolling the downtown area of Birmingham with an M-1 rifle strapped to his back, according to the Detroit Free Press.
Supporters filled the Birmingham commission chambers on June 11, displaying firearms in holsters and strapped to their backs, voicing support for 18-year-old Sean Combs, who was arrested April 13.