By Jim Dickson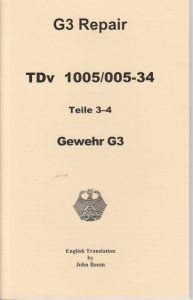 The Germans had a five-part series of manuals that they issued with the 7.62 NATO G3 rifle, the full auto version of the HK 91.
The first two were combined in the operator's manual and the second two were combined in the repair manual. The fifth manual just lists inventory parts numbers and is useless to anyone outside of the German Army so it has not been translated.
The 100-page G3 Operator Parts 1 & 2 manual covers everything the soldier needs to know about the G3 in precise German fashion with nothing omitted. There are good photos that put the photos in U.S. military manuals to shame along with large clear line drawings and exploded views. The text is clear and concise.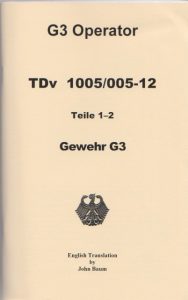 If you are going to operate a firearm you should know as much about it as possible. Meeting the military standards of knowledge on your firearm is just common sense and you cannot do it without this manual. Its price is $18 which includes shipping.
The 38-page G3 Repair Parts 3 & 4 manual shows all the repairs that the troops in the field can accomplish. As such it constitutes all the repairs that can be done by the owner outside of a professional gunsmith's shop. Detailed inspection and repair instructions are given that are clearly illustrated by excellent photos, line drawings, and exploded views. If you ever have to be your own gunsmith on your G3 this manual is indispensable. Its price is $14 including shipping.
As a long time user of semi-auto versions of the G3, I cannot imagine doing without both of these manuals now that they are available. They can be ordered from:
John A. Baum
5678 State Rt. 45
Lisbon, Ohio 44432