by Joseph P. Tartaro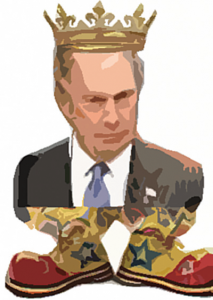 Executive Editor
All is not well in the land of the Little King—New York City Mayor Michael Bloomberg.
He may be a billionaire with a bully throne from which to demand his way on everything from the salt in your soup, the size of your soda drink, smoking on the streets, and guns, but his royal pronouncements often fly off in unintended directions like a suddenly punctured balloon.
The Little King may have stepped into a verbal minefield recently when he became a bit combative with a reporter who asked him about his thoughts about how two uniformed NYPD officers opened fire on a sidewalk near the Empire State Building, killing a gunman who had just fatally shot another man, and wounding nine bystanders.
That shooting, captured on video from at least two different angles, occurred just minutes after Jeffrey Johnson gunned down a former boss outside the iconic landmark. Bullets and fragments from the two officers' guns hit nine people. The videos do not show the gunman point his pistol at the officers.
But Bloomberg indignantly challenged the female reporter.
"Let me ask you, Miss," Bloomberg said, "if somebody pointed a gun at you and you had a gun in your pocket, what would you do?" Alan Gottlieb, chairman of the Citizens Committee for the Right to Keep and Bear Arms, jumped on that comment.
"There's just one big problem with Bloomberg's remark," Gottlieb observed. "In his city, under his Draconian gun regulations, it is nearly impossible for a private citizen to have a gun in his or her pocket—reporter or not—for personal protection, and he knows it." The shooting gained national attention, which quickly dissipated when it was revealed that Johnson did not fire his pistol, a vintage Star .45-caliber semiautomatic, when he was confronted by Patrolmen Robert Sinishtaj and Craig Matthews.
Sinishtaj fired nine rounds and Matthews fired seven times. Johnson was hit seven times.
Early news reports said or suggested that the nine injured bystanders had been shot by Johnson, perhaps planning to make the homicidal attack by Johnson appear to be another random mass shooting that might give new impetus to the Little King's ongoing campaign against "illegal" guns. In his majestic reasoning, any gun that is not licensed and registered in New York City is illegal. And that includes the licensed and registered handguns possessed by any citizen of New York State from outside the five counties that comprise his realm, or legally licensed residents of other states, or even most law enforcement agents from outside the Bloomberg kingdom.
"Illegal" guns for the Little King also include unlicensed and unregistered guns possessed by people anywhere in America who have moral and constitutional right to defend themselves from predators, including residents of New York who would rather be tried by 12 than carried by six.
At a series of New York State legislative hearings on a proposal to make the state's gun laws even more Draconian years ago, one elderly Black man put the urban numerology in other terms when he said why he would "keep and bear" an unlicensed handgun.
"I'd rather be caught by the police with the gun, than by a bad guy without it." The logic of that message doesn't seem to get through to the Little King. He sees no basis for the arguments of innocent individual citizens who want to be able to feel safe because they have the means for self-protection from unprovoked criminal attack.
Perhaps the Little King's most notorious accomplishment was becoming the nation's front man for gun control and an adversary of the Second Amendment.
He has made it plain more than once that he believes the whole United States should have the kind of "legal guns" that are allowed to a wealthy or well-connected few in his realm.
He blisters the ears of presidents and would-be presidents, New York State governors and lawmakers, the media and anyone else that will listen, nagging to impose his kind of "legal" gun laws on the rest of America. Of course, as befits a person of his royal position, he is protected 24/7 by armed guards paid for by the citizens that he would see disarmed except by his personal decree.
His controversial Stop and Frisk program that is now the subject of state and federal lawsuits brought by civil liberties organization is just one more example of his attack on the self-defense rights of honest people under the guise of shutting down street violence and taking the "illegal guns" off the street.
Fortunately, the three-term reign of the Little King will end in January 2014. Unfortunately, he may then seek a more imperial throne at the federal level. He's got the chutzpah and money to seek higher office.