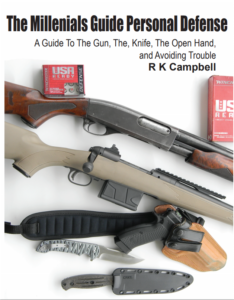 A Guide To The Gun The Knife The Open Hand
And Avoiding Trouble
$4.99 Kindle

TGM readers are familiar with R.K. Campbell's byline, which has appeared for many years, first in the print edition of GUN WEEK, and now online here at TheGunMag.com, along with other periodicals including Concealed Carry Magazine, Police Magazine, Gun Tests, Law and Order, SWAT Magazine and Black Belt.
A prolific gunwriter, Campbell has published 16 books and more than 6,000 magazine articles, reviews and columns, and now he's penned a new book, available on Kindle, titled "The Millennial's Guide Personal Defense: A Guide to The Gun, The Knife, the Open Hand and Avoiding Trouble."
Campbell's new entry includes chapters on handguns, holsters, combat shooting, knives, open hand defense and escalation of force (the "force continuum"). It is definitely not just another "gun book."
Readers will also find a chapter on the adversary, his background and who he is likely to be, plus chapters on handling and treating gunshot wounds and home defense.
As noted by Campbell, "The gun isn't there to keep you from getting your ass whipped. It is a last resort."
He further maintains that using a real firearm instead of a Ring's or ASP fake gun during retention training, "you are a damn idiot."
"It is pretty interesting," says Campbell, "to see articles by those who have no fighting experience, no experience in emergency, who have never felt the slap of a fist, felt a kick or suffered an attack tell you how to save your life."
Product details
ASIN : B08ZMBWZL3
Publication date : March 20, 2021
Language : English
File size : 143974 KB
Simultaneous device usage : Unlimited
Text-to-Speech : Enabled
Screen Reader : Supported
Enhanced typesetting : Enabled
X-Ray : Not Enabled
Word Wise : Enabled
Print length : 276 pages
Lending : Enabled